Poudre Riz 500 ml refill Mathilde M.
This refill of Mathilde M you can recharge your decorative scenteds bouquet many times as you want. Rice Powder aroma, It´s a perfume with powdery notes that invites to remember. Content 500 ml
Mathilde M. get timeless refinement can fill your home with the smell of a State of mind, the fragrance of a desire, with the smell of a memory.Mathilde M. signature creations suggest luxury, calm and elegance, are impregnated of romanticism and charm.
Calculated from
2
reviews
I generally use this perfume in my bedroom, as well as in the children's one. The scent is really delicate, but persistent! I love adding this soft touch to the house! Highly recommended!
16 other products in the same category:
Mousse Minérale, this creation of Lampe Berger is based on the moss growing on the bark of oak. It is cultivated in the forests of Bulgaria, its aroma gives us the freshness of the morning dew with a deep touch due to...
Perfume for catalytic lamp Lampe berger in the collection of Middle East dream. Fragrance sophisticated and opulent, intoxicating, feel the hectic Carnival of Venice with this dizzying composition, a great femininity,...
Fragrance Lampe Berger luminous and majestic, glittering with spicy notes. Soft and fruity joins patchouli and gourmet flavors. Contents 1 Litre 
Refill Bouquets by the italian firm  Dr. Vranjes. Content 500 ml
. Perfume Bellini, by Dr. Vranjes manages to impregnate the air with joy, with its intense and youthful fragrance. Its fresh and fruity notes evoke...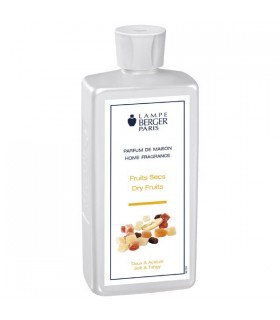 The perfume of Lampe Berger 'Fruits Secs' is a true bright and fruity paradise that mixes all the fruits of Africa. Fruity gourmand perfume, opens on bright notes and vitamins of mandarin, apple and pear. Its heart...
'Zeste Verveine' is a fresh citrus scent and where his two flavors verbena and lemon rind. This Lampe Berger composition has a content of 500 ml
'Elegante Parisienne' by Lampe Berger, pays tribute to the gardenia, one of the emblematic flowers within the world of perfumery. This perfume is the unmistakable essence that leaves in its wake the Parisian woman par...
Refill for bouquets from the Italian firm Culti Milano, with fragrance 'Aramara'. Content 1 Liter. IMAGINE A sunny day in the countryside, marked by the reassuring aroma of the citrus peel. Its aroma extends and... A revitalizing fragrance with a stimulating mixture joins forces with aromatic eucalyptus notes on a background of white musk mixed. This composition of Lampe Berger has a content of 500 ml
'Bois Sauvage' by Lampe Berger is a perfume with character, intensely woody that combines the quinoto with the apple giving way to a lavender center together with some surprising marine notes, making this an intensely...
Refill Bouquet by the italian firm  Dr. Vranjes. Content 500ml Scents of bouquet which come from other worlds and get to our sense of smell with their magic. Balances the mood and reduces feelings of anxiety  
Perfume for catalytic lamp Lampe berger of the coleccionsueno of freshness. Purity and freshness as a direct blow from the ocean to your home. 500 ml.
Solution for catalytic lamp Lampe berger in the collection dream of purity. Without perfume, a basic and practical product to eliminate undesirable odors and freshen your home. 1 Litre
Under the Christmas tree of Lampe Berger is a fragrance that symbolizes the renewal of life as well as the traditional Christmas tree that has become a traditional leitmotif associated with gifts and the creation of...
Refill solution for Scented Bouquets Lampe Berger fragrance Savon d'Autrefois. 200 ml content. Soft sweet and floral fragrance,
Rêve Blanc is a tender and luminous aroma accompanied by the balance of generous whiteness and textured materials. Content 500 ml Floral Fragrance Head Notes: solar notes. Heart notes: freesia, heliotrope flower....
Customers who bought this product also bought:
'The aroma 'Opaline' is a renaissance and sophisticated fragrance thatstands out for its jasmine and vanilla. Content 180 mlHead notes: Red FruitsHeart Notes: Rose, FreesiaBackground Notes: Sandalwood, White Musk,...
This Mathilde M. intensive home fragance permeates the scent you choose with a simple spray, is also used to refresh the essence of your decorative ceramics. 5 ml bottle. Rice powder scented, a perfume with powdery...
The Lampe Berger Spray Room with perfume Amber Powder adds a touch sensuality to your room with a touch of rose, iris and vanilla over a deep background of amber and patchouli. Content 90 ml Amber Perfume.
With these scented Fleur de Coton mikado you will fill your home pure. Dresser with all the charm of a timeless design. Pure Perfume.Scented Solution 30 ml
Perfumed essences of the French firm Esteban should its subtlety to the high purity of its formula.We can use them to sweeten the atmosphere in our fragrances, ceramics and decorative charms diffuser being able to use...