Precious Rosewood 500 ml Lampe Berger
Rosewood inspired perfume Lampe Berger, evoking a beautiful end of this solid wood, giving inside an intense, sensual and exotic olfactory personality, which intertwine with the acidity of grapefruit and exotic fruits, while the background reveals the heat of the patchouli and the sweetness of the vanilla. Content 500 ml
16 other products in the same category:
Recharge for Lampe Berger catalytic lamps. Content 1 Liter Aquatic Freshness is a Citrus Energizing Head Notes: Grapefruit, Orange Heart Notes: Grapefruit, Pineapple Base Notes: Musk, Peach
With this fragrance Lampe Berger evokes Asian seduction with precious woods: sandalwood, which is mixed with black currant and the citrus sweetness of mandarin. The heart reveals the soft, enveloping side of...
Refill for Bouquets by Locherber Milano with aroma Banskia. Contents 500 ml Fragrance inspired by the Australian flower of BANKSIA, a rare and endangered species. Aromatic, woody and spicy fragrance with top...
Champs de Lavande is a fresh floral fragrance with a hint of camphor that provides a cool character. This Lampe Berger composition has a content of 500 ml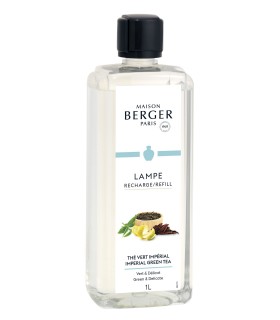 Refill for catalytic lamps from Lampe Berger. Content 1 Liter A fragrance that takes you to a world of authenticity. Synonymous with freedom, it transmits values such as honesty and frankness. The freshness works...
Refill for catalytic lamps from Maison Berger with Under the Fig Tree scent. Contains 500 ml The aroma of Maison Berger Sous le Figuier is a perfume that finds the perfect balance between the freshness of the leaves...
Refill for bouquets by Mahtilde M. Content 500 ml Divine Marquise is an elegant and sensual perfume, where the delicious notes of the chocolates are surrounded by an oriental patchouli and amber chord....
Refill for catalytic lamps from Lampe Berger. Content 500 ml A vibrant fragrance with a very lively head. The citrus sparkle is sophisticated with a pleasant evolution towards a transparency given by the watery...
Refill Scented Bouquet by the italian firm  Dr. Vranjes. Content 500 mlPerfumeThis fragrance blends notes of two precious resins, myrrh and frankincense, wisely combined with the freshness of Bergamot and Neroli...
Air fresheners scented solution of the French firm Esteban help to prolong the life of your mikados and ceramic diffusers, scented, being able to choose between the initial aroma of the product, or any other variety...
Refill Scented Bouquet by the Italian firm Dr. Vranjes. Content 500 ml 'Aria' (Air) A frangacia its citrus and fresh notes, the intense time, intermingling together with the flower of orange and lemon trees, evolving...
Refill for bouquets from the Italian firm Culti Milano, with fragrance 'Aramara'. Content 1 Liter. IMAGINE A sunny day in the countryside, marked by the reassuring aroma of the citrus peel. Its aroma extends and...
Recharge for Lampe Berger catalytic lamps .1 Liter content Aroma Respire is Aromatic and Fresh perfume Head Notes: Eucalyptus, Menthol Heart Notes: Pine Needles, Mint Base Notes: Thyme
Refill for catalytic lamps by Lampe Berger with Citronelle Aroma. Content 500 ml Citronella perfume has the glow of love with its cheerful bursts of orange. Its floral bouquet reveals the poetry of a romance with...
'Linen Blossom' by Lampe Berger, is the scent that comes from the bedding that is currently on a field full of spring flowers, being rocked by the gentle west wind while drying under the incident solar rays. It...
This refill of Mathilde M you can recharge your decorative scenteds bouquet many times as you want. Coeur d'Ambre is a oriental perfume. Content 180 ml
Customers who bought this product also bought:
Lolita  Lempicka by Lampe  Berger is a fairytale in which we can appreciate the story of a woman in the making who is going through that moment in which all of us had to leave childhood but not leave her. It is the...
Bouquet Decor from the firm Culti Milano. Content 500 ml. IMAGINE A walk among the blooming stems of a cotton field, caressing the soft flakes. Touch the light texture of the precious silks and natural linens in...
Promotional Pack of Lampe Berger, pure air, which includes catalytic lamp of transparent Crystal, cubic design and neutral perfume. With this decorative air freshener, it will purify the air in your home and you can...
Recharge for Lampe Berger catalytic lamps. 1 Liter content Délicat Musc Blanc is Powdered and Subtle perfume Head Notes: Orange, Petitgrain, Grapefruit Heart Notes: Rose, Jasmine, Orange Blossom Base Notes:...
The Patchouli Lampe Berger fragrance is a sensual and modern fragrance in which the notes of patchouli mixed with sweet and enveloping chords of vanilla and amber balms, a real invitation to well-being and comfort....