Légendes d'Orient 500 ml Esteban refill
Air fresheners scented solution of the French firm Esteban help to prolong the life of your mikados and ceramic diffusers, scented, being able to choose between the initial aroma of the product, or any other variety of Esteban. Contents 500 ml
Spicy oriental perfume.
Air freshener fragrant solution, 500 ml bottle.
Perfume of the French firm Stephen who awakens the magic that is latent in every one of us pervading the atmosphere with a golden aroma of spices.
Spicy oriental perfume.
16 other products in the same category:
This Lampe Berger aroma is particularly fruity with light hints of cinnamon, honey and vanilla. This Lampe Berger composition has a content of 500 ml
Air fresheners scented solution of the French firm Esteban help to prolong the life of your mikados and ceramic diffusers, scented, being able to choose between the initial aroma of the product, or any other variety...
The aroma Délicieuse Cerise is a fruity oriental fragrance with a touch of happy blend of citrus with a spicy touch. The unique flavor of black cherry notes and patchouli magnifies the innocence of the sweet flavors...
This scent offers an exceptional and unique fragrance. Both woody and modern perched on orange and pine needles, reinforced by warm notes of cayenne envelope moss undergrowth. Content 500 ml
Refill Bouquet by the italian firm  Dr. Vranjes. Content 500 ml Perfume The Ginesta, with its distinctive aroma of fresh flowers frames the precious notes of Florentine Iris.The particular ingredients form agreements...
Refill Bouquets by the italian firm  Dr. Vranjes. Content 500 mlPerfumeLemon and tangerine. The lively and energetic lemon and mandarin sweet and sugar are cleverly combined with vanilla to give this fragrance all the...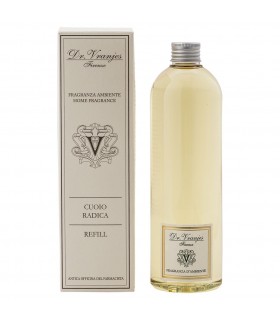 Refill Bouquet by the italian firm  Dr. Vranjes. Content 500ml The enchanting note of Leather and the strength of the accord of Radica are the predominant components of this warm and soft scent created to astonish...
'The aroma 'Opaline' is a renaissance and sophisticated fragrance thatstands out for its jasmine and vanilla. Content 180 mlHead notes: Red FruitsHeart Notes: Rose, FreesiaBackground Notes: Sandalwood, White Musk,...
Lemon Blossom is a fresh lemon scent that combines the floral sweetness of neroli and orange blossom. This Lampe Berger composition has a content of 500 ml
Perfume for catalytic lamp Lampe berger Jardins sur la Riviera, which invites us to walk along the shores of the Mediterranean: breath of freshness that moves the branches of olive trees, greenery of the fig leaves,...
Replacement Scented Bouquet vegetable sticks 22 cm by Esteban Parfums
Refill Bouquet by the italian firm  Dr. Vranjes. Content 500 ml Olfactory memory of a walk on a grass carpet barely brushed, of citrus trees still young which already offer us their candid fruits. Relaxing, relieves...
Pluie d'Ete is a fresh, delicate and crystalline fragrance that evokes the freshness of the dew of a summer morning, with notes of eucalyptus and warmth provided by your notes of amber and patchouli. This Lampe Berger...
With this fragrance Lampe Berger evokes Asian seduction with precious woods: sandalwood, which is mixed with black currant and the citrus sweetness of mandarin. The heart reveals the soft, enveloping side of...
Refill of the french firm Mathilde M. with aroma 'Bois d'Épices', it is a warm and refined perfume, born from the combination of the warm and spicy notes of ginger with black pepper, wrapped in a mantle of exotic...
Bouquets refill, Esteban Parfums, with perfume 'Rose blanche & Absolu d'Iris'. Content 150 ml. Sweet and citrus floral perfume Head Notes: Bergamot Heart Notes: Rose petals, irises Base Notes: White Musk, Amber
Customers who bought this product also bought:
Aroma Poudre Riz Dimensions: 19 x 9 x 2 cm.
Replacement plant rods for Mathilde M. mikados 25 cm
Originally from the region of Calabria, the Bergamot is a citrus widely used in perfumery, a Mediterranean flavor that exalts himself with tangerine and orange on a spicy background cardamom, accompanied by floral...
Sous le Figuier Perfume Lampe Berger is a fruity perfume, which runs from the freshness of fig leaf to the sweet heart of this fruit. This Lampe Berger composition has a content of 500 ml.
Fragrance Lampe Berger luminous and majestic, glittering with spicy notes. Soft and fruity joins patchouli and gourmet flavors. Contents 1 Litre