Thé Blanc Royal Refill Reed Diffuser 100 ml Mathild M.
Recharge for Bouquets 100 ml with Thé Blanc Royal  perfume by Mathilde M.
Fruity Floral Aroma
Head Notes: Plum, Lemon
Heart notes: White Tea, Osmanthus
Background Notes: White Moss
16 other products in the same category:
The Home Fragrance Bois d'Eau offers a crisp citrus freshness underlined by the fresh water spray. In their heart notes, the aquatic notes are mixed with the drift of driftwood before plunging along the coral reefs,...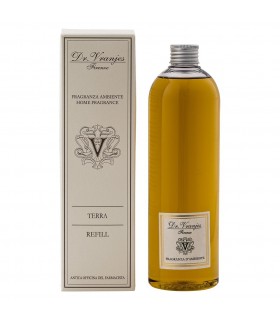 Refill Bouquet by the italian firm  Dr. Vranjes. Content 500 mlPerfume Head notes: Siberian PineHeart Notes: Musk, Lavender and Vanilla.Background Notes: Wild Mint
Boquet by the italian firm  Dr. Vranjes. Content 250 mlPerfumeThis fragrance blends notes of two precious resins, myrrh and frankincense, wisely combined with the freshness of Bergamot and Neroli elegance. In the Arab...
'Orange Extreme' is a cocktail of vitamins citrus base, to continue in the notes of orange sun of Florida and Fressia, enhanced with green notes. Its surround us wake backdrop background woody notes and gourmand....
Fragrance elaborated on Pitaya, also known as dragon fruit, original of Vietnam and imported by French settlers in the early nineteenth century. 'Fruits D'Eau' (Fruit of Water), is a cocktail of juicy fruits enhanced...
'Fresh Green Grass' by Lampe Berger reproduces perfectly the characteristic aroma that the grass gives off at the precise moment when it has just been cut. In addition, the notes of violet and aquatic flowers give it...
Replacement plant rods for Mathilde M. mikados 30 cm
Rêve Blanc is a tender and luminous aroma accompanied by the balance of generous whiteness and textured materials. Content 250 ml Floral Fragrance Head Notes: solar notes. Heart notes: freesia, heliotrope flower....
Recharge for Bouquets (Reed Diffuser) of the French firm Esteban Parfums, with fragrance 'Terre d'Agrumes', a citrus and woody fragrance that fills our stay with freshness with a touch of personality, and its...
A walk in a bucolic garden... Flowery groves undulate under a light breeze and exhale their sweet smells. A springy fragrance harmoniously combines gourmet fruits and flowers just hatched. Content 200  ml   Perfume...
The Coeur de Pamplemousse fragrance is a vibrant fragrance proporcinado by the fruity aroma of orange heart. This Lampe Berger composition has a content of 500 ml  
Air fresheners scented solution of the French firm Esteban help to prolong the life of your mikados and ceramic diffusers, scented,'Figue Noire' is a woody and fruity fragrance . Contents 250 ml PerfumeTop notes of...
Refill solution for Scented Bouquets Lampe Berger fragrance Paris Chic. 200 ml content. Floral fragance.
Champs de Lavande is a fresh floral fragrance with a hint of camphor that provides a cool character. This Lampe Berger composition has a content of 500 ml
Refill for bouquets from the Italian firm Culti Milano with the aroma 'Ode Rosae'. Contains 1 Liter Evocation of the sensual and perfumed nights in Marrakech with its intoxicating and wild aroma that penetrates our...
'Sublime Tonka' by Lampe Berger is a unique olfactory treasure, this fragrance fills the home with an endless number of multicultural contrasts; where the perfume begins with a dusty and enveloping chords that are...
Customers who bought this product also bought:
Refill of the french firm Mathilde M. with aroma 'Délices d'Orange', a captivating aroma thanks to its orange notes, wrapped with spicy chords and rich vanilla. Contents 200 ml   Gourmand perfume. Fruity and Vanilla...
Recharge for Bouquets 100 ml with Ébène Impériale perfume by Mathilde M. A woody and fruity fragrance   Head Notes: Blackcurrant, Blueberries Heart notes: Ebony, Cinnamon Base Notes: Vanilla and Patchouli
Ceramic Reed Diffuser ceramic by the French firm Mathilde M. which includes a 100 ml refill of the fragrance 'Poudre Riz'. Perfume Top Notes: lilyHeart Notes: rose, heliotrope, violetBackground Notes: vanilla,...
The night is dressed in a thousand lights and in the intimacy of her boudoir, an elegant woman prepares to go out, sublimated with silk and precious jewels. In her image, her sophisticated interior exhales a...
This essence of the French firm takes us with her perfume to the far East and its magic and its golden spicy aroma. Nose: fresh and Woody