Cotton Caress 500 ml Lampe Berger
The Cotton Dreams fragance by Lampe Berger  evokes the "clean", this fragrance has fresh notes of Marseille soap and bergamot, which bind to the aromatic accents of lavender and pine. This Lampe Berger composition has a content of 500 ml
16 other products in the same category:
'Linen Blossom' by Lampe Berger, is the scent that comes from the bedding that is currently on a field full of spring flowers, being rocked by the gentle west wind while drying under the incident solar rays. It...
Refill Bouquets by the italian firm  Dr. Vranjes. Content 500 mlPomegranate, Black Grape and Watermelon are the amazing ingredients used to recreate the characteristic scent of the pressed seeds of...
The soft colors of orchids stand tones green water of this sailing of the French firm Esteban in a fresh and subtle perfume that perfectly evokes the delicacy of the orchid. A real delight!. Approx. 170 gr. Green...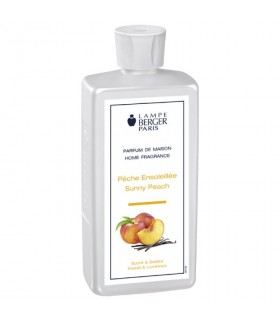 'Pêche Ensoleillée' is a bright and cheerful fragrance with a fruity, creamy texture, combining a floral aroma of rose and jasmine enhanced by the freshness of newly recolectaldo with a sweet peach and sandalwood and...
Refill for Bouquets by Cerería Mollá with Aroma B.ulgarian Rose & Oud. It contains 500 ml Bois de Santal Imperial The spicy and vibrant notes open this aroma following the mysticism and majesty of the patchouli...
Refill for bouquets from the Italian firm Culti Milano., with fragrance 'Terra'. Content 1 Liter. IMAGINE By supporting the bare palms in the warm earth of Morocco at twilight, one feels a silent force that...
Air fresheners scented solution of the French firm Esteban help to prolong the life of your mikados and ceramic diffusers, scented, being able to choose between the initial aroma of the product, or any other variety...
Refill solution for scented bouquets  Lampe Berger fragrance with fragance Vent d'Ocean, a tropical and revitalizing cocktail that combines the freshness and exoticism of grapefruit with warm and woody notes. Top...
This refill of Mathilde M you can recharge your decorative scenteds bouquet many times as you want, a delicious blend of wood, spice and soft vanilla. Content 200 ml
'The aroma 'Opaline' is a renaissance and sophisticated fragrance thatstands out for its jasmine and vanilla. Content 180 mlHead notes: Red FruitsHeart Notes: Rose, FreesiaBackground Notes: Sandalwood, White Musk,...
Refill for bouquets by Mahtilde M. Content 200 ml Perfume Angélique, a bewitching fragrance full of character, where her floral heart is illuminated by warm oriental notes. Oriental Perfume Head Notes:...
Refill solution for Scented Bouquets Lampe Berger fragrance Savon d'Autrefois. 200 ml content. Soft sweet and floral fragrance,
Absolu of Vainille aroma is sweet notes of a perfume that evokes all the aroma of a vanilla bean, sweet and sugary (rum, star anise) notes and envelope heart (Bourbon vanilla pods) and a chocolate background and...
A walk in a bucolic garden... Flowery groves undulate under a light breeze and exhale their sweet smells. A springy fragrance harmoniously combines gourmet fruits and flowers just hatched. Content 200  ml   Perfume...
Recharge for Lampe Berger catalytic lamps. Content 500  ml Cherry Blossom is a Floral, Soft and Fresh Fragrance Head Notes: Cassis, Green Alga, Lemon Heart Notes: Cherry Blossom, Rose, Green Tea Base Notes:...
A scent which gives the space a sense of purity and peace to the relaxing of a bathroom. It is a creation of the signature Lampe Berger that combines touches of orange blossom, Peony and cotton flower. This...
Customers who bought this product also bought:
Perfume for catalytic lamp Lampe berger of the coleccionsueno of freshness. Purity and freshness as a direct blow from the ocean to your home. 500 ml.
Heavenly Sun A fragrance that elegantly transports you like a solar air and a very feminine, prodigiously sensual aura. Content 1 Liter Floral and Solar Fragrance Head Notes: Tangerine, Bergamot, Orange...
Solution for catalytic lamp Lampe berger in the collection dream of purity. Without perfume, a basic and practical product to eliminate undesirable odors and freshen your home. 1 Litre
Floral Perfume d'Ylang is a special and luminous aroma that takes us to an exuberant nature, where the Tiare flower gives progressively and harmoniously to the warmth and delicacy of the orange blossom, to elevate the...
The French firm Esteban has created this dresser design that combines humidifier and perfume. A new olfactory delight getting through the whisper of water, refreshing mist and of course, the irresistible fragrance of...