Cotton Caress 1 Liter Lampe Berger
The Cotton Dreams fragance by Lampe Berger  evokes the "clean", this fragrance has fresh notes of Marseille soap and bergamot, which bind to the aromatic accents of lavender and pine. This Lampe Berger composition has a content of 1 Liter
16 other products in the same category:
The jasmine in this composition as a sign of distion, this scent is made vibrant by the combination of jasmine and Ylang, conviertendose in a floral fragacia with fresh and fruity notes. Composition 500 ml
The Home Fragrance Bois d'Eau offers a crisp citrus freshness underlined by the fresh water spray. In their heart notes, the aquatic notes are mixed with the drift of driftwood before plunging along the coral reefs,...
Refill for Bouquets by Cerería Mollá with Aroma Ginger and Orange Blossom. It contains 500 ml Ginger and Orange Blossom Joyful and bright aroma where the citrus notes blend with the sensual perfume the white...
Recharge for Lampe Berger catalytic lamps. 500 ml content Feuilles d'Aromates is Fresh Aromatic perfume Head Notes: Green Notes, Eucalyptus, Grapefruit Heart Notes: Star Anise, Mint, Basil Base Notes: Clove,...
Refill Bouquets by the italian firm  Dr. Vranjes. Content 500 mlPerfume Rosso Nobile. Initial orange notes enhance in the floral part formed by the absolute of violet and flowers of magnolia, accords of plum complete...
Replacement for scented decorated candled with perfume Teck and Tonka  by Esteban Parfums, which can be replaced as often as desired, and reuse the original holders. Weight 170 gr.
Air fresheners scented solution of the French firm Esteban help to prolong the life of your mikados and ceramic diffusers, scented, being able to choose between the initial aroma of the product, or any other variety...
Elegant Amber is a perfume by Lampe Berger, it's a modern fragrance which combines the classicism of amber and spices with hints of anise and citrus. This Lampe Berger composition has a content of 500 ml
Refills for Bouquets Trudon, L'Œuf, with Abd el Kader perfume. Contains 300 ml. It is inspired by the aroma of Morocco and its palaces. Abd el Kader / Abd al-Qadir was an Algerian who led the fight against the...
Recharge for Lampe Berger catalytic lamps. Content 500 ml Aquatic Freshness is a Citrus Energizing Head Notes: Grapefruit, Orange Heart Notes: Grapefruit, Pineapple Base Notes: Musk, Peach
'Zeste Verveine' is a fresh citrus scent and where his two flavors verbena and lemon rind. This Lampe Berger composition has a content of 500 ml
The Cotton Dreams fragance by Lampe Berger  evokes the "clean", this fragrance has fresh notes of Marseille soap and bergamot, which bind to the aromatic accents of lavender and pine. This Lampe Berger composition has...
Recharge for Culti Milano bouquets with Acqua aroma. It contains 1000 ml Sweet and reassuring, it flows with its calm rhythm, transporting fragments of leaves and forests, the aromas of a trip. It glides slightly...
Refill Bouquet by the italian firm  Dr. Vranjes. Content 500 mlPerfume Head notes: Siberian PineHeart Notes: Musk, Lavender and Vanilla.Background Notes: Wild Mint
Sandalwood Temptation On the head, the fresh and aromatic aroma of cardamom, is accompanied by an enveloping sandalwood and a slightly dry cedar. A white jasmine married to myrtle comes to celebrate the agreement,...
Refill for Bouquets Esteban Paris. Contents 500 ml 'Sous l'Olivier' (Under the Olive Tree), takes us to the heart of Provence, where the branches are rocked by the passage of time and the woody and aromatic...
Customers who bought this product also bought:
'Linen Blossom' by Lampe Berger, is the scent that comes from the bedding that is currently on a field full of spring flowers, being rocked by the gentle west wind while drying under the incident solar rays. It...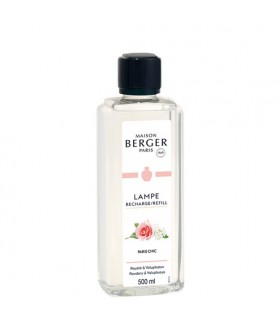 See refinement and elegacia through this scent of Lampe Berger, feels the attraction of its floral notes, and the French perfumes, with notes of bergamot, jasmine water and white musk. Contents 1000 ml
Recharge for Lampe Berger catalytic lamps. Content 1 Liter Cherry Blossom is a Floral, Soft and Fresh Fragrance Head Notes: Cassis, Green Alga, Lemon Heart Notes: Cherry Blossom, Rose, Green Tea Base Notes:...
This perfume by Lampe Berger, 'Touche de Soie', surprises us with its bright head notes composed of fresh and bright chords. In its heart, it is soft and velvety, where the magnitude of a floral bouquet of powdered...
Heavenly Sun A fragrance that elegantly transports you like a solar air and a very feminine, prodigiously sensual aura. Content 1 Liter Floral and Solar Fragrance Head Notes: Tangerine, Bergamot, Orange...