Cotton Caress 1 Liter Lampe Berger
The Cotton Dreams fragance by Lampe Berger  evokes the "clean", this fragrance has fresh notes of Marseille soap and bergamot, which bind to the aromatic accents of lavender and pine. This Lampe Berger composition has a content of 1 Liter
16 other products in the same category:
Refill for Bouquets by Cerería Mollá with Aroma Tobacco & Amber. It contains 500 ml Tobacco & Amber Oriental-inspired fragrance where exotic ginger and tobacco notes of India are mixed with velvety citrus and...
Recharge for Lampe Berger catalytic lamps. Content 500 ml Aquatic Freshness is a Citrus Energizing Head Notes: Grapefruit, Orange Heart Notes: Grapefruit, Pineapple Base Notes: Musk, Peach
Air fresheners scented solution of the French firm Esteban help to prolong the life of your mikados and ceramic diffusers, scented,'Figue Noire' is a woody and fruity fragrance . Contents 500 ml PerfumeTop notes of...
Die  Lösung für  die katalytische Lampe Berger in der Sammlung  "der Traum von  der  Reinheit". Ohne Parfüm, ein einfaches und praktisches Produkt, um unerwünschte Gerüche zu beseitigen und Ihr Zuhause zu erfrischen....
A revitalizing fragrance with a stimulating mixture joins forces with aromatic eucalyptus notes on a background of white musk mixed. This composition of Lampe Berger has a content of 1 Liter
Refill for catalytic lamps from Lampe Berger. Content 500 ml A powerful, conquering and airy fragrance with aromas of tomato leaves along with grapefruit and citrus in the top notes. Patchouli and white birch wood...
This recharge for scented bouquets, signs French Esteban Ambre that promise happiness and co-existence in your home with this amber citrus perfume-scented.Contents 500 ml
This refill of Mathilde M you can recharge your decorative scenteds bouquet many times as you want. Marquise, a delicious blend of wood, spice and soft vanilla. Content 500 ml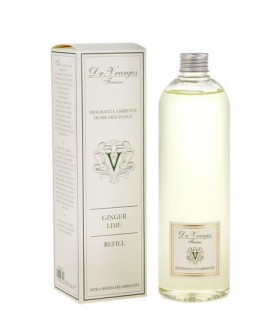 Refill Bouquet by the italian firm  Dr. Vranjes. Content 500 mlPerfumeGinger and lime. Fresh and spicy is how you can define this fragrance thanks to juicy and bright notes of Lima attached to the essence of ginger...
Refill for Bouquets by Cerería Mollá with Aroma Tea & Lemongrass. It contains 500 ml Tea & Lemongrass Green and Aromatic Perfume where the freshness of citrus notes infuse vitality that in combination with Tea...
Refill for catalytic lamps by Maison Berger with Chadron Sauvage  scent. Content 1 Liter Chadron Sauvage by Maison Berger is a subtle fragrance that reveals in its top notes a mixture of citrus fruits and green...
Replacement Scented Bouquet vegetable sticks 22 cm by Esteban Parfums
Pluie d'Ete is a fresh, delicate and crystalline fragrance that evokes the freshness of the dew of a summer morning, with notes of eucalyptus and warmth provided by your notes of amber and patchouli. This Lampe Berger...
Recharge for Lampe Berger catalytic lamps. Content 1 Liter Cherry Blossom is a Floral, Soft and Fresh Fragrance Head Notes: Cassis, Green Alga, Lemon Heart Notes: Cherry Blossom, Rose, Green Tea Base Notes:...
Refills for Bouquets Trudon, L'Œuf, with Ernesto perfume. Contains 300 ml. In Havana, under the sun of the Revolution, the nuances of leather, together with silence, mingle with the smoke of cigarettes, rum and...
Replacement plant rods for Mathilde M. mikados 30 cm
Customers who bought this product also bought:
Promotional Pack of Lampe Berger, pure air, which includes catalytic lamp of transparent Crystal, cubic design and neutral perfume. With this decorative air freshener, it will purify the air in your home and you can...
This perfume by Lampe Berger, 'Touche de Soie', surprises us with its bright head notes composed of fresh and bright chords. In its heart, it is soft and velvety, where the magnitude of a floral bouquet of powdered...
Recharge for Lampe Berger catalytic lamps. 1 Liter content Délicat Musc Blanc is Powdered and Subtle perfume Head Notes: Orange, Petitgrain, Grapefruit Heart Notes: Rose, Jasmine, Orange Blossom Base Notes:...
The Patchouli Lampe Berger fragrance is a sensual and modern fragrance in which the notes of patchouli mixed with sweet and enveloping chords of vanilla and amber balms, a real invitation to well-being and comfort....
Perfume for catalytic lamp Lampe berger in the collection dream of freshness. Purity and freshness as a direct blow from the ocean to your home. 1 Litre