Cotton Caress 1 Liter Lampe Berger
The Cotton Dreams fragance by Lampe Berger  evokes the "clean", this fragrance has fresh notes of Marseille soap and bergamot, which bind to the aromatic accents of lavender and pine. This Lampe Berger composition has a content of 1 Liter
16 otros productos en la misma categoría:
Perfume para lámpara catalítica de Lampe berger Jardins sur la Riviera que nos invita a pasear por las orillas del Mediterráneo: soplo de frescura que mueve las ramas de olivos, verdor de las hojas de higuera, riqueza...
'Douceur  Suédée' de Lampe  Berger aportará calidez y confortabilidad a su estancia comenzando por los matices especiados que se combinan con las notas centrales de lirio de los valles, iris y rosa. Su fondo evoca al...
Recarga para Bouquets (Mikados) de Esteban Parfums, con perfume 'Yuzu & Sel Roses'. Contenido 150 ml. Perfume citríco dulce. Perfume citríco y ducle. Notas de Cabeza: yuzu Notas  de Corazón: Rosa Aldhéido Notas de...
Aroma  aterciopelado y floral. El  jazmín y la peonía se mezclan praliné que le proporciona una dulzura sútil y empolvada. Contenido 500 ml
Recarga Bouquets de la firma Dr. Vranjes. Contenido 500 ml Vainilla y Mandarina. Una instantánea y preciosa fragancia que combina la dulzura de la Vainilla con la acidez de la Mandarina.Propiedades: Calmante,...
Este recarga para bouquets perfumados,  firma francesa Esteban con aroma Ambre que prometen la felicidad y la convivencia en su hogar con este perfume cítrico ambarino.Contenido 250 ml
Mousse Minérale, esta creación de Lampe Berger se basa en el musgo que crece en las cortezas del roble. Su cultivo se realiza en los bosques de Bulgaria, su aroma nos proporciona la frescura del rocío de la mañana con...
Con este recarga para bouquets perfumados puedes recagarlos cuantas veces quieras. Corazón de Ambar  es un perfume oriental y fascinante. Contenido 180 ml.
El perfume Bois d'Orient de Lampe Berger es un perfume sensual que combina la magia de las especias a la delicadez de las esencias amaderadas calentadas al sol. Esta composición de Lampe Berger tiene un contenido de...
Con este recambio para bouquets perfumados puedes disfrutar de tu perfume favorito cuantas veces quieras. Con el aroma fleur de coton expresa pureza y delicadeza. Contenido 180 ml.
Recarga para Bouquets 100 ml con perfume Tonka Précieuse de Mathilde M. Perfume Amaderado y Especiado   Notas de Cabeza: Anís, Regalíz Notas de Corazón: Haba Tonka Notas de Fondo: Ámbar, Vainilla  
Recarga para Bouquets (Mikados) de Esteban Parfums, con perfume 'Lin & Petitgrain'. Contenido 150 ml. Perfume aromático fresco Notas de Cabeza: Petitgrain. Notas de Corazón: Lavanda, Semillas de Ciprés. Notas de...
Descubre el refinamiento y elegacia a través de este aroma de Lampe Berger, siente la atracción de sus notas florales, y delos perfumes franceses, con notas de bergamota, agua de jazmín y los almizcles blancos....
'Orange Extreme' es un cóctel de vitaminas cítricos base, para continuar en las notas de sol de color naranja de Florida y Fressia, realzadas con notas verdes. Su estela envolvente nos telón de fondo de notas...
Recarga ambientador mikado de la firma Dr. Vranjes. Contenido 500 ml  Esta  fragancia mezcla notas de dos resinas preciosas, la Mirra y el Incienso, combinadas sabiamente con la frescura de la Bergamota y la elegancia...
Originario de la región de Calabria, la bergamota es un cítrico ampliamente utilizado en perfumería, un aroma mediterráneo que se ensalza con la mandarina y naranja bajo un fondo especiado del cardamomo, acompañado de...
Customers who bought this product also bought:
'Amande Subtile' is a special perfume created from sweet almond, unique fragrance obtained through a careful blend of anise, green and touch of almond, mixed in his heart a bouquet of flowers gourmand and then a touch...
With this fragrance Lampe Berger evokes Asian seduction with precious woods: sandalwood, which is mixed with black currant and the citrus sweetness of mandarin. The heart reveals the soft, enveloping side of... This perfume by Lampe Berger, 'Touche de Soie', surprises us with its bright head notes composed of fresh and bright chords. In its heart, it is soft and velvety, where the magnitude of a floral bouquet of powdered...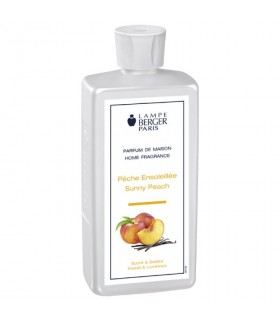 'Pêche Ensoleillée' is a bright and cheerful fragrance with a fruity, creamy texture, combining a floral aroma of rose and jasmine enhanced by the freshness of newly recolectaldo with a sweet peach and sandalwood and...
'Sublime Tonka' by Lampe Berger is a unique olfactory treasure, this fragrance fills the home with an endless number of multicultural contrasts; where the perfume begins with a dusty and enveloping chords that are...