Elegante Parisienne 1L Lampe Berger
'Elegante Parisienne' by Lampe Berger, pays tribute to the gardenia, one of the emblematic flowers within the world of perfumery. This perfume is the unmistakable essence that leaves in its wake the Parisian woman par excellence: cheerful, characteristically fresh, with an interior full of tenderness. Content 1 L
Floral Perfume
Head Notes: Raspberry, Peach.
Heart notes: Gardenia, Rose, Violet, Clove.
Base notes: Patchouli, Cedar, Sandalwood, Vanilla, White Musks, Oak Moss.
16 other products in the same category:
Recharge for catalytic lamps of Lampe Berger. 1 Liter content Mystérieuse Tubéreuse A mysterious flower, the tuberose, with a special attraction, envelops us in a mist where a tempting seduction hides under the...
This Lampe Berger fragrance brings back memories of our childhood, with hints of lavender, cotton and SOAP. Contents 500 ml
Refill Bouquet by the italian firm  Dr. Vranjes. Content 500 mlPerfumeVanilla and tangerine. Instant and precious fragrance that combines the sweetness of vanilla with the acidity of the Mandarin.Properties: Soothing,...
Refill for bouquets of the Italian firm Culti  Milano with the aroma 'Linfa'. Content 1 Liter Iridescence, transparency and vitality. Strength and purity Light and tenacious. A combination between white currant...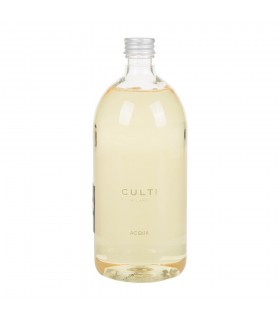 Recharge for Culti Milano bouquets with Acqua aroma. It contains 1000 ml Sweet and reassuring, it flows with its calm rhythm, transporting fragments of leaves and forests, the aromas of a trip. It glides slightly...
'Amande Subtile' is a special perfume created from sweet almond, unique fragrance obtained through a careful blend of anise, green and touch of almond, mixed in his heart a bouquet of flowers gourmand and then a touch...
The Home Fragrance Bois d'Eau offers a crisp citrus freshness underlined by the fresh water spray. In their heart notes, the aquatic notes are mixed with the drift of driftwood before plunging along the coral reefs,...
Perfume Délicat Osmanthus by Lampe Berger brings us Asian sensuality through the traditional Chinese flower cultivated for its fragrance for more than two thousand years, playing an important role in traditional...
Refill for Bouquets by Cerería Mollá with Aroma Tobacco & Amber. It contains 500 ml Tobacco & Amber Oriental-inspired fragrance where exotic ginger and tobacco notes of India are mixed with velvety citrus...
Refill for Bouquets by Cerería Mollá with Aroma Tea & Lemongrass. It contains 500 ml Tea & Lemongrass Green and Aromatic Perfume where the freshness of citrus notes infuse vitality that in combination with Tea...
Refill Scented Bouquet by the Italian firm Dr. Vranjes. Content 500 ml 'Aria' (Air) A frangacia its citrus and fresh notes, the intense time, intermingling together with the flower of orange and lemon trees, evolving...
Refill for bouquets from the Italian firm Culti Milano, with fragrance 'Mareminerale'. Content 1 Liter. IMAGINE Sunrise in the sea. The steps are gently directed towards the edge of the water, absorbing the spiced...
Solution for catalytic lamp Lampe berger in the collection dream of purity. Without perfume, a basic and practical product to eliminate undesirable odors and freshen your home. 500 ml
Recharge for Lampe Berger catalytic lamps. Content 1 Liter Aquatic Freshness is a Citrus Energizing Head Notes: Star Anise, Liquorice Heart Notes: Star anise, Liquorice Base Notes: Tonka Bean, Vanilla
'Elegante Parisienne' by Lampe Berger, pays tribute to the gardenia, one of the emblematic flowers within the world of perfumery. This perfume is the unmistakable essence that leaves in its wake the Parisian woman par...
Air fresheners scented solution of the French firm Esteban help to prolong the life of your mikados and ceramic diffusers, scented, being able to choose between the initial aroma of the product, or any other variety...
Customers who bought this product also bought:
Recharge for Lampe Berger catalytic lamps. Content 1 Liter Thé Blanc Pureté is a Floral  Fragrance Head Notes: Pear and Bergamot Heart Notes: Glycine, Lily of the Valley, Rose, Jasmine Base Notes: Patchouli,...
The Patchouli Lampe Berger fragrance is a sensual and modern fragrance in which the notes of patchouli mixed with sweet and enveloping chords of vanilla and amber balms, a real invitation to well-being and comfort....
Transparent Glass Catalytic Lamp by Lampe Berger designed by Rozenn Mainguené.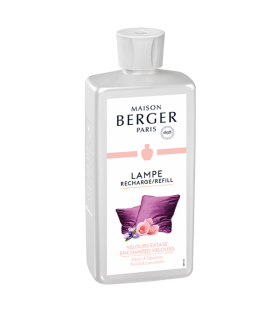 Enchanted Velours by Lampe Berger is an aroma that complements in an exquisite way the soft notes of the brocade of a velvet fabric with red berry, raspberry and purple rose tints. Content 500 ml. Floral Perfume...
Soft Cashmere by Lampe Berger wraps us with its warm, woody notes by combining the sensual notes of cashmere wood with bergamot, rose and jasmine. Content 500 ml. Woody perfume Head Notes: Lily of the Valley,...