Thé blanc & Ylang-Ylang Refill Bouquet 150 ml Esteban
White tea and Ylang-Ylang by Esteban Parfums, combines purity and exoticism, its soft and intense notes illuminate its interior submerging it in a comfortable and relaxing atmosphere; a perfect balance for people who seek inner harmony.
Floral Musky Perfume
Head Notes: Violet Leaves, White Tea
Heart Notes: Ylang Ylang
Base Notes: White Musk, Tea Leaves
16 other products in the same category:
Refill Bouquet by the italian firm  Dr. Vranjes. Content 500 mlPerfumeMagnolia and Orchid. Intense notes of Magnolia created this sophisticated and elegant fragrance with the delicate blend of Mimosa and warmth of the...
Sandalwood Temptation On the head, the fresh and aromatic aroma of cardamom, is accompanied by an enveloping sandalwood and a slightly dry cedar. A white jasmine married to myrtle comes to celebrate the agreement,...
The scent of Cinnamon and Orange provides the freshness of citrus combined with the warmth of spices and candied fruit, and enveloped by a sensual notes of amber and white musk. This composition of Lampe Berger has a...
A scent which gives the space a sense of purity and peace to the relaxing of a bathroom. It is a creation of the signature Lampe Berger that combines touches of orange blossom, Peony and cotton flower. This...
Refill Bouquet by the italian firm  Dr. Vranjes. Content 500 mlPerfumeVanilla and tangerine. Instant and precious fragrance that combines the sweetness of vanilla with the acidity of the Mandarin.Properties: Soothing,...
Refill solution for Scented Bouquets Lampe Berger fragrance Paris Chic. 200 ml content. Floral fragance.
Absolu of Vainille aroma is sweet notes of a perfume that evokes all the aroma of a vanilla bean, sweet and sugary (rum, star anise) notes and envelope heart (Bourbon vanilla pods) and a chocolate background and...
Replacement black sticks scented bouquets for Esteban Parfums. 22 cm
Perfume for catalytic lamp Lampe berger Jardins sur la Riviera, which invites us to walk along the shores of the Mediterranean: breath of freshness that moves the branches of olive trees, greenery of the fig leaves,...
This refill of Mathilde M you can recharge your decorative scenteds bouquet many times as you want. Marquise, a delicious blend of wood, spice and soft vanilla. Content 500 ml
Perfume Délicat Osmanthus by Lampe Berger brings us Asian sensuality through the traditional Chinese flower cultivated for its fragrance for more than two thousand years, playing an important role in traditional...
Refill for Bouquets by Cerería Mollá with Aroma Bergamotto di Calabria . It contains 500 ml Bergamotto di Calabria  Spicy and aromatic perfume where the freshness of citrus notes open the way to the genuine...
Refill solution for Scented Bouquets Lampe Berger fragrance Absolu de Vanille  (Vanilla), a gourmand perfume that evokes the richness of a vanilla pod, with soft sweet notes (rum, star anise), and heart of Bourbon...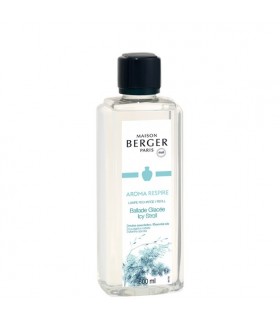 Recharge for Lampe Berger catalytic lamps. 500 ml content Aroma Respire is Aromatic and Fresh perfume Head Notes: Eucalyptus, Menthol Heart Notes: Pine Needles, Mint Base Notes: Thyme
Recharge for catalytic lamps of Lampe Berger. 1 Liter content Mystérieuse Tubéreuse A mysterious flower, the tuberose, with a special attraction, envelops us in a mist where a tempting seduction hides under the...
Recharge for Bouquets (Reed Diffuser) of the French firm Esteban Parfums, with fragrance 'Terre d'Agrumes', a citrus and woody fragrance that fills our stay with freshness with a touch of personality, and its...
Customers who bought this product also bought:
Scented ceramic with chocolate tablet shape by Mathilde M. divisible in portions. Perfume Angélique, a bewitching fragrance full of character, where her floral heart is illuminated by warm oriental notes....
Oil Perfume Concentrate by Esteban Parfums. Content 15 ml 'Sous l'Olivier' (Under the Olive Tree), takes us to the heart of Provence, where the branches are rocked by the passage of time and the woody and aromatic...
Mathilde M. made chocolate bar in scented plaster,  with aroma Marquise.  You can separated their ounces and perfuming their small spaces such as drawers, cabinets, or small corners. Its use can be extended in time as...
A revitalizing fragrance with a stimulating mixture joins forces with aromatic eucalyptus notes on a background of white musk mixed. This composition of Lampe Berger has a content of 500 ml
Air fresheners scented solution of the French firm Esteban help to prolong the life of your mikados and ceramic diffusers, scented, being able to choose between the initial aroma of the product, or any other variety...