Heavenly Sun 1 Liter Lampe Berger
Heavenly Sun
A fragrance that elegantly transports you like a solar air and a very feminine, prodigiously sensual aura. Content 1 Liter
Floral and Solar Fragrance
Head Notes: Tangerine, Bergamot, Orange Flower
Heart Notes: Rosa, Magnolia, Gardenia
Base Notes: Vanilla, Coconut
16 other products in the same category:
Originally from the region of Calabria, the Bergamot is a citrus widely used in perfumery, a Mediterranean flavor that exalts himself with tangerine and orange on a spicy background cardamom, accompanied by floral...
Replacement black sticks scented bouquets for Esteban Parfums. 22 cm
Refill for bouquets from the Italian firm Culti  Milano with the aroma 'L'Oudness'. Contains 1 Liter It is something unexpected but its main ideal is not to accept commitments. It manages to evoke those countries...
This refill of Mathilde M you can recharge your decorative scenteds bouquet many times as you want. Rice Powder aroma, It´s a perfume with powdery notes that invites to remember. Content 200 ml
Refill for bouquets from the Italian firm Culti Milano, with fragrance 'Aramara'. Content 1 Liter. IMAGINE A sunny day in the countryside, marked by the reassuring aroma of the citrus peel. Its aroma extends and...
Air fresheners scented solution of the French firm Esteban help to prolong the life of your mikados and ceramic diffusers, scented, being able to choose between the initial aroma of the product, or any other variety...
Recharge for Lampe Berger catalytic lamps. Content 1 Liter Thé Blanc Pureté is a Floral and Musky Head Notes: Bergamot, Cassis Heart Notes: White Tea, Lily of the Valley, Rose Jasmine Base Notes: Cedar White Musks
This perfume by Lampe Berger, 'Touche de Soie', surprises us with its bright head notes composed of fresh and bright chords. In its heart, it is soft and velvety, where the magnitude of a floral bouquet of powdered...
With this fragrance Lampe Berger evokes Asian seduction with precious woods: sandalwood, which is mixed with black currant and the citrus sweetness of mandarin. The heart reveals the soft, enveloping side of...
'Fresh Green Grass' by Lampe B.erger reproduces perfectly the characteristic aroma that the grass gives off at the precise moment when it has just been cut. In addition, the notes of violet and aquatic flowers give it...
Perfume for catalytic lamp Lampe berger in the collection of Middle East dream. Fragrance sophisticated and opulent, intoxicating, feel the hectic Carnival of Venice with this dizzying composition, a great femininity,...
Refill for bouquets by Mahtilde M. Content 500 ml Astrée is Shining, romantic and feminine aroma by Mathilde M.. The fresh and sparkling notes of citruses reveal a lighting and solar bouquet of orange blossom and...
'Bois Sauvage' by Lampe Berger is a perfume with character, intensely woody that combines the quinoto with the apple giving way to a lavender center together with some surprising marine notes, making this an intensely...
This refill of Mathilde M you can recharge your decorative scenteds bouquet many times as you want, a delicious blend of wood, spice and soft vanilla. Content 200 ml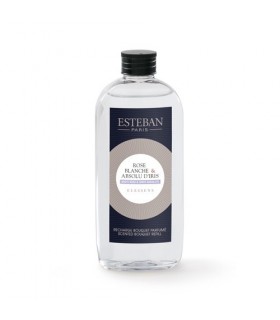 Bouquets refill, Esteban Parfums, with perfume 'Rose blanche & Absolu d'Iris'. Content 150 ml. Sweet and citrus floral perfume Head Notes: Bergamot Heart Notes: Rose petals, irises Base Notes: White Musk, Amber
Recharge for Lampe Berger catalytic lamps. Content 500  ml Cherry Blossom is a Floral, Soft and Fresh Fragrance Head Notes: Cassis, Green Alga, Lemon Heart Notes: Cherry Blossom, Rose, Green Tea Base Notes:...
Customers who bought this product also bought:
The Patchouli Lampe Berger fragrance is a sensual and modern fragrance in which the notes of patchouli mixed with sweet and enveloping chords of vanilla and amber balms, a real invitation to well-being and comfort....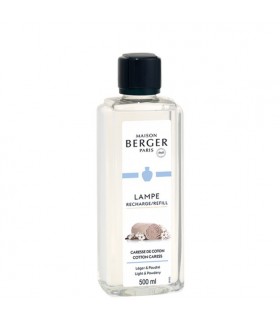 The Cotton Dreams fragance by Lampe Berger  evokes the "clean", this fragrance has fresh notes of Marseille soap and bergamot, which bind to the aromatic accents of lavender and pine. This Lampe Berger composition has...
The Home Fragrance Bois d'Eau offers a crisp citrus freshness underlined by the fresh water spray. In their heart notes, the aquatic notes are mixed with the drift of driftwood before plunging along the coral reefs,...
Sous le Figuier Perfume Lampe Berger is a fruity perfume, which runs from the freshness of fig leaf to the sweet heart of this fruit. This Lampe Berger composition has a content of 500 ml.
Elegant Amber is a perfume by Lampe Berger, it's a modern fragrance which combines the classicism of amber and spices with hints of anise and citrus. This Lampe Berger composition has a content of 500 ml