Tuberose & Jasmine Refill 500 ml Bouquet Cereria Mollá
Refill for Bouquets by Cerería Mollá with Aroma Tuberose & Jasmine . It contains 500 ml
Tuberose & Jasmine 
Fresh Fragrance with Green notes and a powerful Floral heart, being the Orange Blossom, Jasmine and Narcissus its main floral notes that will transfer us to a garden full of emotions, where peace and harmony predominate.
Fresh, Floral and Green Fragrance
16 other products in the same category:
Rosewood inspired perfume Lampe Berger, evoking a beautiful end of this solid wood, giving inside an intense, sensual and exotic olfactory personality, which intertwine with the acidity of grapefruit and exotic...
Air fresheners scented solution of the French firm Esteban help to prolong the life of your mikados and ceramic diffusers, scented, being able to choose between the initial aroma of the product, or any other variety...
Champs de Lavande is a fresh floral fragrance with a hint of camphor that provides a cool character. This Lampe Berger composition has a content of 1 Litre
Absolu of Vainille aroma is sweet notes of a perfume that evokes all the aroma of a vanilla bean, sweet and sugary (rum, star anise) notes and envelope heart (Bourbon vanilla pods) and a chocolate background and...
Refill for bouquets by Mahtilde M. Content 200 ml Antoinette is a fragrance that was imagined as a floral gift and where the union between specially collected honey and a bouquet of jasmine and orange blossom...
Refill for bouquets from the Italian firm Culti Milano, with fragrance 'Tessuto'. Content 1 Liter. IMAGINE A walk among the blooming stems of a cotton field, caressing the soft flakes. Touch the light texture of...
A revitalizing fragrance with a stimulating mixture joins forces with aromatic eucalyptus notes on a background of white musk mixed. This composition of Lampe Berger has a content of 500 ml
Recharge for Lampe Berger catalytic lamps. Content 1 Liter Bouquet Liberty is a Floral  Fragrance Head Notes: Pear and Bergamot Heart Notes: Glycine, Lily of the Valley, Rose, Jasmine Base Notes: Patchouli,...
Sandalwood Temptation On the head, the fresh and aromatic aroma of cardamom, is accompanied by an enveloping sandalwood and a slightly dry cedar. A white jasmine married to myrtle comes to celebrate the agreement,...
IMAGINE The richness of the Apulian countryside, with pomegranates loaded with fruit between the dry stone walls. Continue in the thicket that dominates the sea, collect, dirty your hands, taste its woody essence....
Exquisite Sparkle of Lampe Berger is a fragrance that combines the aromas of grapefruit, champagne and patchouli with the floral and energetic notes that evoke that happy atmosphere that we enjoyed during the...
Recharge for Bouquets (Reed Diffuser) of the French firm Esteban Parfums, with fragrance 'Iris Cachemire'. Content  500 ml Iris Cachemire is an elegant and unexpected marriage, where vegetal notes flirt with a...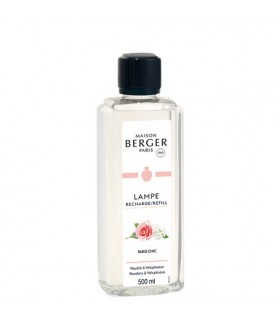 See refinement and elegacia through this scent of Lampe Berger, feels the attraction of its floral notes, and the French perfumes, with notes of bergamot, jasmine water and white musk. Contents 500 ml
Refill Bouquets by the italian firm  Dr. Vranjes. Content 500 ml Fragrance designed by Paolo Vranjes exclusively for Maserati that commemorates 100 years of the legendary Italian car maraca, where Paolo Vranjes gave...
This refill of Mathilde M you can recharge your decorative scenteds bouquet many times as you want. With this aroma cotton flower scent will fill your home pure. Content 200 ml
The Patchouli Lampe Berger fragrance is a sensual and modern fragrance in which the notes of patchouli mixed with sweet and enveloping chords of vanilla and amber balms, a real invitation to well-being and comfort....
Customers who bought this product also bought:
Scented Sachet by Mathilde M with a baby aroma  Angélique.   Perfume
Refill for bouquets by Mahtilde M. Content 500 ml Divine Marquise is an elegant and sensual perfume, where the delicious notes of the chocolates are surrounded by an oriental patchouli and amber chord....
Scented Sachet by Esteban, Rêve Blanc is a tender and luminous aroma accompanied by the balance of generous whiteness and textured materials. Floral FragranceHead Notes: solar notes.Heart notes: freesia, heliotrope...
Scented sachet by Esteban Parfums 'Néroli', to be used in drawers, closets, cars, etc. It can also be used for opening the bag the dotted line indicated as vacuum powder. Weight 65 gr.PerfumeTop notes of...
Scented sachet by Esteban Parfums 'Thé En Fleur', to be used in drawers, closets, cars, etc. It can also be used for opening the bag the dotted line indicated as vacuum powder. Weight 65 gr.Perfume of White Tea.