Iris Cachemire Refill 500 ml Esteban
Recharge for Bouquets (Reed Diffuser) of the French firm Esteban Parfums, with fragrance 'Iris Cachemire'. Content  500 ml
Iris Cachemire is an elegant and unexpected marriage, where vegetal notes flirt with a majestic and delicate powdery iris. Where its heart shows all the nobility of an iris sublimated by an unexpected and velvety touch of apricot on an enveloping background on musky notes with warm accords of woods and tonka bean.
Floral and Powdery Perfume
Top Notes: Violet and Tangerine
Middle Notes: Iris, Rose and Apricot
Base Notes: Cashmere Wood, Vegetable Moss, Tonka Bean
16 other products in the same category:
Recharge for Lampe Berger catalytic lamps. 1 Liter content Feuilles d'Aromates is Fresh Aromatic perfume Head Notes: Green Notes, Eucalyptus, Grapefruit Heart Notes: Star Anise, Mint, Basil Base Notes: Clove,...
Refill for Bouquets by Locherber Milano with aroma Azad Kashmere. Contents 500 ml Imagine the silence, the great contrasts, from the inaccessible spaces of the mountains to the immense valleys, temperature...
Refill for catalytic lamps from Lampe Berger. Content 500 ml A vibrant fragrance with a very lively head. The citrus sparkle is sophisticated with a pleasant evolution towards a transparency given by the watery...
Recharge for Lampe Berger catalytic lamps. 500 ml content Aroma Wake Up pire is Woody perfume Head Notes: Ginger, Bergamot, Eucalyptus Heart Notes: Cedar, Sandalwood, Geranium Base Notes: Sandalwood, Patchouli
Recharge for Lampe Berger catalytic lamps. 1 Liter content Sève Eternelle is Aromatic Green perfume Head Notes: Green Notes, Eucalyptus, Grapefruit Heart Notes: Sage, Mint, Aloe Vera, Lotus Flower Base...
A sparkling scent with notes of cedar and cypress, which is accentuated by notes of citiricos. This composition of Lampe Berger has a content of 500 ml
Refill for bouquets from the Italian firm Culti .Milano, with fragrance 'Mountain'. Content 1 Liter. IMAGINE The cozy atmosphere of a mountain chalet, the wood heated by the fireplace that exudes its delicate...
The perfume of Lampe Berger 'Fruits Secs' is a true bright and fruity paradise that mixes all the fruits of Africa. Fruity gourmand perfume, opens on bright notes and vitamins of mandarin, apple and pear. Its heart...
Rosewood inspired perfume Lampe Berger, evoking a beautiful end of this solid wood, giving inside an intense, sensual and exotic olfactory personality, which intertwine with the acidity of grapefruit and exotic...
Refill Bouquets by the italian firm  Vranjes. Content 500 mlPerfumeAmber. rich and heady fragrance with elegant oriental overtones. The Amber and the Iris Flower merge with Cistus, Patchouli, Lábdanum, Sandalwood and...
Recharge for Lampe Berger catalytic lamps. Content 1 Liter   Litchi Paradis is a Fruity fragrance   Head Notes: Melon, Lemon, Apple, Eucalyptus Heart Notes: Grapefruit, White Flowers, Rose, Lychee...
Air fresheners scented solution of the French firm Esteban help to prolong the life of your mikados and ceramic diffusers, scented, being able to choose between the initial aroma of the product, or any other variety...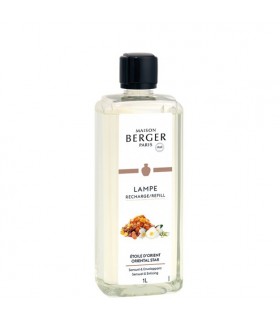 Fragrance Lampe Berger luminous and majestic, glittering with spicy notes. Soft and fruity joins patchouli and gourmet flavors. Contents 500 ml
Absolu of Vainille aroma is sweet notes of a perfume that evokes all the aroma of a vanilla bean, sweet and sugary (rum, star anise) notes and envelope heart (Bourbon vanilla pods) and a chocolate background and...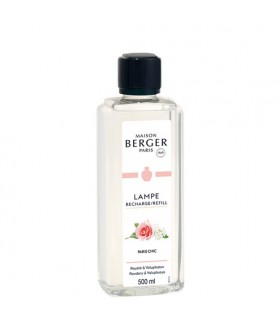 See refinement and elegacia through this scent of Lampe Berger, feels the attraction of its floral notes, and the French perfumes, with notes of bergamot, jasmine water and white musk. Contents 1000 ml
Lemon Blossom is a fresh lemon scent that combines the floral sweetness of neroli and orange blossom. This Lampe Berger composition has a content of 500 ml
Customers who bought this product also bought:
Refill for Bouquets by Locherber Milano with aroma Banskia. Contents 500 ml Fragrance inspired by the Australian flower of BANKSIA, a rare and endangered species. Aromatic, woody and spicy fragrance with top...
Perfume for catalytic lamp Lampe berger in the collection dream of freshness. Purity and freshness as a direct blow from the ocean to your home. 1 Litre
Essential Oil by Esteban Parfums 'Fige Noire'. Contents 15 mlPerfume, woody and fruityTop notes of black figs, violet leavesHeart Notes: fig wood, sandalwoodBase notes: labdanum, musk agreement
Air freshener spray very useful as it allows perfume the air with your favorite fragrance in an instant. The spray provides greater subtlety in the perception of a perfume composition. Teck and Tonka is captivating...
Rêve Blanc is a tender and luminous aroma accompanied by the balance of generous whiteness and textured materials. Content 250 ml Floral Fragrance Head Notes: solar notes. Heart notes: freesia, heliotrope flower....