Maserati Dr. Vranjes 500 ml Refill Bouquet
Refill Bouquets by the italian firm  Dr. Vranjes. Content 500 ml


Fragrance designed by Paolo Vranjes exclusively for Maserati that commemorates 100 years of the legendary Italian car maraca, where Paolo Vranjes gave life to a perfume that evokes the elegance and dynamism of Maserati.
The notes of the Litsea Cubeba, an oriental fruit with a citrus aroma, are combined with leather and woods to recreate the values of the Maserati brand. Fresh and enveloping, it is perfect to help you focus on study or work areas.
Fresh and Enveloping Fragrance
16 other products in the same category:
Champs de Lavande is a fresh floral fragrance with a hint of camphor that provides a cool character. This Lampe Berger composition has a content of 1 Litre
Champs de Lavande is a fresh floral fragrance with a hint of camphor that provides a cool character. This Lampe Berger composition has a content of 500 ml
Refill for catalytic lamps from Maison Berger with Fleurs de Musc scent. Content 1 Liter A floral and sensual essence as sweet as it is joyful, with a strong dose of mystery. The enveloping aroma arises from this...
Refill  Mathilde M. with perfume 'Voltige', fragrance with floral notes with and poetic character. 200 ml Olfactive Family: Floral
Rêve Blanc is a tender and luminous aroma accompanied by the balance of generous whiteness and textured materials. Content 500 ml Floral Fragrance Head Notes: solar notes. Heart notes: freesia, heliotrope flower....
Recharge for Lampe Berger catalytic lamps. Content 500 ml Aquatic Freshness is a Soft Floral Perfume Head Notes: Melon, Green Apple Heart Notes: Monoi, Lily of the Valley Base Notes: Amber, Tuberose
Refill for catalytic lamps by Maison Berger with Eau d'Aloe scent. Content 1 Liter A fresh and light fragrance, a mixture of delicate marine aromas, an aquatic and vegetal poetry worked around Aloe Vera and citrus...
Refill for bouquets from the Italian firm Culti Milano with the aroma 'Ode Rosae'. Contains 1 Liter Evocation of the sensual and perfumed nights in Marrakech with its intoxicating and wild aroma that penetrates our...
Refill for catalytic lamps from Lampe Berger. Content 500 ml A powerful, conquering and airy fragrance with aromas of tomato leaves along with grapefruit and citrus in the top notes. Patchouli and white birch wood...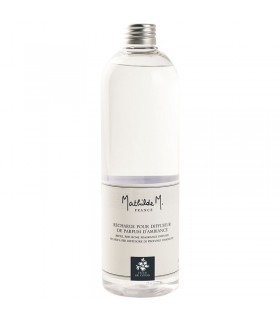 This refill of Mathilde M you can recharge your decorative scenteds bouquet many times as you want. With this aroma cotton flower scent will fill your home pure. Content 500 ml
Lolita  Lempicka by Lampe  Berger is a fairytale in which we can appreciate the story of a woman in the making who is going through that moment in which all of us had to leave childhood but not leave her. It is the...
Recharge for Bouquets (Reed Diffuser) of the French firm Esteban Parfums, with fragrance 'Iris Cachemire'. Content  500 ml Iris Cachemire is an elegant and unexpected marriage, where vegetal notes flirt with a...
Refill for Bouquets by Locherber Milano with aroma Oudh . Contents 500 ml Known since the dawn of time in different cultures and religions, but also in ancient medicinal practices, Oud (Oudh in the Arab world) is a...
Refill for bouquets by Mahtilde M. Content 500 ml Astrée is Shining, romantic and feminine aroma by Mathilde M.. The fresh and sparkling notes of citruses reveal a lighting and solar bouquet of orange blossom and...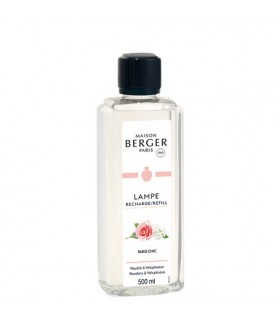 See refinement and elegacia through this scent of Lampe Berger, feels the attraction of its floral notes, and the French perfumes, with notes of bergamot, jasmine water and white musk. Contents 500 ml
Perfume for catalytic lamp Lampe berger of the coleccionsueno of freshness. Purity and freshness as a direct blow from the ocean to your home. 500 ml.