Under the Olive Tree 1 Liter Lampe Berger
Refill for Maison Berger catalytic lamps with Sous L'Oliveraie scent. Content 1 Liter
Seasonal, this fragrance is woody and Oriental. A particularly carnal scent that begins with a floral woody facet with a hint of myrrh. Its heart denotes depth with woody notes of olive, leather and oud. Patchouli sublimates its trail with a seductive fragrance, plunges into an intoxicating and sensual whirlwind.
Woody and Aromatic Fragrance
Top Notes: Jasmine, ud wood, myrrh
Heart Notes: Oud Wood, Leather, Cedar, Olive Wood
Base Notes: Vanilla, Musk, Patchouli
16 other products in the same category:
The Cotton Dreams fragance by Lampe Berger  evokes the "clean", this fragrance has fresh notes of Marseille soap and bergamot, which bind to the aromatic accents of lavender and pine. This Lampe Berger composition has...
Recharge for Lampe Berger catalytic lamps. Content 500 ml   Litchi Paradis is a Fruity fragrance Head Notes: Melon, Lemon, Apple, Eucalyptus Heart Notes: Grapefruit, White Flowers, Rose, Lychee Base Notes:...
Intense Spices Olfactory evocation of an imaginary dream, a mixture of spicy spices such as the Mesopotamian sun, roses enhanced by precious woods and patchouli. A luxurious atmosphere, a sensory and disturbing...
Refill for catalytic lamps from Lampe Berger. Content 1 Liter   Fleur de Nymphéa is a Floral and Aquatic fragrance Top Notes: Lemon, Bergamot, Galbanum, Mint, Pepper Heart Notes: Aquatic Notes, Lily of the...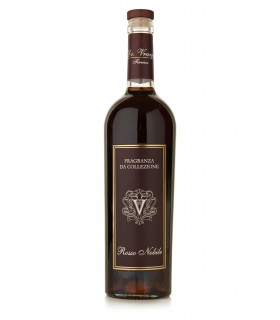 Refill Bouquets by the italian firm  Dr. Vranjes. Content 750 ml The Rosso Nobile Refill for air freshener, in 750 ml format, is presented as a bottle of valuable Tuscan red wine and has vine branches to spread the...
Refill for bouquets by Mahtilde M. Content 200 ml Antoinette is a fragrance that was imagined as a floral gift and where the union between specially collected honey and a bouquet of jasmine and orange blossom...
Recharge for Lampe Berger catalytic lamps. 500 ml content Aroma Respire is Aromatic and Fresh perfume Head Notes: Eucalyptus, Menthol Heart Notes: Pine Needles, Mint Base Notes: Thyme
Refill Bouquet by the italian firm  Dr. Vranjes. Content 500 ml Perfume Top notes the brings the harmony of lemon flowers with carnation flower, evolving in its heart notes with clove and sandalwood, along with Star...
Exquisite Sparkle of Lampe Berger is a fragrance that combines the aromas of grapefruit, champagne and patchouli with the floral and energetic notes that evoke that happy atmosphere that we enjoyed during the...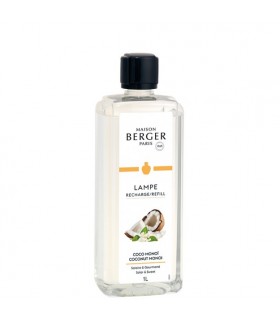 The Coconut Monoï perfume invites you to travel with its citrus notes of zest of green orange and tangerine. Its lightness, leave us sweet and fresh aromas and through the nose it envelops us in enveloping and warm...
The perfume Bois d'Orient of Lampe Berger is a sensual fragrance that combines the magic of spices to the delicacy of the woody essences heated in the sun .. This composition Lampe Berger has a content of 500 ml
Recharge for Lampe Berger catalytic lamps. Content 1 Liter Thé Blanc Pureté is a Floral and Musky Head Notes: Bergamot, Cassis Heart Notes: White Tea, Lily of the Valley, Rose Jasmine Base Notes: Cedar White...
A sparkling scent with notes of cedar and cypress, which is accentuated by notes of citiricos. This composition of Lampe Berger has a content of 500 ml
Air fresheners scented solution of the French firm Esteban help to prolong the life of your mikados and ceramic diffusers, scented, being able to choose between the initial aroma of the product, or any other variety...
Refills for Bouquets Trudon, L'Œuf, with Abd el Kader perfume. Contains 300 ml. It is inspired by the aroma of Morocco and its palaces. Abd el Kader / Abd al-Qadir was an Algerian who led the fight against the...
Refill Bouquets by the italian firm  Vranjes. Content 500 mlPerfumeAmber. rich and heady fragrance with elegant oriental overtones. The Amber and the Iris Flower merge with Cistus, Patchouli, Lábdanum, Sandalwood and...