Gourmandise Divine 500 ml Lampe Berger
Refill for catalytic lamps from Maison Berger with Gourmandise Divine scent. Contains 500 ml
The Gourmandise Divine perfume is a seasonal perfume that leaves a spicy and tempting trail inside you and together with the fruity sweetness of the mandarin is intertwined with the intense and powerful accords of ginger. Full of character, this olfactory composition ends with a warm and delicious vanilla accord.
Fruity and Spicy Perfume
16 other products in the same category:
Refill for bouquets from the Italian firm Culti Milano with the aroma 'Aria'. Content 1 Liter A fresh and transparent breeze gets the curtains removed from our windows and reveals a splendid view of the seashore to...
Replacement plant rods for Mathilde M. mikados 30 cm
Refill for bouquets by Mahtilde M. Content 500 ml Divine Marquise is an elegant and sensual perfume, where the delicious notes of the chocolates are surrounded by an oriental patchouli and amber chord....
A scent of Lampe Berger inspired by the flower of orange blossom, with hints of jasmine that stands out for its lightness and tenderness. Composition 500 ml
Recharge for Lampe Berger catalytic lamps. 500 ml content Aroma Respire is Aromatic and Fresh perfume Head Notes: Eucalyptus, Menthol Heart Notes: Pine Needles, Mint Base Notes: Thyme
Refill for catalytic lamps from Maison Berger with Lait de Figue scent. Content 1 Liter Lait de Figue de Maison Berger, the black fig is a symbol in certain cultures of the forbidden fruit, we find in this perfume...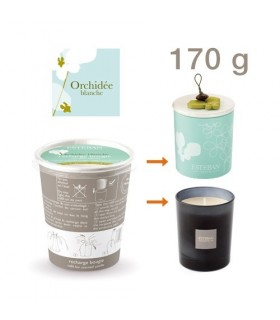 The soft colors of orchids stand tones green water of this sailing of the French firm Esteban in a fresh and subtle perfume that perfectly evokes the delicacy of the orchid. A real delight!. Approx. 170 gr. Green...
A revitalizing fragrance with a stimulating mixture joins forces with aromatic eucalyptus notes on a background of white musk mixed. This composition of Lampe Berger has a content of 1 Liter
Pluie d'Ete is a fresh, delicate and crystalline fragrance that evokes the freshness of the dew of a summer morning, with notes of eucalyptus and warmth provided by your notes of amber and patchouli. This Lampe Berger...
The Coeur de Pamplemousse fragrance is a vibrant fragrance proporcinado by the fruity aroma of orange heart. This Lampe Berger composition has a content of 1 Litre  
Refill Bouquets by the italian firm  Dr. Vranjes. Content 2500 mlPerfumeAmber. Rich and intoxicating fragrance with elegant oriental overtones. The Amber and Iris Flower merge with Cistus, Patchouli, Labdanum,...
Elegant Amber is a perfume by Lampe Berger, it's a modern fragrance which combines the classicism of amber and spices with hints of anise and citrus. This Lampe Berger composition has a content of 500 ml
Recharge for Bouquets (Reed Diffuser) of the French firm Esteban Parfums, with fragrance 'Terre d'Agrumes', a citrus and woody fragrance that fills our stay with freshness with a touch of personality, and its...
Originally from the region of Calabria, the Bergamot is a citrus widely used in perfumery, a Mediterranean flavor that exalts himself with tangerine and orange on a spicy background cardamom, accompanied by floral...
Refill for catalytic lamps from Lampe Berger. Content 1 Liter A fragrance that takes you to a world of authenticity. Synonymous with freedom, it transmits values such as honesty and frankness. The freshness works...
Heavenly Sun A fragrance that elegantly transports you like a solar air and a very feminine, prodigiously sensual aura. Content 1 Liter Floral and Solar Fragrance Head Notes: Tangerine, Bergamot, Orange...
Customers who bought this product also bought:
Lemon Blossom is a fresh lemon scent that combines the floral sweetness of neroli and orange blossom. This Lampe Berger composition has a content of 500 ml
Recharge for Lampe Berger catalytic lamps. Content 1 Liter Cherry Blossom is a Floral, Soft and Fresh Fragrance Head Notes: Cassis, Green Alga, Lemon Heart Notes: Cherry Blossom, Rose, Green Tea Base Notes:...
Refill for catalytic lamps from Lampe Berger. Content 1 Liter A vibrant fragrance with a very lively head. The citrus sparkle is sophisticated with a pleasant evolution towards a transparency given by the watery...
Oriental Comfort 1 Liter Lampe Berger Refill for Lampe Berger catalytic lamps. Content 1 Liter  ml    Douceur Orientale is a Spicy Oriental fragrance. Top Notes: Star Anise, Liquorice Heart Notes: Jasmine, Rose...