Winter Joy 500 ml Lampe Berger
Refill for catalytic lamps from Maison Berger with Joie D'Hiver scent. Contains 500 ml
Joie d'Hiver is an ideal perfume for end-of-year celebrations where the irreparably attractive fruity notes of apple are joined by spicy cinnamon and vanilla. This truly delightful fragrance enhances the floral heart of the hyacinth. A captivating combination of oriental, warm and opulent aromas, ideal for warming, purifying and perfuming the environment.
Fruity and Spicy Perfume
16 other products in the same category:
Refill Bouquets by the italian firm  Dr. Vranjes. Content 500 ml
. Perfume Bellini, by Dr. Vranjes manages to impregnate the air with joy, with its intense and youthful fragrance. Its fresh and fruity notes evoke...
Refill for Bouquets by Locherber Milano with aroma Klinto. Contents 500 ml Especially extended in Veneto, the wine Clinto (or clintòn), reached the old continent of America at the beginning of the 19th century. El...
Refill for catalytic lamps by Maison Berger with Eau d'Aloe scent. Content 500 ml A fresh and light fragrance, a mixture of delicate marine aromas, an aquatic and vegetal poetry worked around Aloe Vera and citrus...
Recharge for Lampe Berger catalytic lamps. 1 Liter  content Aroma Wake Up pire is Woody perfume Head Notes: Ginger, Bergamot, Eucalyptus Heart Notes: Cedar, Sandalwood, Geranium Base Notes: Sandalwood, Patchouli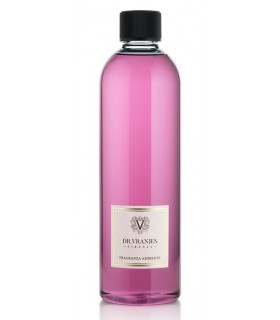 Refill Scented Bouquet by the Italian firm Dr. Vranjes. Content 500 ml The fleshy notes of Peony intertwine with the intense aroma of Black Jasmine, creating a fresh, bright and incredibly refined accord. Peonia...
The Coeur de Pamplemousse fragrance is a vibrant fragrance proporcinado by the fruity aroma of orange heart. This Lampe Berger composition has a content of 1 Litre  
Refill Bouquet by the italian firm  Dr. Vranjes. Content 500 ml Perfume Top notes the brings the harmony of lemon flowers with carnation flower, evolving in its heart notes with clove and sandalwood, along with Star...
Refill for bouquets by Mahtilde M. Content 500 ml Astrée is Shining, romantic and feminine aroma by Mathilde M.. The fresh and sparkling notes of citruses reveal a lighting and solar bouquet of orange blossom and...
This refill of Mathilde M you can recharge your decorative scenteds bouquet many times as you want. With this aroma cotton flower scent will fill your home pure. Content 200 ml
Recharge for Lampe Berger catalytic lamps. Content 500 ml Aquatic Freshness is a Citrus Energizing Head Notes: Grapefruit, Orange Heart Notes: Grapefruit, Pineapple Base Notes: Musk, Peach
Refill for Bouquets by Cerería Mollá with Aroma Ginger and Orange Blossom. It contains 500 ml Ginger and Orange Blossom Joyful and bright aroma where the citrus notes blend with the sensual perfume the white...
With this fragrance Lampe Berger evokes Asian seduction with precious woods: sandalwood, which is mixed with black currant and the citrus sweetness of mandarin. The heart reveals the soft, enveloping side of...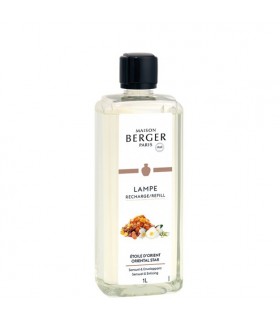 Fragrance Lampe Berger luminous and majestic, glittering with spicy notes. Soft and fruity joins patchouli and gourmet flavors. Contents 500 ml
Recharge for Lampe Berger catalytic lamps. 1 Liter content Sève Eternelle is Aromatic Green perfume Head Notes: Green Notes, Eucalyptus, Grapefruit Heart Notes: Sage, Mint, Aloe Vera, Lotus Flower Base...
Refill for bouquets from the Italian firm Culti Milano, with fragrance 'Aramara'. Content 1 Liter. IMAGINE A sunny day in the countryside, marked by the reassuring aroma of the citrus peel. Its aroma extends and...
Refill for bouquets by Mahtilde M. Content 200 ml Perfume Angélique, a bewitching fragrance full of character, where her floral heart is illuminated by warm oriental notes. Oriental Perfume Head Notes:...
Customers who bought this product also bought:
Heavenly Sun A fragrance that elegantly transports you like a solar air and a very feminine, prodigiously sensual aura. Content 500 ml Floral and Solar Fragrance Head Notes: Tangerine, Bergamot, Orange...
Sandalwood Temptation On the head, the fresh and aromatic aroma of cardamom, is accompanied by an enveloping sandalwood and a slightly dry cedar. A white jasmine married to myrtle comes to celebrate the agreement,...
The perfume of Lampe Berger 'Fruits Secs' is a true bright and fruity paradise that mixes all the fruits of Africa. Fruity gourmand perfume, opens on bright notes and vitamins of mandarin, apple and pear. Its heart...
 Lampe Berguer burner replacement. Lenght 47 cm