Spare air freshener Sticks 22 cm Esteban Black
Replacement black sticks scented bouquets for Esteban Parfums. 22 cm
Mathilde M. get timeless refinement can fill your home with the smell of a State of mind, the fragrance of a desire, with the smell of a memory.Mathilde M. signature creations suggest luxury, calm and elegance, are impregnated of romanticism and charm.
Calculated from
8
reviews
16 other products in the same category:
'Orange Extreme' is a cocktail of vitamins citrus base, to continue in the notes of orange sun of Florida and Fressia, enhanced with green notes. Its surround us wake backdrop background woody notes and gourmand....
Refill Bouquets by the italian firm  Dr. Vranjes. Content 500 mlPomegranate, Black Grape and Watermelon are the amazing ingredients used to recreate the characteristic scent of the pressed seeds of...
Recharge for Lampe Berger catalytic lamps. Content 500 ml Aquatic Freshness is a Citrus Energizing Head Notes: Star Anise, Liquorice Heart Notes: Star anise, Liquorice Base Notes: Tonka Bean, Vanilla
'Bois Sauvage' by Lampe Berger is a perfume with character, intensely woody that combines the quinoto with the apple giving way to a lavender center together with some surprising marine notes, making this an intensely...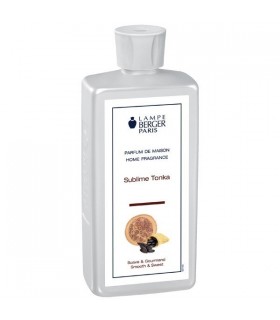 'Sublime Tonka' by Lampe Berger is a unique olfactory treasure, this fragrance fills the home with an endless number of multicultural contrasts; where the perfume begins with a dusty and enveloping chords that are...
Refill for bouquets of the Italian firm Culti  Milano with the aroma 'Linfa'. Content 1 Liter Iridescence, transparency and vitality. Strength and purity Light and tenacious. A combination between white currant...
Lemon Blossom is a fresh lemon scent that combines the floral sweetness of neroli and orange blossom. This Lampe Berger composition has a content of 500 ml
Refills for Bouquets Trudon, L'Œuf, with Cyrnos perfume. Contains 300 ml. The town of Cyrnos in Provence welcomed high society at the beginning of the 20th century, they met in the shade of fig trees and pines....
Refill Bouquet by the italian firm  Dr. Vranjes. Content 500 mlPerfumeVanilla and tangerine. Instant and precious fragrance that combines the sweetness of vanilla with the acidity of the Mandarin.Properties: Soothing,...
Lampe Berger loaded of sensuality this scent on a hint of rose, Lily, and vanilla on a deep background of amber and patchouli. Composion 500 ml
Recharge for Lampe Berger catalytic lamps. 500 ml content Aroma Respire is Aromatic and Fresh perfume Head Notes: Eucalyptus, Menthol Heart Notes: Pine Needles, Mint Base Notes: Thyme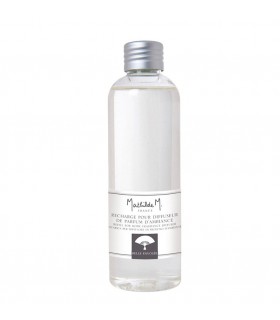 Refill for bouquets by Mahtilde M. Content 200 ml Belle Envolée is a delicate and fruity perfume, a lively fragrance that blends the lively freshness of mandarin, the sweetness of sublime jasmine and lively notes...
Refill Bouquets by the italian firm  Dr. Vranjes. Content 500 ml ln the city of art, Florence, we 'Giardini di Boboli' where Vranjes inspires its fragrance, which recalls the time where princes and nobles walked in...
Refill for bouquets by Mahtilde M. Content 500 ml Astrée is Shining, romantic and feminine aroma by Mathilde M.. The fresh and sparkling notes of citruses reveal a lighting and solar bouquet of orange blossom and...
A scent which gives the space a sense of purity and peace to the relaxing of a bathroom. It is a creation of the signature Lampe Berger that combines touches of orange blossom, Peony and cotton flower. This...
Customers who bought this product also bought:
Refill for bouquets from the Italian firm Culti Milano., with fragrance 'Terra'. Content 1 Liter. IMAGINE By supporting the bare palms in the warm earth of Morocco at twilight, one feels a silent force that...
Sticks air freshener frm Dr. Vranjes. Content 250 ml. It Includes 8 vegetable sticks. Ginger Lime Fresh and spicy is how this fragrance can be defined thanks to the juicy and bright notes of Lime together with...
Concentrate perfume by Mathilde M. with aroma 'Angélique' for use as essential oil diffusers and use in Mist Diffuser . Not for use alimentary or body. Content 10 ml Astrée is Shining, romantic and feminine aroma...
Mikado in decorative glass jar with ceramic lid and shaped rods triptych, Esteban french firm, with subtle, fresh scent that evokes perfectly the delicate orchid. A real treat!. Scented Solution 250 mlGreen floral...
Essential Oil by Esteban Parfums 'Fige Noire'. Contents 15 mlPerfume, woody and fruityTop notes of black figs, violet leavesHeart Notes: fig wood, sandalwoodBase notes: labdanum, musk agreement