Mysteri Pathouli 500 ml Lampe Berger
The Patchouli Lampe Berger fragrance is a sensual and modern fragrance in which the notes of patchouli mixed with sweet and enveloping chords of vanilla and amber balms, a real invitation to well-being and comfort. This Lampe Berger composition has a content of 500 ml
16 other products in the same category: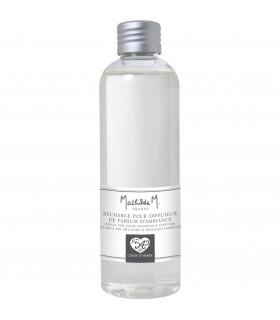 This refill of Mathilde M you can recharge your decorative scenteds bouquet many times as you want. Coeur d'Ambre is a oriental perfume. Content 180 ml
Refill for Bouquets by Cerería Mollá with Aroma Tuberose & Jasmine . It contains 500 ml Tuberose & Jasmine  Fresh Fragrance with Green notes and a powerful Floral heart, being the Orange Blossom, Jasmine and...
Absolu of Vainille aroma is sweet notes of a perfume that evokes all the aroma of a vanilla bean, sweet and sugary (rum, star anise) notes and envelope heart (Bourbon vanilla pods) and a chocolate background and...
Recharge for Lampe Berger catalytic lamps. 500 ml content Délicat Musc Blanc is Powdered and Subtle perfume Head Notes: Orange, Petitgrain, Grapefruit Heart Notes: Rose, Jasmine, Orange Blossom Base Notes:...
Floral Perfume d'Ylang is a special and luminous aroma that takes us to an exuberant nature, where the Tiare flower gives progressively and harmoniously to the warmth and delicacy of the orange blossom, to elevate the...
This recharge for scented bouquets, signs French Esteban Ambre that promise happiness and co-existence in your home with this amber citrus perfume-scented.Contents 500 ml
Recharge for Bouquets (Reed Diffuser) of the French firm Esteban Parfums, with fragrance 'Iris Cachemire'. Content  500 ml Iris Cachemire is an elegant and unexpected marriage, where vegetal notes flirt with a...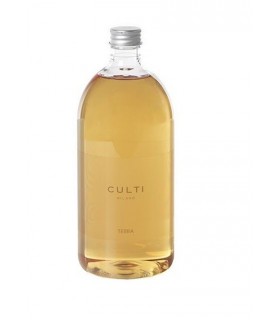 Refill for bouquets from the Italian firm Culti Milano., with fragrance 'Terra'. Content 1 Liter. IMAGINE By supporting the bare palms in the warm earth of Morocco at twilight, one feels a silent force that...
Refill Bouquet by the italian firm  Dr. Vranjes. Content 500 mlPerfumeVanilla and tangerine. Instant and precious fragrance that combines the sweetness of vanilla with the acidity of the Mandarin.Properties: Soothing,...
Refill for bouquets by Mahtilde M. Content 200 ml Perfume Angélique, a bewitching fragrance full of character, where her floral heart is illuminated by warm oriental notes. Oriental Perfume Head Notes:...
The perfume Bois d'Orient of Lampe Berger is a sensual fragrance that combines the magic of spices to the delicacy of the woody essences heated in the sun .. This composition Lampe Berger has a content of 500 ml
Recharge for Lampe Berger catalytic lamps. Content 1 Liter Aquatic Freshness is a Citrus Energizing Head Notes: Grapefruit, Orange Heart Notes: Grapefruit, Pineapple Base Notes: Musk, Peach
Refill for bouquets by Mahtilde M. Content 200 ml Antoinette is a fragrance that was imagined as a floral gift and where the union between specially collected honey and a bouquet of jasmine and orange blossom...
Lolita  Lempicka by Lampe  Berger is a fairytale in which we can appreciate the story of a woman in the making who is going through that moment in which all of us had to leave childhood but not leave her. It is the...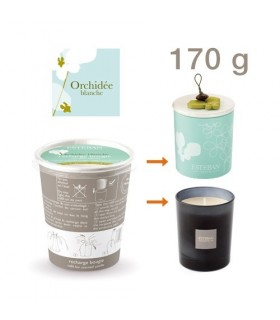 The soft colors of orchids stand tones green water of this sailing of the French firm Esteban in a fresh and subtle perfume that perfectly evokes the delicacy of the orchid. A real delight!. Approx. 170 gr. Green...
Refill for catalytic lamps from Lampe Berger. Content 1 Liter A vibrant fragrance with a very lively head. The citrus sparkle is sophisticated with a pleasant evolution towards a transparency given by the watery...
Customers who bought this product also bought:
Mikado in decorative glass jar with ceramic lid and shaped rods triptych, Esteban French firm,  that awakens the magic that lies dormant in each of us impregnating the atmosphere with a golden scent of spices. Scented...
The Cotton Dreams fragance by Lampe Berger  evokes the "clean", this fragrance has fresh notes of Marseille soap and bergamot, which bind to the aromatic accents of lavender and pine. This Lampe Berger composition has...
With this fragrance Lampe Berger evokes Asian seduction with precious woods: sandalwood, which is mixed with black currant and the citrus sweetness of mandarin. The heart reveals the soft, enveloping side of...
Perfume for catalytic lamp Lampe berger of the coleccionsueno of freshness. Purity and freshness as a direct blow from the ocean to your home. 500 ml.
Concentrate perfume by Mathilde M. with aroma 'Marquise' for use as essential oil diffusers and use in Mist Diffuser . Not for use alimentary or body. Content 10 ml Perfume Head notes: Cedar Wood, Beautiful wood....