Pluie d'Ete 500 ml Lampe Berger
Pluie d'Ete is a fresh, delicate and crystalline fragrance that evokes the freshness of the dew of a summer morning, with notes of eucalyptus and warmth provided by your notes of amber and patchouli. This Lampe Berger composition has a content of 500 ml
16 other products in the same category:
Soft Cashmere by Lampe Berger wraps us with its warm, woody notes by combining the sensual notes of cashmere wood with bergamot, rose and jasmine. Content 500 ml. Woody perfume Head Notes: Lily of the Valley,...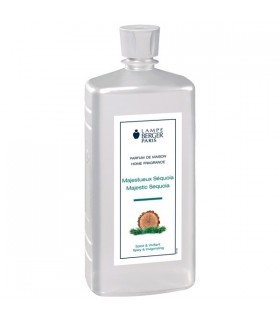 This scent offers an exceptional and unique fragrance. Both woody and modern perched on orange and pine needles, reinforced by warm notes of cayenne envelope moss undergrowth. Content 1 Liter
Air fresheners scented solution of the French firm Esteban help to prolong the life of your mikados and ceramic diffusers, scented,'Figue Noire' is a woody and fruity fragrance . Contents 500 ml PerfumeTop notes of...
Refill for Bouquets by Locherber Milano with aroma Kyushu Rice. Contents 500 ml Inspired by the island of Kyūshū, the southernmost in Japan and known not only for its volcanoes, white beaches and hot springs, but...
Refill Bouquets by the italian firm  Dr. Vranjes. Content 750 ml The Rosso Nobile Refill for air freshener, in 750 ml format, is presented as a bottle of valuable Tuscan red wine and has vine branches to spread the...
Replacement for scented decorated candled with perfume Teck and Tonka  by Esteban Parfums, which can be replaced as often as desired, and reuse the original holders. Weight 170 gr.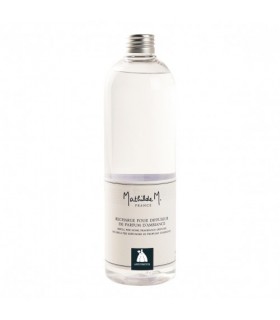 Refill for bouquets by Mahtilde M. Content 500 ml Antoinette is a fragrance that was imagined as a floral gift and where the union between specially collected honey and a bouquet of jasmine and orange blossom...
Intense Spices Olfactory evocation of an imaginary dream, a mixture of spicy spices such as the Mesopotamian sun, roses enhanced by precious woods and patchouli. A luxurious atmosphere, a sensory and disturbing...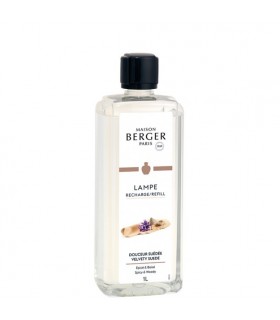 Velvety Suede by Lampe Berger will bring warmth and comfort to your stay starting with the spicy nuances that combine with the central notes of lily of the valley, iris and rose. Its musky background notes along with...
Recharge for Lampe Berger catalytic lamps. Content 500  ml Cherry Blossom is a Floral, Soft and Fresh Fragrance Head Notes: Cassis, Green Alga, Lemon Heart Notes: Cherry Blossom, Rose, Green Tea Base Notes:...
Refill Bouquet by the italian firm  Dr. Vranjes. Content 500 mlPerfume Head notes: Siberian PineHeart Notes: Musk, Lavender and Vanilla.Background Notes: Wild Mint
Refill for Bouquets Esteban Paris. Contents 500 ml 'Sous l'Olivier' (Under the Olive Tree), takes us to the heart of Provence, where the branches are rocked by the passage of time and the woody and aromatic...
Refill for Bouquets by Locherber Milano with aroma Venetiae. Contents 500 ml The fragrance is inspired by Venice and its famous "Briccole". The "Briccole" are oak wooden posts (sometimes larch) that delimit the...
Refill Bouquet by the italian firm  Dr. Vranjes. Content 500 ml Perfume Top notes the brings the harmony of lemon flowers with carnation flower, evolving in its heart notes with clove and sandalwood, along with Star...
Recharge for Lampe Berger catalytic lamps. 1 Liter  content Aroma Wake Up pire is Woody perfume Head Notes: Ginger, Bergamot, Eucalyptus Heart Notes: Cedar, Sandalwood, Geranium Base Notes: Sandalwood, Patchouli
Recharge for Lampe Berger catalytic lamps. 1 Liter content Feuilles d'Aromates is Fresh Aromatic perfume Head Notes: Green Notes, Eucalyptus, Grapefruit Heart Notes: Star Anise, Mint, Basil Base Notes: Clove,...
Customers who bought this product also bought:
See refinement and elegacia through this scent of Lampe Berger, feels the attraction of its floral notes, and the French perfumes, with notes of bergamot, jasmine water and white musk. Contents 500 ml
A scent which gives the space a sense of purity and peace to the relaxing of a bathroom. It is a creation of the signature Lampe Berger that combines touches of orange blossom, Peony and cotton flower. This...
Solution for catalytic lamp Lampe berger in the collection dream of purity. Without perfume, a basic and practical product to eliminate undesirable odors and freshen your home. 500 ml
Recharge for catalytic lamps of Lampe Berger. 500 ml content Mystérieuse Tubéreuse A mysterious flower, the tuberose, with a special attraction, envelops us in a mist where a tempting seduction hides under the...
The Coeur de Pamplemousse fragrance is a vibrant fragrance proporcinado by the fruity aroma of orange heart. This Lampe Berger composition has a content of 500 ml