Neroli 75 ml air freshener Esteban
Bouquet minimalist with smoked glass, with Neroli Perfume. Contents 75 ml

Bright white floral perfume.
Esteban diffusers recreate the elegance and seduction of the bouquets of fragrant flowers. A new way of having a fragrant home with a decorative object that lasts several weeks and can be refilled as often as you want.
Once the scented solution has finished you can use the 250 ml refills scented solution and vegetales rods refills. Also you can choose this flavor or choose any of the wide variety of Esteban.

White, bright floral perfume. Top notes: black currant, Sicilian Bergamote, nother heart: white geranium, jasmine, neroli, nother background: patchouli, MOSS.
Calculated from
2
reviews
Good for use in bathrooms and kitchen, very fresh perfume
My favourite fragrance for the bedroom. Never tire of the smell. I have recommended this to my family and friends both for scent and quality and have purchased again and again.
16 other products in the same category:
Bouquet from the firm Culti Milano. Content 500 ml. With aroma Mareminerale IMAGINE Sunrise in the sea. The steps are gently directed towards the edge of the water, absorbing the spiced energy of the iodine and...
Aroma Coeur d'Ambre. It is an oriental perfume with vanilla and patchouli notes. Scented Solution 30 ml
Bouquet by Locherber Milano with aroma Kyushu Rice. Contents 250 ml Inspired by the island of Kyūshū, the southernmost in Japan and known not only for its volcanoes, white beaches and hot springs, but also for...
Rêve Blanc is a tender and luminous aroma accompanied by the balance of generous whiteness and textured materials. Content 250 ml Floral Fragrance Head Notes: solar notes. Heart notes: freesia, heliotrope flower....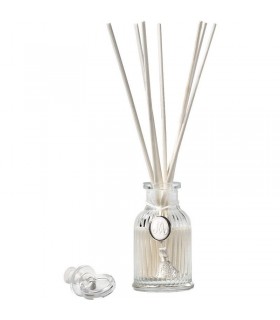 Bouquet by Mathilde M. Content 90 ml Boquet Précieux represents a beautiful scene of white flowers. Where the union of sublime jasmine and silky tuberose, wrapped in sweet notes of sandalwood and vanilla. A walk...
Sticks air freshener firm Dr. Vranjes. Content 500 ml. It Includes 8 vegetable sticks. Perfume Aromatic notes of basil leaves, with intense and transparent marine debris, laced with musk blan sheath in white musk...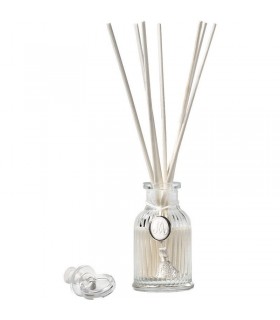 Bouquet by Mathilde M. Content 30 ml Rose Élixir pays tribute to the queen of flowers, a symbol of love and romanticism since ancient times. Discover this voluptuous and bewitching fragrance, like a powerful love...
Bouquet Decor from the firm Culti Milano. Content 250 ml. IMAGINE A sunny day in the countryside, marked by the reassuring aroma of the citrus peel. Its aroma extends and remains suspended between a pleasant...
Boquet by Dr. Vranjes. Content 250 ml. It Includes 8 vegetable sticks. ln the city of art, Florence, we 'Giardini di Boboli' where Vranjes inspires its fragrance, which recalls the time where princes and nobles...
Boquet by Locherber Milano with aroma Malabar Pepper. Contents 500 ml A heart of black pepper with spicy and woody notes; Inspired by the Malabar coastline in India, where the world's most precious pepper is grown,...
Bouquet by Locherber Milano with aroma Capri Blue. Contents 250 ml An extraordinary mix of nature, history and culture, Capri is a myth without equal in the world, a true inspiring "muse" for painters, musicians,...
Sticks air freshener firm Dr. Vranjes. Content 500 ml. It Includes 8 vegetable sticks. PerfumeMagnolia and Orchid. Intense notes of Magnolia created this sophisticated and elegant fragrance with the delicate blend of...
Standing out as a symbol of the Renaissance, L'Œuf combines the softness of unglazed ceramic and the strength of a satin-black, turned wood stand. L'Œuf is inspired by ancient 'Cabinets of Curiosities', great...
Bouquet by Mathilde M. Content 90 ml Astrée is Shining, romantic and feminine aroma by Mathilde M.. The fresh and sparkling notes of citruses reveal a lighting and solar bouquet of orange blossom and jasmine,...
Aroma Poudre Riz. Powdery Perfume Scented Solution 90 ml
Bouquet minimalist with smoked glass, Whit Ambre perfume that promise happiness and co-existence in your home with this amber citrus perfume scented. Content 75 ml
Customers who bought this product also bought:
Bouquet minimalist with smoked glass, Cedre (Cedar) fragrance gives the expected warmth both sophisticated and more traditional houses. Content 75 mlFresh woody fragrance.
Air freshener spray very useful as it allows perfume the air with your favorite fragrance in an instant. The spray provides greater subtlety in the perception of a perfume composition. Content 75 ml White light...
Textile pefume Mathilde M. can be used both as a room spray or directly on their tissues without being stained. Mathilde M. perfume 'Poudre Riz' is a powdery scent that invites us to dream. Content 75 ml Perfume TOP...
Aroma Poudre Riz. Powdery Perfume Scented Solution 90 ml
This refill of Mathilde M you can recharge your decorative scenteds bouquet many times as you want. Rice Powder aroma, It´s a perfume with powdery notes that invites to remember. Content 500 ml