Tonka Précieuse Mathilde M. Scented Candle
Scented Candle 200 gr, 
ICONIC
 series by 
Mathilde M.
 with perfume 
Tonka Précieuse
Under the arch of the cathedral, the coronation of Louis XIV takes place. The rich incense burners emanate divine fragrances of spices and precious woods. Such a jewel, tonka bean stands under the company sensuous oriental chord amber and vanilla mixed with spicy notes of anise and licorice.
Woody and Spicy Perfume
Head Notes: Anise, Licorice
Heart Notes: Tonka Bean
Base Notes: Amber, Vanilla
16 other products in the same category:
The Marquise de Pompadoru, an influential woman in the history of France, was mistress of Louis XIV. "His" sails are a smart one is a recreation of the aroma of his bedroom. Weight 270 gr. Perfume Head: verbena,...
Scented candle by French firm Cire Trudon, belonging to the collection Les Belles Matèries, Maduraï. Weight 270 gr. The Duke of Tuscany was first to bring jasmine in India in 1690, a flower originally from Arabia....
Joséphine de la Page was born on June 23, 1763 in Martinique. The young Creole loves to watch the flowers and stroll through the flowering delicate perfumes. However, at the age of 16, France is going to marry. Weight...
Decorative scented candle with retro vintage design, in a glass cup tie tulle and cotton flower scent, a perfume that will bring many childhood memories.Duration 15 hrs
Scented Candle 200 gr, ICONIC series by Mathilde M. with perfume Lys Majestueux Surrounded by his court, the Sun King enjoys his daily walk adorned by the magnificence of the gardens of Versailles, where the... Carmélite is an ode to the peace of our souls. It reproduces the characteristic that surrounds the shadow of convents and cloisters under the sturdy stone walls, where the black and white figures of the nuns walk...
Through the labyrinth of Constantinople, beneath the roofs of a hiding place, leathery odors and swirls of whispered arguments mix with rose and jasmine with dancing hair. A warm smell dyed with spices and honey...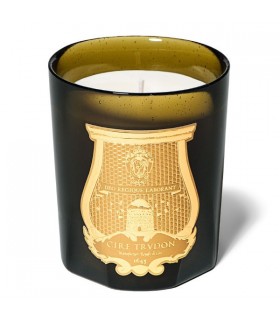 In Havana, under the sun of the Revolution, the shades of leather along with silence are intermingled with the smoke of cigar, rum and weapons. Weight 270 gr. PerfumeHead: rum, grapefruit, bergamotHeart: clove, oak... Pondichéry takes us to the East and shows us the exotic shops of India through its green dyes combined with patchouli and its musky notes that evoke colors, fabrics and dreamlike manufactures. Weight 270 gr....
Scented Candle, Esteban Parfums, with perfume ''Bois de Cashmere & Ambre Gris'. Weight 170 gr. Fresh woody fragrance. Head notes: Cardamom.Heart notes: Cedar, KashmirBackground notes: Grey Amber
Scented candle by French firm Cire Trudon, belonging to the collection Les Belles Matèries, Tadine. Weight 270 gr. When the Englishman Edward Foxhall discovered sandalwood on the Isle of Pines, New Caledonia in 1840,...
Solemn perfume of the sacristies, under the nave of a cathedral. Intoxicating and holy perfume of altar candles, with stela of the senses and burners and the amber shines with the jubilant choir and the holy aromas...
Soft colors of orchids stand out green water colour of this candle, Esteban french firm, in a fresh and subtle perfume that perfectly evokes the delicacy of the orchid. A real delight!. 170 g. Floral-verde perfume....
Scented Candle, Esteban Parfums, with perfume 'Ambre & Vanille Étoilée'. Weight 170 gr. Amber Perfume Top Notes: Heliotrope (Vanilla Garden) Heart Notes: Vanilla, Star Anise Base Notes: Tonka and Amber
Decorativa scented candle by Mathilde M. A sober and refined range, with clean lines, with vintage retro design, in a glass cup with tulle bow and aroma Poudre Riz, Rice powder, the perfume of feminine elegance with...
This candle, Esteban French firm, decorated with a delicate star caught in a golden aura filled their house with a soft, elegant and sensual scent. Neroli flower has traditionally been adored and widely used by...