Sparkling Body Gel Teint de Neige Lorenzo Villoresi 100 ml
Sparkling body gel that combines the extraordinary fragrance of Teint de Neige with a "glamorous" effect on the skin. Contents 100 ml
Perfume 'Teint de Neige' which means' the color of Snow, Lorenzo Villoresi in his creation evokes the delicate tonality of powder, bringing us memories of the delicacy of the aroma, the softness of talc, despite its subtlety it gives off a great personality, being an intense and persistent fragrance
Head Notes: Jasmine, Rose, Ylang Ylang.

Heart Notes: tonka bean, Jasmin, pink, sweet, dust

Background Notes: heliotrope, musk, rose, jasmine, sweet, powdered and floral notes
Customers who bought this product also bought:
With 'Teint de Neige' meaning 'Snow Colour', Lorenzo Villoresi in its creation evokes the delicate hue of the powdered fragance, bringing memories of the delicacy of aroma, softness talc, despite their apparent...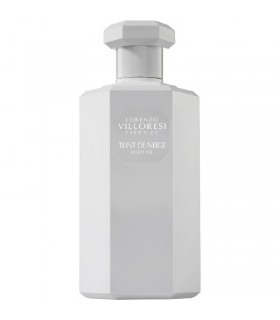 A moisturizing and nourishing oil, ideal after a bath or shower. It absorbs quickly and leaves the skin soft and perfumed with Teint de Neige. Content 250 ml Gently massage into clean skin until absorbed....
Body moisturizing cream flavored with 'Teint de Neige' aroma by Lorenzo Villoresi, its composition takes its absorption, aroma  bringing memories delicate aroma, softness talc, despite its subtly exudes a strong...
The first 1000 pieces are part of a Limited and Numbered edition commemorating the 25th anniversary of Lorenzo Villoresi, the exclusive fragrance of Teint de Neige in Solid Perfume format in a luxurious metal case...