Limone Mandarino Dr. Vranjes 100 ml Spray Room
Spray Room by the italian firm  Dr. Vranjes. Content 100 ml

Perfume

Lemon and tangerine. The lively and energetic lemon and mandarin sweet and sugar are cleverly combined with vanilla to give this fragrance all the warmth of the sun.
Properties: Soothing, purifying the air, especially indicated in children's rooms
16 other products in the same category:
Lampe Berger Room Spray with fragance Cedar of Lebanon, sparkling scent with notes of cypress and cedar, which are accentuated by notes of cítiricos. Content 90 ml Fresh Woody Fragrance
Rêve Blanc is a tender and luminous aroma accompanied by the balance of generous whiteness and textured materials. Content 50 ml Floral Fragrance Head Notes: solar notes. Heart notes: freesia, heliotrope flower....
Spray Room by the italian firm  Dr. Vranjes. Content 100 mlPerfumeMagnolia and Orchid. Intense notes of Magnolia created this sophisticated and elegant fragrance with the delicate blend of Mimosa and warmth of the...
Air freshener spray very useful as it allows perfume the air with your favorite fragrance in an instant. The spray provides greater subtlety in the perception of a perfume composition. Content 100 ml White light and...
The French firm Esteban Ambre that promise happiness and co-existence in your home with this amber citrus perfume-scented.Contents 50 ml
This Mathilde M. intensive home fragance permeates the scent you choose with a simple spray, is also used to refresh the essence of your decorative ceramics. 5 ml bottle.Teddy Bear is a fresh, light and floral with...
This new edition Poudre Riz, will fill your home with purity.
Vaporizer by Esteban Parfums This leads us to the dawn of the morning with dew, is a basis of tea aroma and floral transparent. Content 50 mlTop notes of coriander, nutmeg, saffronHeart notes: green tea, magnolia,...
Spray air freshener scented teddy bear, a bright, fresh and light with hints of jasmine and orange blossom perfume. Ideal for baby.Quantity 100 ml
Concentrate Perfume of the french firm Mathilde M. with aroma 'Jardin à la Française', it is a fresh and floral perfume, where its floral notes harmonize with notes of white woods. Content 5 ml Fragrance Top notes:...
Solemn perfume of the sacristies, under the nave of a cathedral. Intoxicating and holy perfume of altar candles, with stela of the senses and burners and the amber shines with the jubilant choir and the holy aromas...
Concentrate Perfume  'Rose Élegante', it is a floral and powdery perfume, which brings us elegance and softness of rose petals. Content 5 ml
Spray Room from Culti Milano. Content 100 ml IMAGINE A walk among the blooming stems of a cotton field, caressing the soft flakes. Touch the light texture of the precious silks and natural linens in Lake Como, close...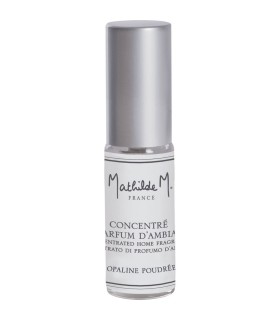 Spray perfume concentrate by the French firm Mathilde M. with perfume Opaline. Content 5 mlOpaline is a renaissance and sophisticated fragrance that stands out for its jasmine and vanilla.Head notes: Red FruitsHeart...
Spray Room from Culti Milano. Content 100 ml IMAGINE The richness of the Apulian countryside, with pomegranates loaded with fruit between the dry stone walls. Continue in the thicket that dominates the sea,...
This room spray designed by Esteban Parfum is original and stylish, this perfume des ideal for winter. Thanks to the benevolent Cedar fragrance it gives warmth expected both to the most sophisticated homes and to the...
Customers who bought this product also bought:
Refill Bouquet by the italian firm  Dr. Vranjes. Content 500 ml Perfume Top notes the brings the harmony of lemon flowers with carnation flower, evolving in its heart notes with clove and sandalwood, along with Star...
Esteban Parfums essential oil reminiscent of a garden in a Mediterranean summer night. Content 15 ml. Soft floral fragrance.
This essential oil by Esteban Parfums  takes you to a world of memories and sweetness with its relaxing and sensual orange blossom aroma. Content 15 ml.Powdery floral fragrance.
A revitalizing fragrance with a stimulating mixture joins forces with aromatic eucalyptus notes on a background of white musk mixed. This composition of Lampe Berger has a content of 500 ml
Esteban Parfums essential oil with its combination of cranberry and cinnamon becomes an ode to nature. Content 15 ml. Perfume fruity and spicy.