Rêve Blanc Spray Room 50 ml Esteban
Rêve Blanc is a tender and luminous aroma accompanied by the balance of generous whiteness and textured materials. Content 50 ml

Floral Fragrance

Head Notes: solar notes.
Heart notes: freesia, heliotrope flower.
Bottom notes: white musk, vanilla.
16 other products in the same category:
Spray Room from Culti Milano. Content 100 ml IMAGINE A walk among the blooming stems of a cotton field, caressing the soft flakes. Touch the light texture of the precious silks and natural linens in Lake Como,...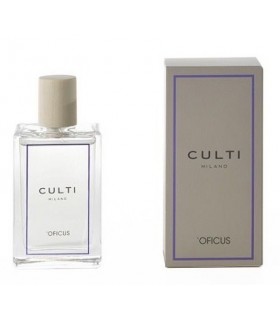 Spray Room from Culti Milano. Content 100 ml IMAGINE Apulia An imposing fig grows majestically, looking for space in the white rock that borders the thick walls of a farm. Beneath its leaves you can feel a...
Spray Room by the italian firm  Dr. Vranjes. Content 100 mlPerfumeGinger and lime. Fresh and spicy is how you can define this fragrance thanks to juicy and bright notes of Lima attached to the essence of ginger root...
Spray Room from the firm Culti Milano. Content 100 ml. Evocation of the sensual and perfumed nights in Marrakech with its intoxicating and wild aroma that penetrates our senses and abstracts us in an olfactory...
In Havana, under the sun of the Revolution, the shades of leather along with silence are intermingled with the smoke of cigar, rum and weapons. Content 375 ml Perfume Head: rum, grapefruit, bergamotHeart: clove,...
Spray Room by Esteban Parfums firm with Iris Cachemire aroma. Contents 75 ml Iris Cachemire is an elegant and unexpected marriage, where vegetal notes flirt with a majestic and delicate powdery iris. Where its...
Spray Room by Mahtilde M. .Content 100 ml Boquet Précieux represents a beautiful scene of white flowers. Where the union of sublime jasmine and silky tuberose, wrapped in sweet notes of sandalwood and vanilla. A...
Spray Room by the italian firm  Dr. Vranjes. Content 100 mlPerfume Rosso Nobile. Initial orange notes enhance in the floral part formed by the absolute of violet and flowers of magnolia, accords of plum complete...
Spray Room by Locherber Milano with aroma Bourbon Vanilla. Contents 100 ml The magical aroma of pure Madagascar vanilla. A combination of natural ingredients such as Orchid, Cocoa and Vanilla make this fragrance...
Spray Room with Milano Armoa by Dr. Vranjes. Contains 25 ml The sensual notes of Milano, where patchouli is enlivened with the lively notes of pepper and sandalwood combining with the sparkling notes of cedar wood;...
Spray Room by the italian firm  Dr. Vranjes. Content 100 ml Giglio di Firenze in a delicate and elegant perfume, where its powdery and powdery notes come together with elegant and comfortable notes, it is ideal for...
Spray Room from Culti Milano. Content 100 ml IMAGINE The richness of the Apulian countryside, with pomegranates loaded with fruit between the dry stone walls. Continue in the thicket that dominates the sea,...
Spray Room by Locherber Milano with aroma Azad Kashmere. Contents 500 ml Imagine the silence, the great contrasts, from the inaccessible spaces of the mountains to the immense valleys, temperature variations to the...
Spray Room from the Italian firm Culti Milano, with fragrance 'Mountain'. Content 100 ml. IMAGINE The cozy atmosphere of a mountain chalet, the wood heated by the fireplace that exudes its delicate aroma,...
Concentrate Perfume  'Rose Élegante', it is a floral and powdery perfume, which brings us elegance and softness of rose petals. Content 5 ml
This Mathilde M. intensive home fragance permeates the scent you choose with a simple spray, is also used to refresh the essence of your decorative ceramics. 5 ml bottle. Cotton Blossom fragrance blend of white...
Customers who bought this product also bought:
Mikado in decorative glass jar with ceramic lid and shaped rods triptych, Esteban french firm, with subtle, fresh scent that evokes perfectly the delicate orchid. A real treat!. Scented Solution 250 mlGreen floral...
Decorativa scented candle by Mathilde M. A sober and refined range, with clean lines, with vintage retro design, in a glass cup with tulle bow and aroma Poudre Riz, Rice powder, the perfume of feminine elegance with...
Textile pefume Mathilde M. can be used both as a room spray or directly on their tissues without being stained. Mathilde M. perfume 'Fleur de Coton "is a clean scent of white flowers and precious woods.Content 75 ml
This candle, Esteban French firm, decorated with a delicate star caught in a golden aura filled their house with a soft, elegant and sensual scent. Neroli flower has traditionally been adored and widely used by...
Replacement black sticks scented bouquets for Esteban Parfums. 22 cm