Spiritus Sancti 375 ml Spray Room Cire Trudon
Solemn perfume of the sacristies, under the nave of a cathedral. Intoxicating and holy perfume of altar candles, with stela of the senses and burners and the amber shines with the jubilant choir and the holy aromas rise in the souls. 
Content 375 ml

Perfume

Head: aldehyde, incense vapors
Heart: Muguet
Base: incense, laudanum, benzoin
16 other products in the same category:
Spray Room by Esteban Parfums, with fragrance 'Terre d'Agrumes', a citrus and woody fragrance that fills our stay with freshness with a touch of personality, and its freshness leads to an olfactory journey to...
Spray Room Esteban Parfums. Content 100 ml 'Bois Copaiba' takes us inside a forest of woody aromas that combine perfectly with the coffee and cocoa beans together with the Vetiver to create an atmosphere that...
Creation of Esteban Parfums, which recreates a magical and elegant middle with its sparkling and spicy note, notes of citrus, spicy and floral, and background on sandalwood, amber and tonka notes. 50 ml
Spray Room Esteban Parfum, ELESSENS Edition, with perfume 'Rose Blanche & Absolu d'Iris'. Content 100 ml Subtle perfume that surrounds us in a delicate atmosphere, through its elegant and velvety style through...
Spray Room by the italian firm  Dr. Vranjes. Content 100 ml Perfume Aromatic notes of basil leaves, with intense and transparent marine debris, laced with musk blan sheath in white musk and fescura of its salinity,...
This Mathilde M. intensive home fragance permeates the scent you choose with a simple spray, is also used to refresh the essence of your decorative ceramics. 5 ml bottle. Cotton Blossom fragrance blend of white...
Spray Room by the italian firm  Dr. Vranjes. Content 100 mlPerfume'Tuberousa Mughetto' (Lily and Nard) is a floral soft fragrance, Where His high notes are composed of blooming lilies, and pass notes of heart through...
The French firm Esteban Ambre that promise happiness and co-existence in your home with this amber citrus perfume-scented.Contents 50 ml
Spray Room by Mahtilde M. Content 100 ml Divine Marquise is an elegant and sensual perfume, where the delicious notes of the chocolates are surrounded by an oriental patchouli and amber chord.   Oriental Perfume...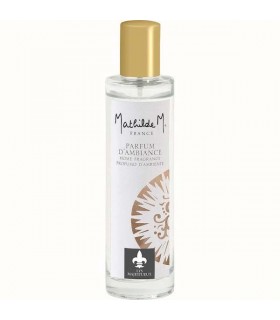 Spray Room 100 ml, ICONIC series by Mathilde M. with perfume Lys Majestueux Surrounded by his court, the Sun King enjoys his daily walk adorned by the magnificence of the gardens of Versailles, where the lily,...
Spray Room from the firm Culti Milano. Content 100 ml. IMAGINE A look at the open sea. To embrace the bay with the view, the mountain that glides towards the blue, with villages stamped as if they were a work of...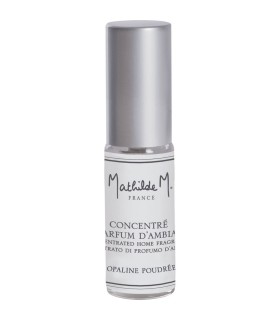 Spray perfume concentrate by the French firm Mathilde M. with perfume Opaline. Content 5 mlOpaline is a renaissance and sophisticated fragrance that stands out for its jasmine and vanilla.Head notes: Red FruitsHeart...
It is inspired by the aroma of Morocco and its palaces. Abd el Kader / Abd al-Qadir was an Algerian who led the struggle against the French invasion in the mid-nineteenth century, pro what is considered by the...
This room spray designed by Esteban Parfum is original and stylish, this perfume des ideal for winter. Thanks to the benevolent Cedar fragrance it gives warmth expected both to the most sophisticated homes and to the...
Voltige is a fabric perfume from the firm Mathilde M. It can be used to perfume your favourite rooms. Floral Perfume. Head Notes: Cherry Blossom. Heart Notes: Almond. Base Notes: Vanilla.
Air freshener spray very useful as it allows perfume the air with your favorite fragrance in an instant. The spray provides greater subtlety in the perception of a perfume composition. Teck and Tonka is captivating...
Customers who bought this product also bought:
In Havana, under the sun of the Revolution, the shades of leather along with silence are intermingled with the smoke of cigar, rum and weapons. Weight 270 gr. PerfumeHead: rum, grapefruit, bergamotHeart: clove, oak...
Damp fragrance of a love: from the king's bedroom to her convent, Louise de la Vallière personifies this deeply sensual flower, whose sumptuous and overwhelming smells represent a true, dazzling and almost spiritual...
Through the labyrinth of Constantinople, beneath the roofs of a hiding place, leathery odors and swirls of whispered arguments mix with rose and jasmine with dancing hair. A warm smell dyed with spices and honey...
Joséphine de la Page was born on June 23, 1763 in Martinique. The young Creole loves to watch the flowers and stroll through the flowering delicate perfumes. However, at the age of 16, France is going to marry. Weight...
The Marquise de Pompadoru, an influential woman in the history of France, was mistress of Louis XIV. "His" sails are a smart one is a recreation of the aroma of his bedroom. Weight 270 gr. Perfume Head: verbena,...