Monoï Soleil 250 ml Scented Mist Esteban
Scented Mist of the firm Esteban, to perfume your stay and can also be used on textile, does not contain dyes. Content 250 ml
Monoï Soleil faithfully reflects the aroma of the Tiaré flower. This perfume is a sweet wake that plunges us directly into a climate of calm and harmony. It makes us think of another universe.
Soft Floral Perfume
16 other products in the same category:
Lampe Berger Room Spray Perfume Paris Chic, refined and floral fragrance with notes of bergamot, water jasmine and white musk. Content 90 ml Floral Perfume
In Havana, under the sun of the Revolution, the shades of leather along with silence are intermingled with the smoke of cigar, rum and weapons. Content 375 ml Perfume Head: rum, grapefruit, bergamotHeart: clove,...
This Mathilde M. intensive home fragance permeates the scent you choose with a simple spray, is also used to refresh the essence of your decorative ceramics. 5 ml bottle. The night is dressed in a thousand lights...
Creation of Esteban Parfums, which recreates a magical and elegant middle with its sparkling and spicy note, notes of citrus, spicy and floral, and background on sandalwood, amber and tonka notes.
White tea and Ylang-Ylang by Esteban Parfums, combines purity and exoticism, its soft and intense notes illuminate its interior submerging it in a comfortable and relaxing atmosphere; a perfect balance for people who...
This room spray designed by Esteban Parfum is original and stylish, this perfume des ideal for winter. Thanks to the benevolent Cedar fragrance it gives warmth expected both to the most sophisticated homes and to the...
Spray Room by Esteban Parfums, with fragrance 'Terre d'Agrumes', a citrus and woody fragrance that fills our stay with freshness with a touch of personality, and its freshness leads to an olfactory journey to...
Voltige is a fabric perfume from the firm Mathilde M. It can be used to perfume your favourite rooms. Floral Perfume. Head Notes: Cherry Blossom. Heart Notes: Almond. Base Notes: Vanilla.
The French firm Esteban Ambre that promise happiness and co-existence in your home with this amber citrus perfume-scented.Contents 100 ml
Spray Room by Esteban Parfum. Content 100 ml 'Sous l'Olivier' (Under the Olive Tree), takes us to the heart of Provence, where the branches are rocked by the passage of time and the woody and aromatic fragrances of...
Spray Room Esteban Parfum, ELESSENS Edition, with perfume 'Yuzu & Sels Roses'. Content 100 ml A sweet citrussy perfume   Lead notes : Yuzu Heart notes : Aldehydic rose Base notes : Musky woody accord
Spray Room by the italian firm  Dr. Vranjes. Content 100 mlPerfumeCalvados. Extra pure essence of apple and aromatic notes of the oak tannins, softened by fresh floral notes. A ritual for connoisseurs.
Rêve Blanc is a tender and luminous aroma accompanied by the balance of generous whiteness and textured materials. Content 50 ml Floral Fragrance Head Notes: solar notes. Heart notes: freesia, heliotrope flower....
Mathilde M. spray room, Perfume Extract, Fleur Coton scented, cotton flower scent will fill your home pure. 100 ml
Vaporizer by Esteban Parfums This leads us to the dawn of the morning with dew, is a basis of tea aroma and floral transparent. Content 50 mlTop notes of coriander, nutmeg, saffronHeart notes: green tea, magnolia,...
Spray Room by the italian firm  Dr. Vranjes. Content 100 mlPerfume Grenade. Black Grape and Watermelon are the amazing ingredients used to recreate the characteristic scent of the pressed seeds of Granada.Properties:...
Customers who bought this product also bought:
Champs de Lavande is a fresh floral fragrance with a hint of camphor that provides a cool character. This Lampe Berger composition has a content of 1 Litre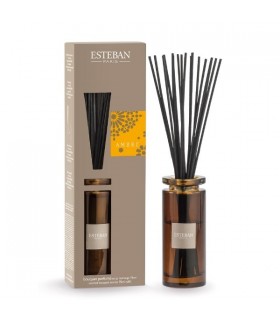 Bouquet minimalist with smoked glass, Whit Ambre perfume that promise happiness and co-existence in your home with this amber citrus perfume scented. Content 75 ml
Recharge for Lampe Berger catalytic lamps. Content 1 Liter Aquatic Freshness is a Citrus Energizing Head Notes: Star Anise, Liquorice Heart Notes: Star anise, Liquorice Base Notes: Tonka Bean, Vanilla