Spray Perfume concentrate Mathilde M. Fleur Coton
This Mathilde M. intensive home fragance permeates the scent you choose with a simple spray, is also used to refresh the essence of your decorative ceramics. 5 ml bottle.
Cotton Blossom fragrance blend of white flowers and precious woods.
Mathilde M. get timeless refinement can fill your home with the smell of a State of mind, the fragrance of a desire, with the smell of a memory.Mathilde M. signature creations suggest luxury, calm and elegance, are impregnated of romanticism and charm.
16 other products in the same category:
Spray Room, Mathilde M., with aroma 'Poudre de Riz',  a perfume with powdery notes invite remember. 100 ml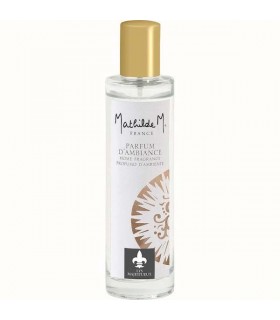 Spray Room 100 ml, ICONIC series by Mathilde M. with perfume Lys Majestueux Surrounded by his court, the Sun King enjoys his daily walk adorned by the magnificence of the gardens of Versailles, where the lily,...
Spray Room by the italian firm  Dr. Vranjes. Content 100 mlPerfume'Tuberousa Mughetto' (Lily and Nard) is a floral soft fragrance, Where His high notes are composed of blooming lilies, and pass notes of heart through...
This room spray designed by Esteban Parfum is original and stylish, this perfume des ideal for winter. Thanks to the benevolent Cedar fragrance it gives warmth expected both to the most sophisticated homes and to the...
Spray Room from the firm Culti Milano. Content 100 ml. IMAGINE By supporting the bare palms in the warm earth of Morocco at twilight, one feels a silent force that rises from the ground and awakens the spirit,...
Joséphine de la Page nace el 23 de junio de 1763 en la Martinica. La joven criolla adora observar las flores y pasearse por los florecientes de perfumes delicados. Sin embargo, a los 16 años se va Francia para...
Vaporizer by Esteban Parfums This leads us to the dawn of the morning with dew, is a basis of tea aroma and floral transparent. Content 100 mlTop notes of coriander, nutmeg, saffronHeart notes: green tea, magnolia,...
Creation of Esteban Parfums, which recreates a magical and elegant middle with its sparkling and spicy note, notes of citrus, spicy and floral, and background on sandalwood, amber and tonka notes.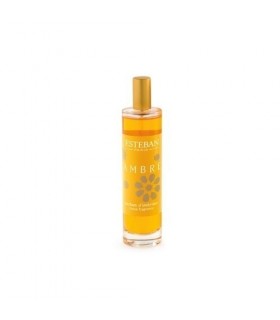 The French firm Esteban Ambre that promise happiness and co-existence in your home with this amber citrus perfume-scented.Contents 50 ml
Spray Room by the italian firm  Dr. Vranjes. Content 100 ml How few we know the fig, particularly the wild one, that spreads in the air a green and unripe note, thanks to its elegant fragrance! Rocky and woody, the...
Spray Room from the firm Culti Milano. Content 100 ml. IMAGINE A look at the open sea. To embrace the bay with the view, the mountain that glides towards the blue, with villages stamped as if they were a work of...
Spray Room by the italian firm  Dr. Vranjes. Content 100 mlPerfumeGinger and lime. Fresh and spicy is how you can define this fragrance thanks to juicy and bright notes of Lima attached to the essence of ginger root...
Spray Room Esteban Parfum, ELESSENS Edition, with perfume 'Yuzu & Sels Roses'. Content 100 ml A sweet citrussy perfume   Lead notes : Yuzu Heart notes : Aldehydic rose Base notes : Musky woody accord
Spray Room from Culti Milano. Content 100 ml IMAGINE The richness of the Apulian countryside, with pomegranates loaded with fruit between the dry stone walls. Continue in the thicket that dominates the sea,...
Spray Room by the italian firm  Dr. Vranjes. Content 100 mlPerfumeCalvados. Extra pure essence of apple and aromatic notes of the oak tannins, softened by fresh floral notes. A ritual for connoisseurs.
Customers who bought this product also bought:
Scented sachet by Esteban Parfums 'Blanc Coton', to be used in drawers, closets, cars, etc. It can also be used for opening the bag the dotted line indicated as vacuum powder. Weight 65 gr.Perfume Fresh Flower.
Bouquet by Mathilde M. with perfume Marquise, a warm and floral aroma, with a touch of sensuality fill your home with vanilla notes. Content 100 ml
This refill of Mathilde M you can recharge your decorative scenteds bouquet many times as you want. With this aroma cotton flower scent will fill your home pure. Content 200 ml
Concentrate perfume by Mathilde M. with aroma 'Marquise' for use as essential oil diffusers and use in Mist Diffuser . Not for use alimentary or body. Content 10 ml Perfume Head notes: Cedar Wood, Beautiful wood....
Mathilde M. spray room, Perfume Extract, Fleur Coton scented, cotton flower scent will fill your home pure. 100 ml