Paris Chic 90 ml Lampe Berger Spray Room
Lampe Berger Room Spray Perfume Paris Chic, refined and floral fragrance with notes of bergamot, water jasmine and white musk. Content 90 ml

Floral Perfume
16 other products in the same category:
This new edition Marquise, will fill your home with purity. Head Notes: aldéhidos, fruits of the passionHeart Notes: rose, freesiaBase Notes: santal, white musc, vanilia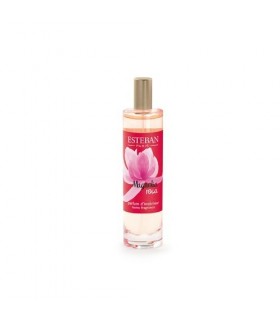 Esteban Parfums has designed this perfume room,its fresh fragrance recalls the majesty and elegent  Maganolia Rosa. Content 50 ml. Fruity floral fragrance. Top notes: pink berries, magnolia nectar Heart notes:...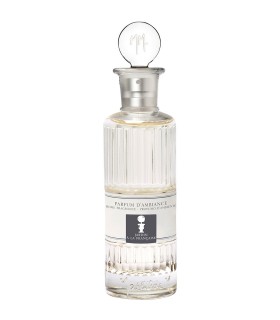 Spray room of the french firm Mathilde M. with aroma 'Jardin à la Française', it is a fresh and floral perfume, where its floral notes harmonize with notes of white woods. Content 100 ml Fragrance Top notes: bamboo,...
Spray air freshener scented teddy bear, a bright, fresh and light with hints of jasmine and orange blossom perfume. Ideal for baby.Quantity 100 ml
Vaporizer by Esteban Parfums This leads us to the dawn of the morning with dew, is a basis of tea aroma and floral transparent. Content 100 mlTop notes of coriander, nutmeg, saffronHeart notes: green tea, magnolia,...
The French firm Esteban Ambre that promise happiness and co-existence in your home with this amber citrus perfume-scented.Contents 100 ml
Concentrate Perfume  'Rose Élegante', it is a floral and powdery perfume, which brings us elegance and softness of rose petals. Content 5 ml
Spray Room, Mathilde M., with aroma 'Poudre de Riz',  a perfume with powdery notes invite remember. 100 ml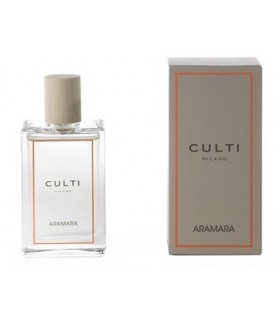 Spray Room from Culti Milano. Content 100 ml IMAGINE A sunny day in the countryside, marked by the reassuring aroma of the citrus peel. Its aroma extends and remains suspended between a pleasant acrid flavor and...
Spray Room from Culti Milano. Content 100 ml IMAGINE The richness of the Apulian countryside, with pomegranates loaded with fruit between the dry stone walls. Continue in the thicket that dominates the sea,...
Rêve Blanc is a tender and luminous aroma accompanied by the balance of generous whiteness and textured materials. Content 100 ml Floral Fragrance Head Notes: solar notes. Heart notes: freesia, heliotrope flower....
Air freshener spray very useful as it allows perfume the air with your favorite fragrance in an instant. The spray provides greater subtlety in the perception of a perfume composition. Content 100 ml   Fruity woody...
Spray Room by the italian firm  Dr. Vranjes. Content 100 mlPerfumeGrapefruit and Cassis. Lively and bright fragrance thanks to fresh grapefruit and bitter notes associated with green and fruity notes of Cassis...
Spray Room by the italian firm  Dr. Vranjes. Content 100 mlPerfume 'Aria' (Air) A frangacia its citrus and fresh notes, the intense time, intermingling together with the flower of orange and lemon trees, evolving into...
Creation of Esteban Parfums, which recreates a magical and elegant middle with its sparkling and spicy note, notes of citrus, spicy and floral, and background on sandalwood, amber and tonka notes. 50 ml
This Mathilde M. intensive home fragance permeates the scent you choose with a simple spray, is also used to refresh the essence of your decorative ceramics. 5 ml bottle.Teddy Bear is a fresh, light and floral with...
Customers who bought this product also bought:
 velvety and floral aroma. Jasmine and peony mix with praline that provides a subtle sweetness and powdered mix. Contents 1 Liter
Perfume for catalytic lamp Lampe berger in the collection dream of freshness. Purity and freshness as a direct blow from the ocean to your home. 1 Litre
'Feuilles d'agrumes' is a fresh citrus fragrance, perfume fragrance live and reminds us the Mediterranean citrus trees. This composition of Lampe Berger has a content of 500 ml
 Lampe Berguer burner replacement. Lenght 47 cm
'Elegante Parisienne' by Lampe Berger, pays tribute to the gardenia, one of the emblematic flowers within the world of perfumery. This perfume is the unmistakable essence that leaves in its wake the Parisian woman par...