Tonka Précieuse Mathilde M. Recarga 100 ml
Recarga para Bouquets 100 ml con perfume Tonka Précieuse de Mathilde M.
Perfume Amaderado y Especiado
Notas de Cabeza: Anís, Regalíz
Notas de Corazón: Haba Tonka
Notas de Fondo: Ámbar, Vainilla
16 other products in the same category:
This Lampe Berger fragrance brings back memories of our childhood, with hints of lavender, cotton and SOAP. Contents 500 ml
Refill solution for Scented Bouquets Lampe Berger fragrance Savon d'Autrefois. 200 ml content. Soft sweet and floral fragrance,
'The aroma 'Opaline' is a renaissance and sophisticated fragrance thatstands out for its jasmine and vanilla. Content 180 mlHead notes: Red FruitsHeart Notes: Rose, FreesiaBackground Notes: Sandalwood, White Musk,...
A daring aroma, amber leather, a warm color combined with black pepper and saffron with a touch of raspberry and vanilla. This Lampe Berger composition has a content of 500 ml
Recharge for Bouquets 100 ml with Lys Majestueux perfume by Mathilde M. A spicy floral perfume   Head Notes: Lily, Jasmine Heart notes: Cardamom Background Notes: Cedar, White Moss
A scent which gives the space a sense of purity and peace to the relaxing of a bathroom. It is a creation of the signature Lampe Berger that combines touches of orange blossom, Peony and cotton flower. This...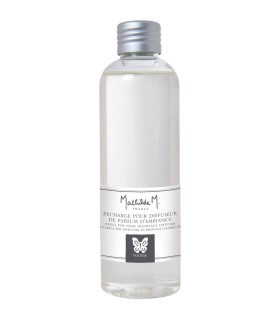 Refill  Mathilde M. with perfume 'Voltige', fragrance with floral notes with and poetic character. 180 ml Olfactive Family: Floral
Rêve Blanc is a tender and luminous aroma accompanied by the balance of generous whiteness and textured materials. Content 250 ml Floral Fragrance Head Notes: solar notes. Heart notes: freesia, heliotrope flower....
This refill of Mathilde M you can recharge your decorative scenteds bouquet many times as you want. Marquise, a delicious blend of wood, spice and soft vanilla. Content 180 ml
'Orange Extreme' is a cocktail of vitamins citrus base, to continue in the notes of orange sun of Florida and Fressia, enhanced with green notes. Its surround us wake backdrop background woody notes and gourmand....
The soft colors of orchids stand tones green water of this sailing of the French firm Esteban in a fresh and subtle perfume that perfectly evokes the delicacy of the orchid. A real delight!. Approx. 170 gr. Green...
Replacement plant rods for Mathilde M. mikados 30 cm
Sous le Figuier Perfume Lampe Berger is a fruity perfume, which runs from the freshness of fig leaf to the sweet heart of this fruit. This Lampe Berger composition has a content of 500 ml.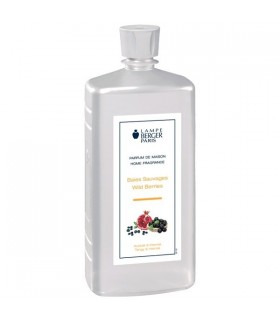 'Baies Sauvages' is a fruity and sweet scent with hints of Granada, raspberries and berries, softened with musk and vanilla. It will provide your home with a alegant atmosphere. Contents 1 Liter.
The scent of Cinnamon and Orange provides the freshness of citrus combined with the warmth of spices and candied fruit, and enveloped by a sensual notes of amber and white musk. This composition of Lampe Berger has a...
Refill Bouquet by the italian firm  Dr. Vranjes. Content 500 ml Perfume Aromatic notes of basil leaves, with intense and transparent marine debris, laced with musk blan sheath in white musk and fescura of its...
Los clientes que adquirieron este producto también compraron:
Los colores suaves de las orquideas destacan sobre los tonos verde agua de esta vela de la firma francesa Esteban en un perfume sutil y fresco que evoca perfectamente la delicadeza de la orquídea. Una verdadera...
Los ambientadores en forma de solución perfumada de la firma francesa Esteban ayudan a prolongar la vida de sus mikados y difusores cerámicos perfumados, pudiendo elegir entre el aroma inicial del producto o cualquier...
La noche está vestida con mil luces y en la intimidad de su tocador, una mujer elegante se prepara para salir, sublimada con seda y joyas preciosas. A su imagen, su interior sofisticado exhala un aroma cautivador que...
Aroma Poudre Riz  Dimensiones: 19 x 9 x 2 cm.