Spiritus Sancti 270 gr. Vela Perfumada Cire Trudon
Solemn perfume of the sacristies, under the nave of a cathedral. Intoxicating and holy perfume of altar candles, with stela of the senses and burners and the amber shines with the jubilant choir and the holy aromas rise in the souls. Weight 270 gr.
Perfume
Cabeza: aldehído, vapores de incienso
Corazón: Muguet
Base: incienso, láudano, benjuí
16 other products in the same category:
Scented Candle 200 gr, ICONIC series by Mathilde M. with perfume Thé Blanc Royal In the discreet stay of her palace chambers of Versailles, Madame de Montespan, benefactor of Arts and Letters, talks with her...
The village of Cyrnos in Provence welcomed the high society early twentieth century, they met in the shade of the fig trees and pines. They enjoyed a fabulous view, so typical of the blue shores of the Mediterranean...
Damp fragrance of a love: from the king's bedroom to her convent, Louise de la Vallière personifies this deeply sensual flower, whose sumptuous and overwhelming smells represent a true, dazzling and almost spiritual...
Carmélite is an ode to the peace of our souls. It reproduces the characteristic that surrounds the shadow of convents and cloisters under the sturdy stone walls, where the black and white figures of the nuns walk...
Scented candle by French firm Cire Trudon, belonging to the collection Les Belles Matèries, Reggio. Weight 270 gr. Brought from Indochina in 1828, mandarin has since been cultivated on the western shores of the...
This bouquet of flowers reminds us of an ideal nature, that of the Nouvelle Héloïse and the dreams of Marie Antoinette. With the memory of a summer night, when the warm and musky smell of the torches fill the air,...
Soft colors of orchids stand out green water colour of this candle, Esteban french firm, in a fresh and subtle perfume that perfectly evokes the delicacy of the orchid. A real delight!. 170 g. Floral-verde perfume....
Scented Candle, Esteban Parfums, with perfume 'Mûre & Amande sauvage'. Weight 170 gr. Subtle perfume that surrounds us in a delicate atmosphere, through its elegant and velvety style through its fruity notes, an...
In Havana, under the sun of the Revolution, the shades of leather along with silence are intermingled with the smoke of cigar, rum and weapons. Weight 270 gr. PerfumeHead: rum, grapefruit, bergamotHeart: clove, oak...
Bouquet from the firm Culti Milano. Content 500 ml. IMAGINE A sunny day in the countryside, marked by the reassuring aroma of the citrus peel. Its aroma extends and remains suspended between a pleasant acrid...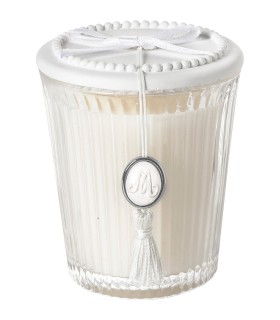 Decorativa scented candle by Mathilde M. A sober and refined range, with clean lines, with vintage retro design, in a glass cup with tulle bow and aroma Marquise, is  a warm and floral aroma, with a touchof sensuality...
The Marquise de Pompadoru, an influential woman in the history of France, was mistress of Louis XIV. "His" sails are a smart one is a recreation of the aroma of his bedroom. Weight 270 gr. Perfume Head: verbena,...
Scented Candle 200 gr, ICONIC series by Mathilde M. with perfume Ébène Imperiale Palatial intrigue is played in Versailles, where the secret of the salons is mixed with the sumptuousness of the woodwork and...
Pondichéry takes us to the East and shows us the exotic shops of India through its green dyes combined with patchouli and its musky notes that evoke colors, fabrics and dreamlike manufactures. Weight 270 gr....
Scented Candle, Esteban Parfums, with perfume 'Ambre & Vanille Étoilée'. Weight 170 gr. Amber Perfume Top Notes: Heliotrope (Vanilla Garden) Heart Notes: Vanilla, Star Anise Base Notes: Tonka and Amber
Decorative scented candle with retro vintage design, in a glass cup tie tulle and cotton flower scent, a perfume that will bring many childhood memories.Duration 15 hrs
Los clientes que adquirieron este producto también compraron:
La villa de Cyrnos en la Provenza acogío a la alta sociedad principios del siglo XX, ellos se reunían a la sombra de las higueras y de los pinos. Disfrutaron de una vista fabulosa, tan típico de las costas azules del...
Inspirado en la elaborada parquetería del famoso Salón de los Espejos del Palacio de Versalles, este perfume real irradia vapores de cera, candelabros y palacio. Un suntuoso sendero de incienso se teje a través de un...
Este ramo de flores nos recuerda una naturaleza ideal, la de la Nouvelle Héloïse y los sueños de María Antonieta. Con el recuerdo de una noche de verano, cuando el olor cálido y almizclado de las antorchas llenan el...
La marquesa de Pompadoru, mujer influyente en la historia de Francia, fue amante de Luis XIV. "Sus" velas son una inteligente es una recreación del aroma de su alcoba. Peso 270 gr. Perfume Cabeza: verbena, limón,...
Vela perfumada de firma francesa Cire Trudon, perteneciente a la colección Les Belles Matèries, Tadine. Peso 270 gr. Cuando el inglés Edward Foxhall descubrió el sándalo en la Isla de Pinos, Nueva Caledonia, en 1840,...