Spiritus Sancti 270 gr. Vela Perfumada Cire Trudon
Solemn perfume of the sacristies, under the nave of a cathedral. Intoxicating and holy perfume of altar candles, with stela of the senses and burners and the amber shines with the jubilant choir and the holy aromas rise in the souls. Weight 270 gr.
Perfume
Cabeza: aldehído, vapores de incienso
Corazón: Muguet
Base: incienso, láudano, benjuí
16 other products in the same category:
Scented Candle, Esteban Parfums, with perfume 'Ambre & Vanille Étoilée'. Weight 170 gr. Amber Perfume Top Notes: Heliotrope (Vanilla Garden) Heart Notes: Vanilla, Star Anise Base Notes: Tonka and Amber
In Havana, under the sun of the Revolution, the shades of leather along with silence are intermingled with the smoke of cigar, rum and weapons. Weight 270 gr. PerfumeHead: rum, grapefruit, bergamotHeart: clove, oak...
The village of Cyrnos in Provence welcomed the high society early twentieth century, they met in the shade of the fig trees and pines. They enjoyed a fabulous view, so typical of the blue shores of the Mediterranean...
The soft colors of orchids stand tones green water of this sailing of the French firm Esteban in a fresh and subtle perfume that perfectly evokes the delicacy of the orchid. A real delight!. Approx. 170 gr. Green...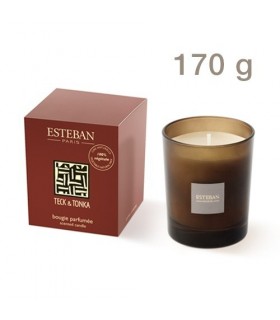 This decorative candle, by french firm Esteban, is captivating and causes a mysterious halo. When you lift the wooden lidhouse is filled with memories of trips to Africa. 170 gr Woody-spicy fragrance. Top notes:...
Scented Candle 200 gr, ICONIC series by Mathilde M. with perfume Ébène Imperiale Palatial intrigue is played in Versailles, where the secret of the salons is mixed with the sumptuousness of the woodwork and...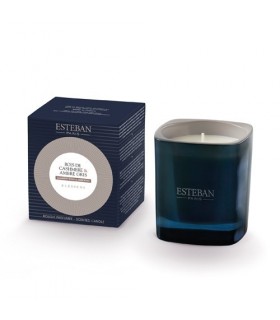 Scented Candle, Esteban Parfums, with perfume ''Bois de Cashmere & Ambre Gris'. Weight 170 gr. Fresh woody fragrance. Head notes: Cardamom.Heart notes: Cedar, KashmirBackground notes: Grey Amber
Pondichéry takes us to the East and shows us the exotic shops of India through its green dyes combined with patchouli and its musky notes that evoke colors, fabrics and dreamlike manufactures. Weight 270 gr....
Joséphine de la Page was born on June 23, 1763 in Martinique. The young Creole loves to watch the flowers and stroll through the flowering delicate perfumes. However, at the age of 16, France is going to marry. Weight...
The Marquise de Pompadoru, an influential woman in the history of France, was mistress of Louis XIV. "His" sails are a smart one is a recreation of the aroma of his bedroom. Weight 270 gr. Perfume Head: verbena,...
This candle, Esteban French firm, decorated with a delicate star caught in a golden aura filled their house with a soft, elegant and sensual scent. Neroli flower has traditionally been adored and widely used by...
Scented candle by French firm Cire Trudon, belonging to the collection Les Belles Matèries, Maduraï. Weight 270 gr. The Duke of Tuscany was first to bring jasmine in India in 1690, a flower originally from Arabia....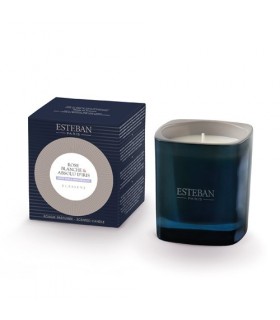 Scented Candle, Esteban Parfums, with perfume ' Rose blanche & Absolu d'Iris'. Weight 170 gr. Sweet and citrus floral perfume Head Notes: Bergamot Heart Notes: Rose petals, irises Base Notes: White Musk, Amber
Perfumed decorative candle by Mathilde M. A sober and refined range, with clean lines, with vintage retro design, in a glass cup with tulle bouquet and Fleur de Coton aroma, a perfume that will bring you many memories...
Scented candle by French firm Cire Trudon, belonging to the collection Les Belles Matèries, Reggio. Weight 270 gr. Brought from Indochina in 1828, mandarin has since been cultivated on the western shores of the...
Los clientes que adquirieron este producto también compraron:
Vela perfumada de firma francesa Cire Trudon, perteneciente a la colección Les Belles Matèries, Tadine. Peso 270 gr. Cuando el inglés Edward Foxhall descubrió el sándalo en la Isla de Pinos, Nueva Caledonia, en 1840,...
Bajo una estrella única, el fuego rojo de clavo, canela y danzas naranjas en la silenciosa noche sagrada. De Oriente a Occidente, una pizca de olibanum secretamente ilumina el alma. Peso 270 gr. Perfume Cabeza:...
Fragancia húmeda de un amor embriagador: desde el dormitorio del rey hasta su convento, Louise de la Vallière personifica esta flor profundamente sensual, cuyos olores suntuosos y abrumadores representan un amor...
Está inspirado en el aroma de Marruecos y de sus palacios.. Abd el Kader / Abd al-Qadir fue un argelino que condujo la lucha contra la invasión francesa en la mitad del siglo XIX, pro lo que es considerado por los...
Este ramo de flores nos recuerda una naturaleza ideal, la de la Nouvelle Héloïse y los sueños de María Antonieta. Con el recuerdo de una noche de verano, cuando el olor cálido y almizclado de las antorchas llenan el...