Ernesto 800 gr. Vela Perfumada Cire Trudon
En La Habana, bajo el sol de la Revolución los matices del cuero junto con el silencio se entremezclan con el humo de los cigarros, ron y armas. Peso 800 gr.
Perfume
Cabeza: ron, pomelo, bergamota
Corazón: clavo, madera de roble, pachulí, láudano
Base: acordes de tabaco, musgo, cuero, ámbar.
16 other products in the same category: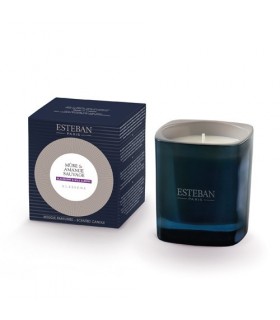 Scented Candle, Esteban Parfums, with perfume 'Mûre & Amande sauvage'. Weight 170 gr. Subtle perfume that surrounds us in a delicate atmosphere, through its elegant and velvety style through its fruity notes, an...
Through the labyrinth of Constantinople, beneath the roofs of a hiding place, leathery odors and swirls of whispered arguments mix with rose and jasmine with dancing hair. A warm smell dyed with spices and honey...
Bouquet from the firm Culti Milano. Content 500 ml. IMAGINE A sunny day in the countryside, marked by the reassuring aroma of the citrus peel. Its aroma extends and remains suspended between a pleasant acrid...
Scented Candle 200 gr, ICONIC series by Mathilde M. with perfume Ébène Imperiale Palatial intrigue is played in Versailles, where the secret of the salons is mixed with the sumptuousness of the woodwork and...
Decorativa scented candle by Mathilde M. A sober and refined range, with clean lines, with vintage retro design, in a glass cup with tulle bow and aroma Poudre Riz, Rice powder, the perfume of feminine elegance with...
Scented candle by French firm Cire Trudon, belonging to the collection Les Belles Matèries, Maduraï. Weight 270 gr. The Duke of Tuscany was first to bring jasmine in India in 1690, a flower originally from Arabia....
Carmélite is an ode to the peace of our souls. It reproduces the characteristic that surrounds the shadow of convents and cloisters under the sturdy stone walls, where the black and white figures of the nuns walk...
Solemn perfume of the sacristies, under the nave of a cathedral. Intoxicating and holy perfume of altar candles, with stela of the senses and burners and the amber shines with the jubilant choir and the holy aromas...
This bouquet of flowers reminds us of an ideal nature, that of the Nouvelle Héloïse and the dreams of Marie Antoinette. With the memory of a summer night, when the warm and musky smell of the torches fill the air,...
Scented Candle, Esteban Parfums, with perfume ' Rose blanche & Absolu d'Iris'. Weight 170 gr. Sweet and citrus floral perfume Head Notes: Bergamot Heart Notes: Rose petals, irises Base Notes: White Musk, Amber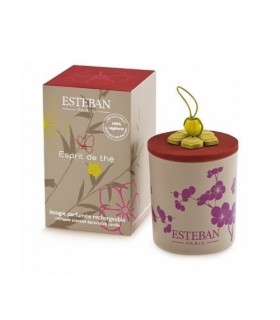 This candle, Esteban French firm, is ideal for those who crave the serenity, its ultra-Zen perfume has been captured in a bottle dress with cherry blossom mauve and covered with una ceramic green anise flower. 170 g....
Scented Candle, Esteban Parfums, with perfume 'Ambre & Vanille Étoilée'. Weight 170 gr. Amber Perfume Top Notes: Heliotrope (Vanilla Garden) Heart Notes: Vanilla, Star Anise Base Notes: Tonka and Amber
Scented Candle 200 gr, ICONIC series by Mathilde M. with perfume Thé Blanc Royal In the discreet stay of her palace chambers of Versailles, Madame de Montespan, benefactor of Arts and Letters, talks with her...
Mathilde M. decorative scented candle rice powder, an evocative scent that will bring back many memories.Duration 50 hrs.
Scented Candle, Esteban Parfums, with perfume ''Bois de Cashmere & Ambre Gris'. Weight 170 gr. Fresh woody fragrance. Head notes: Cardamom.Heart notes: Cedar, KashmirBackground notes: Grey Amber
Scented Candle, Esteban Parfums, with perfume 'Ambre & Vanille Étoilée'. Weight 170 gr. Amber Perfume Top Notes: Heliotrope (Vanilla Garden) Heart Notes: Vanilla, Star Anise Base Notes: Tonka and Amber