Magnolia Orchid Dr. Vranjes 500 ml Refill Bouquet
Refill Bouquet by the italian firm  Dr. Vranjes. Content 500 ml

Perfume

Magnolia and Orchid. Intense notes of Magnolia created this sophisticated and elegant fragrance with the delicate blend of Mimosa and warmth of the Orchid.
Properties: Relaxing, purifying the air, balanced mood.
Calculated from
2
reviews
Dear All , Thank you for providing such excellent service and Thank you everyone who helped with the shipment and delivery! wish you all the best Best regrads, ***
16 other products in the same category:
Refill for Bouquets by Cerería Mollá with Aroma Bergamotto di Calabria . It contains 500 ml Bergamotto di Calabria  Spicy and aromatic perfume where the freshness of citrus notes open the way to the genuine...
A scent which gives the space a sense of purity and peace to the relaxing of a bathroom. It is a creation of the signature Lampe Berger that combines touches of orange blossom, Peony and cotton flower. This...
Refill for bouquets from the Italian firm Culti  Milano with the aroma 'L'Oudness'. Contains 1 Liter It is something unexpected but its main ideal is not to accept commitments. It manages to evoke those countries...
Refill Scented Bouquet by the Italian firm Dr. Vranjes. Content 500 ml 'Aria' (Air) A frangacia its citrus and fresh notes, the intense time, intermingling together with the flower of orange and lemon trees, evolving...
Replacement for scented decorated candled with perfume Teck and Tonka  by Esteban Parfums, which can be replaced as often as desired, and reuse the original holders. Weight 170 gr.
Refills for Bouquets Trudon, L'Œuf, with Ernesto perfume. Contains 300 ml. In Havana, under the sun of the Revolution, the nuances of leather, together with silence, mingle with the smoke of cigarettes, rum and...
Refill for bouquets from the Italian firm Culti Milano, with fragrance 'Fuoco'. Content 1 Liter. IMAGINE A dense night falls on the rows of citrus and lemon trees after a day of fire, among the hypnotic sound of the...
Refill for bouquets from the Italian firm Culti .Milano, with fragrance 'Mountain'. Content 1 Liter. IMAGINE The cozy atmosphere of a mountain chalet, the wood heated by the fireplace that exudes its delicate...
Air fresheners scented solution of the French firm Esteban help to prolong the life of your mikados and ceramic diffusers, scented, being able to choose between the initial aroma of the product, or any other variety...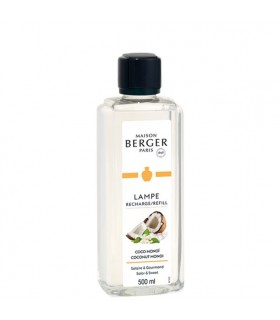 The Coconut Monoï perfume invites you to travel with its citrus notes of zest of green orange and tangerine. Its lightness, leave us sweet and fresh aromas and through the nose it envelops us in enveloping and warm...
Refill for Bouquets Esteban Paris. Contents 500 ml 'Sous l'Olivier' (Under the Olive Tree), takes us to the heart of Provence, where the branches are rocked by the passage of time and the woody and aromatic...
Recharge for Lampe Berger catalytic lamps. 1 Liter content Délicat Musc Blanc is Powdered and Subtle perfume Head Notes: Orange, Petitgrain, Grapefruit Heart Notes: Rose, Jasmine, Orange Blossom Base Notes:...
Refill for Bouquets by Locherber Milano with aroma Klinto. Contents 500 ml Especially extended in Veneto, the wine Clinto (or clintòn), reached the old continent of America at the beginning of the 19th century. El...
This refill of Mathilde M you can recharge your decorative scenteds bouquet many times as you want. Rice Powder aroma, It´s a perfume with powdery notes that invites to remember. Content 200 ml
Refill for catalytic lamps from Lampe Berger. Content 500 ml A vibrant fragrance with a very lively head. The citrus sparkle is sophisticated with a pleasant evolution towards a transparency given by the watery...
Refill for catalytic lamps by Maison Berger with Eau d'Aloe scent. Content 1 Liter A fresh and light fragrance, a mixture of delicate marine aromas, an aquatic and vegetal poetry worked around Aloe Vera and citrus...
Customers who bought this product also bought:
Iris de Nuit by James Heeley is a perfume for men and women which manages to create a sensation of warmth while delicate through the absolute iris extracted directly from the roots of the plant. It is not a common...
Refill for bouquets by Mahtilde M. Content 200 ml Rose Elixir pays tribute to the queen of flowers, a symbol of love and romanticism since ancient times. Discover this voluptuous and bewitching fragrance, like a...
Scented candle by French firm Cire Trudon, belonging to the collection Les Belles Matèries, Tadine. Weight 270 gr. When the Englishman Edward Foxhall discovered sandalwood on the Isle of Pines, New Caledonia in 1840,...
Replacement plant rods for Mathilde M. mikados 30 cm
Sticks air freshener firm Dr. Vranjes. Content 500 ml. It Includes 8 vegetable sticks.PerfumeGinger and lime. Fresh and spicy is how you can define this fragrance thanks to juicy and bright notes of Lima attached to...