Aria Dr. Vranjes 500 ml Refill Scented Bouquet
Refill Scented Bouquet by the Italian firm Dr. Vranjes. Content 500 ml
'Aria' (Air) A frangacia its citrus and fresh notes, the intense time, intermingling together with the flower of orange and lemon trees, evolving into green notes and brightness of white musk and wild mint.

Relaxing perfume, air purifier, which balances the mood.
Calculated from
2
reviews
Use to refill my original purchase - keeps a lovely scent in the house and welcoming for guest and a gorgeous scent for me - have recommended this scent - it is expensive but worth it
16 other products in the same category:
Refill for Bouquets by Cerería Mollá with Aroma Ginger and Orange Blossom. It contains 500 ml Ginger and Orange Blossom Joyful and bright aroma where the citrus notes blend with the sensual perfume the white...
The Cotton Dreams fragance by Lampe Berger  evokes the "clean", this fragrance has fresh notes of Marseille soap and bergamot, which bind to the aromatic accents of lavender and pine. This Lampe Berger composition has...
The Home Fragrance Bois d'Eau offers a crisp citrus freshness underlined by the fresh water spray. In their heart notes, the aquatic notes are mixed with the drift of driftwood before plunging along the coral reefs,...
A sparkling scent with notes of cedar and cypress, which is accentuated by notes of citiricos. This composition of Lampe Berger has a content of 500 ml
Recharge for Lampe Berger catalytic lamps. 1 Liter content Feuilles d'Aromates is Fresh Aromatic perfume Head Notes: Green Notes, Eucalyptus, Grapefruit Heart Notes: Star Anise, Mint, Basil Base Notes: Clove,...
This recharge for scented bouquets, signs French Esteban Ambre that promise happiness and co-existence in your home with this amber citrus perfume-scented.Contents 500 ml
Rêve Blanc is a tender and luminous aroma accompanied by the balance of generous whiteness and textured materials. Content 500 ml Floral Fragrance Head Notes: solar notes. Heart notes: freesia, heliotrope flower....
Refill for catalytic lamps from Maison Berger with Fleurs de Musc scent. Content 1 Liter A floral and sensual essence as sweet as it is joyful, with a strong dose of mystery. The enveloping aroma arises from this...
Refill for Bouquets by Cerería Mollá with Aroma Tea & Lemongrass. It contains 500 ml Tea & Lemongrass Green and Aromatic Perfume where the freshness of citrus notes infuse vitality that in combination with Tea...
Refill for catalytic lamps from Lampe Berger. Content 500 ml A vibrant fragrance with a very lively head. The citrus sparkle is sophisticated with a pleasant evolution towards a transparency given by the watery...
Recharge for Lampe Berger catalytic lamps. 500 ml content Amour D'Hibiscus is a fruity Floral perfume Head Notes: Bergamot, Pepper, Apple Heart Notes: Rose, Lily of the Valley, Hibiscus Base Notes: Musk, Amber
Recharge for Bouquets (Reed Diffuser) of the French firm Esteban Parfums, with fragrance 'Terre d'Agrumes', a citrus and woody fragrance that fills our stay with freshness with a touch of personality, and its...
Refill for Bouquets by Locherber Milano with aroma Rhubarbe Royale. Contents 500 ml Rhubarbe Royale is a refined and captivating fragrance that evokes the sensation of soft freshness of Rhubarb, a perennial plant...
Replacement plant rods for Mathilde M. mikados 30 cm
Refill for Bouquets by Locherber Milano with aroma Bourbon Vanilla. Contents 500 ml The magical aroma of pure Madagascar vanilla. A combination of natural ingredients such as Orchid, Cocoa and Vanilla make this...
The jasmine in this composition as a sign of distion, this scent is made vibrant by the combination of jasmine and Ylang, conviertendose in a floral fragacia with fresh and fruity notes. Composition 500 ml
Customers who bought this product also bought:
Refill for bouquets from the Italian firm Culti Milano with the aroma 'Aria'. Content 1 Liter A fresh and transparent breeze gets the curtains removed from our windows and reveals a splendid view of the seashore to...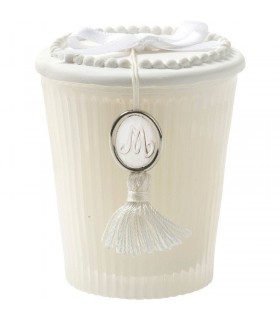 Decorativa scented candle by Mathilde M. Divine Marquise is an elegant and sensual perfume, where the delicious notes of the chocolates are surrounded by an oriental patchouli and amber chord.   Oriental...
Spray Room by the italian firm  Dr. Vranjes. Content 100 ml Perfume Aromatic notes of basil leaves, with intense and transparent marine debris, laced with musk blan sheath in white musk and fescura of its salinity,...
Boquet by Dr. Vranjes. Content 500 ml. It Includes 8 vegetable sticks. ln the city of art, Florence, we 'Giardini di Boboli' where Vranjes inspires its fragrance, which recalls the time where princes and nobles...
Boquet by the italian firm  Dr. Vranjes. Content 250 mlPerfume Rosso Nobile. Initial orange notes enhance in the floral part formed by the absolute of violet and flowers of magnolia, accords of plum complete...