Ernesto 375 ml Spray Room Cire Trudon
In Havana, under the sun of the Revolution, the shades of leather along with silence are intermingled with the smoke of cigar, rum and weapons.
Content 375 ml
Perfume
Head: rum, grapefruit, bergamot
Heart: clove, oak wood, patchouli, laudanum
Base: chords of tobacco, moss, leather, amber.
16 other products in the same category:
Spray Room by the italian firm  Dr. Vranjes. Content 25 mlPerfume Rosso Nobile. Initial orange notes enhance in the floral part formed by the absolute of violet and flowers of magnolia, accords of plum complete...
Spray Room  Marquise Extratit de Parfum, a warm and floral aroma, with a touch of sensuality fill your home with vanilla notes. Content 100 ml
Spray Room by Esteban Parfum. Content 50 ml 'Sous l'Olivier' (Under the Olive Tree), takes us to the heart of Provence, where the branches are rocked by the passage of time and the woody and aromatic fragrances of...
Spray Room by the italian firm  Dr. Vranjes. Content 100 mlPerfumeGinger and lime. Fresh and spicy is how you can define this fragrance thanks to juicy and bright notes of Lima attached to the essence of ginger root...
Spray Room from the firm Culti Milano. Content 100 ml. IMAGINE A look at the open sea. To embrace the bay with the view, the mountain that glides towards the blue, with villages stamped as if they were a work of...
Coeur D´Ambre Spray Room by Mathilde M., it is an oriental perfume with vanilla and patchouli notes. Content 100 ml
Air freshener spray very useful as it allows perfume the air with your favorite fragrance in an instant. The spray provides greater subtlety in the perception of a perfume composition. 50 ml Green floral perfume.
Spray Room by the italian firm  Dr. Vranjes. Content 100 ml How few we know the fig, particularly the wild one, that spreads in the air a green and unripe note, thanks to its elegant fragrance! Rocky and woody, the...
Spray air freshener scented teddy bear, a bright, fresh and light with hints of jasmine and orange blossom perfume. Ideal for baby.Quantity 100 ml
Joséphine de la Page nace el 23 de junio de 1763 en la Martinica. La joven criolla adora observar las flores y pasearse por los florecientes de perfumes delicados. Sin embargo, a los 16 años se va Francia para...
Mathilde M. spray room, Perfume Extract, Fleur Coton scented, cotton flower scent will fill your home pure. 100 ml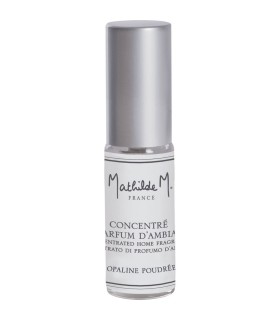 Spray perfume concentrate by the French firm Mathilde M. with perfume Opaline. Content 5 mlOpaline is a renaissance and sophisticated fragrance that stands out for its jasmine and vanilla.Head notes: Red FruitsHeart...
This room spray designed by Esteban Parfum is original and stylish, this perfume des ideal for winter. Thanks to the benevolent Cedar fragrance it gives warmth expected both to the most sophisticated homes and to the...
Spray Room by Esteban Parfums with Ylang Ylang aroma. Contents 50 ml In the heart of the Indian Ocean, shaded by lush foliage, the enchanting Ylang-ylang flower blossoms.   Let yourself be carried to the shores...
Spray Room by the italian firm  Dr. Vranjes. Content 100 mlPerfumeGrapefruit and Cassis. Lively and bright fragrance thanks to fresh grapefruit and bitter notes associated with green and fruity notes of Cassis...
Spray Room by the italian firm  Dr. Vranjes. Content 100 ml Scents of bouquet which come from other worlds and get to our sense of smell with their magic. Balances the mood and reduces feelings of anxiety
Customers who bought this product also bought:
Under a single star, the red fire of clove, cinnamon and orange dances in the silent sacred night. From East to West, a pinch of olibanum secretly illuminates the soul. Weight 270 gr. Fragrance Head: Ceylan...