Teck Tonka scented candle rechargeable Esteban
This decorative candle, by french firm Esteban, is captivating and causes a mysterious halo. When you lift the wooden lidhouse is filled with memories of trips to Africa. 170 gr

Woody-spicy fragrance. Top notes: nutmeg, cinnamon, cloves, heart notes: sandalwood, patchouli, notes: amber, tonka bean.
In our scented candles light, fragrance and decoration unite to create a warm and welcoming environment of long duration. All candles are made in our workshops in France, with carefully selected ingredients: 100% vegetable wax and pure cotton wick.
Intelligent and economical, recharge extends the life of the scented candles. Each decorative candle has its charging, but colours and perfumes can be combined as desired.
Calculated from
3
reviews
Very good quality Beautiful presentation
Room fragrance. Expensive for candle.
My favorite room fragrance, I want everything to smell of this
16 other products in the same category: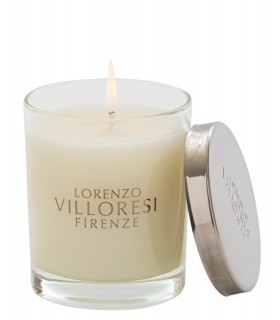 Scented Candle  by Lorenzo Villoresi with Teint de Neige Aroma. Contains 220 gr. Approximate duration 60 h Fragrance Teint de Neige evokes the delicate tonality of powder, bringing us memories of the delicacy of...
Inspired by the elaborate parlor of the famous Hall of Mirrors of the Palace of Versailles, this royal perfume radiates vapors of wax, candelabra and palace. A sumptuous incense path is weaved through a coniferous...
It is inspired by the aroma of Morocco and its palaces. Abd el Kader / Abd al-Qadir was an Algerian who led the struggle against the French invasion in the mid-nineteenth century, pro what is considered by the...
Scented candle of Dr. Vranjes with a weight of 1 Kg and Rosso Nobile perfume. Rosso Nobile. Initial orange notes enhance in the floral part formed by the absolute of violet and flowers of magnolia, accords of plum...
Decorativa scented candle by Mathilde M. 55 gr Rose Elixir pays tribute to the queen of flowers, a symbol of love and romanticism since ancient times. Discover this voluptuous and bewitching fragrance, like a...
Scented candle by French firm Cire Trudon, belonging to the collection Les Belles Matèries, Reggio. Weight 270 gr. Brought from Indochina in 1828, mandarin has since been cultivated on the western shores of the...
Trudon presents a new format with white luminescent attributes:  Les Albâtres . The delicate alabaster not only replaces the traditional green glass, but creates a sculptural object complete with a matching lid....
The village of Cyrnos in Provence welcomed the high society early twentieth century, they met in the shade of the fig trees and pines. They enjoyed a fabulous view, so typical of the blue shores of the Mediterranean...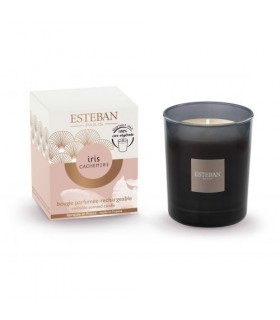 Scented Candle Esteban Parfum. Weight 170 gr Iris Cachemire is an elegant and unexpected marriage, where vegetal notes flirt with a majestic and delicate powdery iris. Where its heart shows all the nobility of an...
Decorativa scented candle by Mathilde M.  Astrée is Shining, romantic and feminine aroma by Mathilde M.. The fresh and sparkling notes of citruses reveal a lighting and solar bouquet of orange blossom and jasmine,...
Scented candle by French firm Cire Trudon, belonging to the collection Les Belles Matèries, Tadine. Weight 270 gr. When the Englishman Edward Foxhall discovered sandalwood on the Isle of Pines, New Caledonia in 1840,...
Decorative scented candle with retro vintage design, in a glass cup tie tulle and cotton flower scent, a perfume that will bring many childhood memories.Duration 15 hrs
The union of Benzoin from Laos and Cocoa from the Ivory Coast make up a spicy perfume illuminated by nature and slightly spicy. An invitation to travel through the tropical forest, where the cacao tree is known as the...
Scented candle of Dr. Vranjes with a weight of 500 gr and Ginger Lime perfume. Ginger and lime. Fresh and spicy is how you can define this fragrance thanks to juicy and bright notes of Lima attached to the essence...
In Havana, under the sun of the Revolution, the shades of leather along with silence are intermingled with the smoke of cigar, rum and weapons. Weight 3 Kg. Approximate duration: 300 hours Perfume Head: rum,...
Joséphine de la Page was born on June 23, 1763 in Martinique. The young Creole loves to watch the flowers and stroll through the flowering delicate perfumes. However, at the age of 16, France is going to marry. Weight...
Customers who bought this product also bought:
Scented Sachet Mathilde M. with aroma Fleur de Coton. Dimensions 12x24 cm. Olfactive Family: Floral and Woody
Minimalist bouquet with smoked glass, bouquet of the French firm Esteban is captivating and produces a mysterious halo sensuous filling your home with memories of trips to Africa. Teck and Tonka recreates one of the...
Air freshener spray very useful as it allows perfume the air with your favorite fragrance in an instant. The spray provides greater subtlety in the perception of a perfume composition. Teck and Tonka is captivating...
Boquet by the italian firm  Dr. Vranjes. Content 250 mlPerfumeThis fragrance blends notes of two precious resins, myrrh and frankincense, wisely combined with the freshness of Bergamot and Neroli elegance. In the Arab...
Scented candle of Dr. Vranjes with a weight of 500 gr and Ambra perfume. Amber. rich and heady fragrance with elegant oriental overtones. The Amber and the Iris Flower merge with Cistus, Patchouli, Lábdanum,...