Oranges & Lemons 100 ml Heeley Eau de Parfum
Oranges & Lemons Say The Bells of St. Clement's by James Heeley, is traditional cologne that has been converted into a chic, contemporary, light and fresh English perfume water inspired by the poem "Oranges and Lemons", which reference to a church in the city of London. The perfume combines oranges, lemons, bergamot and neroli with notes of Tea and Vetiver to revive an English classic.
Citric Perfume
Head Notes: orange, lemon, bergamot, tangerine
Heart Notes: neroli, petitgrain, tea earl gray
Base Notes: Ylang Ylang, Vetiver
16 other products in the same category:
The Orchid Man recalls the legendary figure of French boxer early twentieth century Georges Carpentier talented person and elegance inside and outside the boxing ring. This fragrance is characterized by elegant notes...
Jasmin de Molinard is a perfume of a poetic, delicate and exuberant nature, the starry flower transports us to the gardens of our childhood. Jasmin de Molinard exudes a sensuality through her assertive femininity....
'1969 Parfum de Revolte by Histoires de Parfums' is an Oriental Gourmand fragrance for women. The nose behind this fragrance is Gerald Ghislain. Content 120 mlFragranceTop Note: peachMiddle Notes: pink, white flowers,...
El Born by Carner Barcelona is a fragrance from the Amber and Floral olfactory family for men and women. El Born was launched in 2014. The cobbled and winding streets flow seamlessly over the old medieval stones,...
Nerosa is a Spicy and Woody perfume for men and women of Olfactory Laboratory. It contains 100 ml Perfume A sublime saffron opens the fragrance and immediately gives way to a powerful Rose that uses notes of...
Vanhera is a Vanilla, Woody and Spicy perfume for men and women of Olfactory Laboratory. It contains 100 ml Perfume Vanhera is a splendid absolute Vanilla from Madagascar where it is surrounded by spicy notes of...
Grisette, pink complexion, innocent look, runs and rushes towards her fickle suitor. However, she dreams of the Other, and dreams, tender look, with the romance that begins. A promise more certain than previous oaths:...
Nerotic is an Aromatic and Woody perfume for men and women of Laboratorio Olfattivo. It contains 100 ml Perfume Hypnotic, sensual, sexual, erotic, nerotic ... Nerotic. Nerotic is a charming and addictive...
This is not a blue bottle 1 / .3 is a masculine and feminine perfume where leather and oriental notes predominate, represented by a ring of fire, which represents the dawn of a new energy. An orange and reddish sun...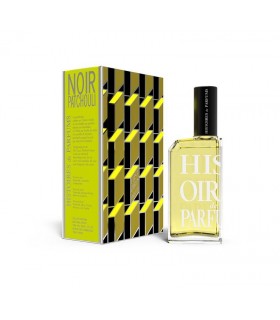 Pathchouli Noir, is a woody and aromatic perfume for men and women where Patchouli is the protagonist, a plant that began to be cultivated and used in the East and its aroma exhales spirituality thanks to the intense...
'Study # 17` by Miller et Bertaux is a perfume for men and women characterized by its simplicity, Study # 17 is also the title of a poem by its creators, Miller et Bertaux, of their words, feelings and images that...
Sacreste is a Balsamic and Woody perfume for men and women of Laboratorio Olfattivo. It contains 100 ml Perfume Complex and rich formula, created to give voice to two very precious incense notes that are...
Ninfeo Mio is an eau de toilette for men and women, from the woody and aromatic family. Contains 100 ml In June, the nature around Rome is splendid. In the wonderful garden of Ninfa, the alleys planted with...
Hippie Rose by James Heeley is a light-hearted perfume for men and women of the Floral Chypre olfactory family. It brings us the memory of the warm air of the California desert, giving way to the spiritual scent of...
Petite Chérie de Goutal, is a fruity feminine fragrance, where the notes of the pear tree together with the blooming rose bush take us to a wonderful garden. Content 100 ml Fruity perfume Head Notes: Peach, Cut...
Musc by Molinard, is an eau de parfum for men and women, Musc sincerely emphasizes the characteristics of a refined and sensual echo, before flourishing in the softness of the skin. Content 75 ml Like a warm and...
Customers who bought this product also bought:
Textile pefume Mathilde M. can be used both as a room spray or directly on their tissues without being stained. Mathilde M. perfume 'Poudre Riz' is a powdery scent that invites us to dream. Content 75 ml Perfume TOP...
Trudon presents a new format with white luminescent attributes:  Les Albâtres . The delicate alabaster not only replaces the traditional green glass, but creates a sculptural object complete with a matching lid....
Note de Yuzu contains the energy and enthusiasm of Japanese yuzu layered with aquatic and marine notes. Its immediate fruity freshness will soften to reveal a sensual salinity to the skin, reminiscent of a traditional...
With 'Teint de Neige' meaning 'Snow Colour', Lorenzo Villoresi in its creation evokes the delicate hue of the powdered fragance, bringing memories of the delicacy of aroma, softness talc, despite their apparent...