Ginger Lime Dr. Vranjes 500 ml Refill Bouquet
Refill Bouquet by the italian firm  Dr. Vranjes. Content 500 ml

Perfume

Ginger and lime. Fresh and spicy is how you can define this fragrance thanks to juicy and bright notes of Lima attached to the essence of ginger root and enriched by Vetiver and white pepper.
Properties: Stimulates the mood, improves concentration and states of fatigue and nervousness. Enriched air purifying components.
Head citrus notes formed by the fleshy Lemon pulp which enter the crisp green notes of Lime, Ginger used together with the Gingember, with entangling shades of Vetiver to form the heart of the fragrance, white pepper and colonial essences heat the base of the perfume.
Stimulates the mood and reduces feelings of anxiety and fatigue while helping to improve concentration and enriching the air with purifying components.
Work/study rooms
Calculated from
8
reviews
Very good quality I used it for my living room
Amazing room fragrance. I now have several spread throughout my house and I am totally in love with the fragrance.
I already have the big diffuser bottle in the hallway which I top up with the refill as it would cost more to buy the whole product each time and the refill still comes with new reeds. It has an amazing smell and reminds of our holiday to Italy where the hotel we stayed in used it in the reception area.
Would suggest everyone to use this product
16 other products in the same category:
Refill for bouquets from the Italian firm Culti  Milano with the aroma 'L'Oudness'. Contains 1 Liter It is something unexpected but its main ideal is not to accept commitments. It manages to evoke those countries...
Oriental Comfort 1 Liter Lampe Berger Refill for Lampe Berger catalytic lamps. Content 1 Liter  ml    Douceur Orientale is a Spicy Oriental fragrance. Top Notes: Star Anise, Liquorice Heart Notes: Jasmine, Rose...
Refill Bouquets by the italian firm  Dr. Vranjes. Content 500 ml
. Perfume Bellini, by Dr. Vranjes manages to impregnate the air with joy, with its intense and youthful fragrance. Its fresh and fruity notes evoke...
Recharge for Lampe Berger catalytic lamps. 500 ml content Feuilles d'Aromates is Fresh Aromatic perfume Head Notes: Green Notes, Eucalyptus, Grapefruit Heart Notes: Star Anise, Mint, Basil Base Notes: Clove,...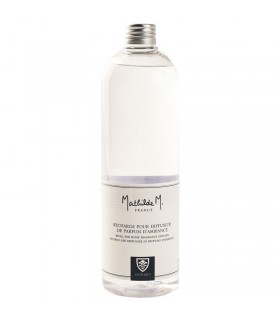 Refill for bouquets by Mahtilde M. Content 500 ml Perfume Angélique, a bewitching fragrance full of character, where her floral heart is illuminated by warm oriental notes. Oriental Perfume Head Notes:...
Refill for Maison Berger catalytic lamps. Content 1 Liter Cachemire Blanc is an enveloping perfume that does not provide comfort thanks to the floral notes and white musks together with the soft woods that provide...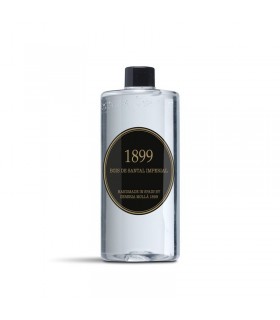 Refill by Cerería Mollá with aroma Bois de Santal Imperial. Contents 500 ml Bois de Santal Imperial The spicy and vibrant notes open this aroma following the mysticism and majesty of the patchouli intermingled...
This refill of Mathilde M you can recharge your decorative scenteds bouquet many times as you want. With this aroma cotton flower scent will fill your home pure. Content 200 ml
Recharge for Lampe Berger catalytic lamps. 500 ml content Aroma Respire is Aromatic and Fresh perfume Head Notes: Eucalyptus, Menthol Heart Notes: Pine Needles, Mint Base Notes: Thyme
Refill for bouquets of the Esteban firm with Pur Lin aroma. Contains 500 ml Through this perfume, Estéban recreates the unique sensations provided by this mythical fabric, as noble as it is pure. In the top notes,...
Recharge for Lampe Berger catalytic lamps. 500 ml content Aroma Wake Up pire is Woody perfume Head Notes: Ginger, Bergamot, Eucalyptus Heart Notes: Cedar, Sandalwood, Geranium Base Notes: Sandalwood, Patchouli
Refill for catalytic lamps by Maison Berger with Chadron Sauvage  scent. Content 1 Liter Chadron Sauvage by Maison Berger is a subtle fragrance that reveals in its top notes a mixture of citrus fruits and green...
Refill for Bouquets by Locherber Milano with aroma Capri Blue. Contents 500 ml An extraordinary mix of nature, history and culture, Capri is a myth without equal in the world, a true inspiring "muse" for painters,...
Recharge for Lampe Berger catalytic lamps. 500 ml content Délicat Musc Blanc is Powdered and Subtle perfume Head Notes: Orange, Petitgrain, Grapefruit Heart Notes: Rose, Jasmine, Orange Blossom Base Notes:...
The Patchouli Lampe Berger fragrance is a sensual and modern fragrance in which the notes of patchouli mixed with sweet and enveloping chords of vanilla and amber balms, a real invitation to well-being and comfort....
The scent of Cinnamon and Orange provides the freshness of citrus combined with the warmth of spices and candied fruit, and enveloped by a sensual notes of amber and white musk. This composition of Lampe Berger has a...
Customers who bought this product also bought:
Boquet by the italian firm  Dr. Vranjes Content 500 mlPerfume Rosso Nobile. Initial orange notes enhance in the floral part formed by the absolute of violet and flowers of magnolia, accords of plum complete themselves...
Concentrate perfume by Mathilde M. with aroma 'Angélique' for use as essential oil diffusers and use in Mist Diffuser . Not for use alimentary or body. Content 10 ml Perfume Angélique, a bewitching fragrance full...
Boquet by the italian firm  Dr. Vranjes. Content 250 mlPerfumeThis fragrance blends notes of two precious resins, myrrh and frankincense, wisely combined with the freshness of Bergamot and Neroli elegance. In the Arab...
Trudon presents a new format with white luminescent attributes: The Albâtres. The delicate alabaster not only replaces the traditional green glass, but creates a sculptural object complete with a matching lid....
Refill Bouquet by the italian firm  Dr. Vranjes. Content 500 mlPerfume Head notes: Siberian PineHeart Notes: Musk, Lavender and Vanilla.Background Notes: Wild Mint