Supreme Amber Refill 1 Liter Culti Milano
Refill for bouquets from the Italian firm Culti  Milano with the aroma 'Supreme Amber'. Contains 1 Liter
The atmosphere of a soft late-September sunset: a park illuminated with warm colours, the fresh air announcing the arrival of a new season. Supreme Amber is an invitation to experience a moment of transition in all its complex essence; enter unexpected change with determination and sweet abandon.
The warm and intense base of incense and patchouli is softened by precious black vanilla and turns pungent and fresh with the lively opening of cistus and chinotto: a complex and deeply rich fragrance, perfect for recounting the many facets of a magical moment.
Oriental Perfume
Olfactory Notes: Incense, Chinotto, Black Vanilla, Patchouli
16 other products in the same category:
Refill for Bouquets by Locherber Milano with aroma Rhubarbe Royale. Contents 500 ml Rhubarbe Royale is a refined and captivating fragrance that evokes the sensation of soft freshness of Rhubarb, a perennial plant...
Refill for bouquets from the Italian firm Culti Milano., with fragrance 'Terra'. Content 1 Liter. IMAGINE By supporting the bare palms in the warm earth of Morocco at twilight, one feels a silent force that rises...
Refill for Bouquets by Locherber Milano with aroma Inuit. Contents 500 ml This Locherber Milano fragrance comes from far away, from the lands where the Inuit live. This word that means men / humanity wants to...
Refill for bouquets from the Italian firm Culti Milano, with fragrance 'Tessuto'. Content 1 Liter. IMAGINE A walk among the blooming stems of a cotton field, caressing the soft flakes. Touch the light texture of the...
Perfume for catalytic lamp Lampe berger in the collection dream of freshness. Purity and freshness as a direct blow from the ocean to your home. 1 Litre
Champs de Lavande is a fresh floral fragrance with a hint of camphor that provides a cool character. This Lampe Berger composition has a content of 500 ml
Recharge for Lampe Berger catalytic lamps .1 Liter content Aroma Respire is Aromatic and Fresh perfume Head Notes: Eucalyptus, Menthol Heart Notes: Pine Needles, Mint Base Notes: Thyme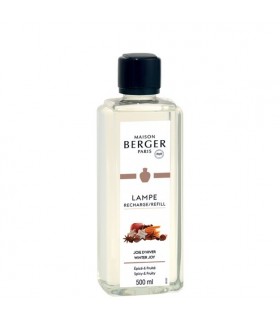 Refill for catalytic lamps from Maison Berger with Joie D'Hiver scent. Contains 500 ml Joie d'Hiver is an ideal perfume for end-of-year celebrations where the irreparably attractive fruity notes of apple are joined...
Refill for Bouquets by Dr. Vranjes. Content 500 ml. Giglio di Firenze in a delicate and elegant perfume, where its powdery and powdery notes come together with elegant and comfortable notes, it is ideal for spaces...
Exquisite Sparkle of Lampe Berger is a fragrance that combines the aromas of grapefruit, champagne and patchouli with the floral and energetic notes that evoke that happy atmosphere that we enjoyed during the...
Refill for Bouquets by Locherber Milano with aroma Klinto. Contents 500 ml Especially extended in Veneto, the wine Clinto (or clintòn), reached the old continent of America at the beginning of the 19th century. El...
With this fragrance Lampe Berger evokes Asian seduction with precious woods: sandalwood, which is mixed with black currant and the citrus sweetness of mandarin. The heart reveals the soft, enveloping side of...
Fragrance Lampe Berger luminous and majestic, glittering with spicy notes. Soft and fruity joins patchouli and gourmet flavors. Contents 500 ml
Refill Bouquet by the italian firm  Dr. Vranjes. Content 500 mlPerfume Head notes: Siberian PineHeart Notes: Musk, Lavender and Vanilla.Background Notes: Wild Mint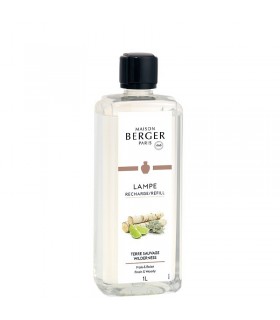 Refill for catalytic lamps from Lampe Berger. Content 500 ml A powerful, conquering and airy fragrance with aromas of tomato leaves along with grapefruit and citrus in the top notes. Patchouli and white birch wood...
Heavenly Sun A fragrance that elegantly transports you like a solar air and a very feminine, prodigiously sensual aura. Content 1 Liter Floral and Solar Fragrance Head Notes: Tangerine, Bergamot, Orange...
Customers who bought this product also bought:
Refill for bouquets from the Italian firm Culti  Milano with the aroma 'L'Oudness'. Contains 1 Liter It is something unexpected but its main ideal is not to accept commitments. It manages to evoke those countries...
Refill for Reed Diffuser by Culti Milano with aroma Aqqua. Contents 1000 ml IMAGINE A look at the open sea. To embrace the bay with the view, the mountain that glides towards the blue, with villages stamped as...