Vaniglia Mandarino Dr. Vranjes 500 ml Refill Bouquet
Refill Bouquet by the italian firm  Dr. Vranjes. Content 500 ml

Perfume

Vanilla and tangerine. Instant and precious fragrance that combines the sweetness of vanilla with the acidity of the Mandarin.
Properties: Soothing, purifying the air, especially indicated in children's rooms
Calculated from
1
reviews
I refill my bottles with this product. Only suggestion would for the manufacturer to provide a small funnel to make transition from refill to bottle easier.
16 other products in the same category:
Refill for Bouquets by Cerería Mollá with Aroma Tea & Lemongrass. It contains 500 ml Tea & Lemongrass Green and Aromatic Perfume where the freshness of citrus notes infuse vitality that in combination with Tea...
This perfume by Lampe Berger, 'Touche de Soie', surprises us with its bright head notes composed of fresh and bright chords. In its heart, it is soft and velvety, where the magnitude of a floral bouquet of powdered...
This recharge for scented bouquets, signs French Esteban Ambre that promise happiness and co-existence in your home with this amber citrus perfume-scented.Contents 500 ml
Replacement Scented Bouquet vegetable sticks 22 cm by Esteban Parfums
Refill for catalytic lamps from Lampe Berger. Content 1 Liter A vibrant fragrance with a very lively head. The citrus sparkle is sophisticated with a pleasant evolution towards a transparency given by the watery...
Refill Bouquets by the italian firm  Dr. Vranjes. Content 500 ml Fragrance designed by Paolo Vranjes exclusively for Maserati that commemorates 100 years of the legendary Italian car maraca, where Paolo Vranjes gave...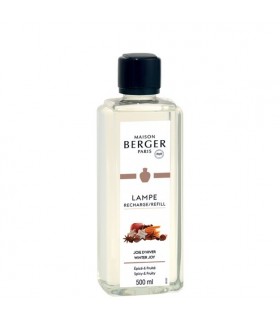 Refill for catalytic lamps from Maison Berger with Joie D'Hiver scent. Contains 500 ml Joie d'Hiver is an ideal perfume for end-of-year celebrations where the irreparably attractive fruity notes of apple are joined...
Refill for catalytic lamps by Lampe Berger with aroma Zeste Vert de Tahiti. Content 500 ml A bright fragrance that brings out the freshness and brilliance of lime, enhanced by a crisp, green, crystalline floral...
Recharge for Lampe Berger catalytic lamps. 500 ml content Feuilles d'Aromates is Fresh Aromatic perfume Head Notes: Green Notes, Eucalyptus, Grapefruit Heart Notes: Star Anise, Mint, Basil Base Notes: Clove,...
Refill for Bouquets by Cerería Mollá with Aroma Bulgarian Rose & Oud. It contains 500 ml Bulgarian Rose & Oud Floral and Aromatic Perfume that surrounds us through the darkest damask rose, rich and velvety, on a...
This refill of Mathilde M you can recharge your decorative scenteds bouquet many times as you want. Coeur d'Ambre is a oriental perfume. Content 180 ml
This Lampe Berger fragrance brings back memories of our childhood, with hints of lavender, cotton and SOAP. Contents 500 ml
Refill for bouquets from the Italian firm Culti Milano with the Lamborghini aroma. Contains 1 Liter Automobili Lamborghini is the first fragrance developed for the olfactory brand project developed by CULTI MILANO...
The Coeur de Pamplemousse fragrance is a vibrant fragrance proporcinado by the fruity aroma of orange heart. This Lampe Berger composition has a content of 500 ml  
Recharge for Lampe Berger catalytic lamps .1 Liter content Aroma Respire is Aromatic and Fresh perfume Head Notes: Eucalyptus, Menthol Heart Notes: Pine Needles, Mint Base Notes: Thyme
IMAGINE The richness of the Apulian countryside, with pomegranates loaded with fruit between the dry stone walls. Continue in the thicket that dominates the sea, collect, dirty your hands, taste its woody essence....
Customers who bought this product also bought:
Teint de neige, "the colour of snow", the delicate rosy hue of a powdered face. The unmistakable scent of perfumed powders, the fragrance of face powder, the perfume of talc, a soft, gentle, enveloping.An aroma...
Refill Bouquet by the italian firm  Dr. Vranjes. Content 500 mlPerfumeGinger and lime. Fresh and spicy is how you can define this fragrance thanks to juicy and bright notes of Lima attached to the essence of ginger...
Air fresheners scented solution of the French firm Esteban help to prolong the life of your mikados and ceramic diffusers, scented, being able to choose between the initial aroma of the product, or any other variety...
Bouquet by Locherber Milano with aroma Azad Kashmere. Contents 500 ml Imagine the silence, the great contrasts, from the inaccessible spaces of the mountains to the immense valleys, temperature variations to the...
Voltige tissues is a perfume Mathilde M. signature can be used to perfume both the room or tissues. The scent Mathilde M 'Voltige' is a floral fragrance with notes of cherry blossoms, almond and vanilla.