Spirtus Sancti Recarga para Bouquet Trudon 300 ml
Refills for Trudon Bouquets, with Spiritus Sancti perfume. Contains 300 ml.
Solemn perfume of the sacristies, under the nave of a cathedral. Spiritual and Enveloping Perfume like the altar candles, with a wake of the senses where the amber and oriental perfumes shine with the jubilant chorus, and the sacred aromas lift the souls to heaven.
Fragrance
Head Notes: Aldehyde, Incense Vapors
Heart Notes: Thrush
Base Notes: Incense, Laudanum, Benzoin
16 other products in the same category:
Refill for Bouquets by Locherber Milano with aroma Dokki Cotton. Contents 500 ml Elegant, delicate, pure, light, drunken, eternal; In the hot and dry Sahara desert, the great and magical Nile creates a river oasis...
This refill of Mathilde M you can recharge your decorative scenteds bouquet many times as you want. Marquise, a delicious blend of wood, spice and soft vanilla. Content 500 ml
Recharge for Lampe Berger catalytic lamps. 500 ml content Aroma Wake Up pire is Woody perfume Head Notes: Ginger, Bergamot, Eucalyptus Heart Notes: Cedar, Sandalwood, Geranium Base Notes: Sandalwood, Patchouli
Replacement Scented Bouquet vegetable sticks 22 cm by Esteban Parfums
Absolu of Vainille aroma is sweet notes of a perfume that evokes all the aroma of a vanilla bean, sweet and sugary (rum, star anise) notes and envelope heart (Bourbon vanilla pods) and a chocolate background and...
Originally from the region of Calabria, the Bergamot is a citrus widely used in perfumery, a Mediterranean flavor that exalts himself with tangerine and orange on a spicy background cardamom, accompanied by floral...
Recharge for Lampe Berger catalytic lamps. 500 ml content Aroma D-Stress is fruity and spicy perfume Head Notes: Orange, Tangerine, Bergamot Heart Notes: Melon, Mimosa, Ginger Base Notes: Musk
Refill for catalytic lamps from Maison Berger with Lait de Figue scent. Contains 1 Liter Lait de Figue de Maison Berger de is an aroma where the heart of the black fig is lovingly intertwined with an iris and lotus...
Lolita  Lempicka by Lampe  Berger is a fairytale in which we can appreciate the story of a woman in the making who is going through that moment in which all of us had to leave childhood but not leave her. It is the...
The Coeur de Pamplemousse fragrance is a vibrant fragrance proporcinado by the fruity aroma of orange heart. This Lampe Berger composition has a content of 1 Litre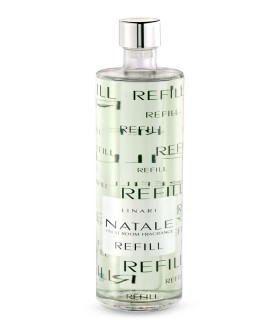 LINARI NATALE Solemn and spicy: Vibrant Christmas notes of Italian almonds and luscious oranges are enhanced by fine aldehyde chords. A bouquet of aromatic carnation, fresh lilac, freesia and jasmine build into a...
Refill for catalytic lamps by Lampe Berger with Citronelle Aroma. Content 500 ml Citronella perfume has the glow of love with its cheerful bursts of orange. Its floral bouquet reveals the poetry of a romance with...
IMAGINE The richness of the Apulian countryside, with pomegranates loaded with fruit between the dry stone walls. Continue in the thicket that dominates the sea, collect, dirty your hands, taste its woody essence....
Refill for catalytic lamps from Maison Berger with Under the Fig Tree scent. Contains 500 ml The aroma of Maison Berger Sous le Figuier is a perfume that finds the perfect balance between the freshness of the leaves...
The Cotton Dreams fragance by Lampe Berger  evokes the "clean", this fragrance has fresh notes of Marseille soap and bergamot, which bind to the aromatic accents of lavender and pine. This Lampe Berger composition has...
Refill for catalytic lamps from Maison Berger with Fleurs de Musc scent. Content 1 Liter A floral and sensual essence as sweet as it is joyful, with a strong dose of mystery. The enveloping aroma arises from this...