Aramara Refill 1 Liter Culti Milano
Refill for bouquets from the Italian firm Culti Milano, with fragrance 'Aramara'. Content 1 Liter.
IMAGINE
A sunny day in the countryside, marked by the reassuring aroma of the citrus peel. Its aroma extends and remains suspended between a pleasant acrid flavor and a candied sweetness, as well as certain moments of life.
BREATHE
The bitter touch. A severe citrus, intense and sober, that does not disappear. The bergamot becomes friendly, but firm in its vivacious freshness, a bit sour. The elegance of sandalwood in the background harmonizes the citrus without suffocating them.
FEEL
Deep as life / Yin and Yang / The richness of contrasts. The tonicity of the grapefruit, the calm of the bitter orange and the bergamot, the harmony of the sandalwood.
16 other products in the same category:
Refill for bouquets from the Italian firm Culti Milano, with fragrance 'Oficus'. Content 1 Liter. IMAGINE Apulia An imposing fig grows majestically, looking for space in the white rock that borders the thick...
With this fragrance Lampe Berger evokes Asian seduction with precious woods: sandalwood, which is mixed with black currant and the citrus sweetness of mandarin. The heart reveals the soft, enveloping side of...
'Amande Subtile' is a special perfume created from sweet almond, unique fragrance obtained through a careful blend of anise, green and touch of almond, mixed in his heart a bouquet of flowers gourmand and then a touch...
Air fresheners scented solution of the French firm Esteban help to prolong the life of your mikados and ceramic diffusers, scented, being able to choose between the initial aroma of the product, or any other variety...
This perfume by Lampe Berger, 'Touche de Soie', surprises us with its bright head notes composed of fresh and bright chords. In its heart, it is soft and velvety, where the magnitude of a floral bouquet of powdered...
Champs de Lavande is a fresh floral fragrance with a hint of camphor that provides a cool character. This Lampe Berger composition has a content of 1 Litre
White tea and Ylang-Ylang by Esteban Parfums, combines purity and exoticism, its soft and intense notes illuminate its interior submerging it in a comfortable and relaxing atmosphere; a perfect balance for people who...
This Lampe Berger fragrance brings back memories of our childhood, with hints of lavender, cotton and SOAP. Contents 500 ml
Refill Bouquet by the italian firm  Dr. Vranjes. Content 500 ml Perfume Top notes the brings the harmony of lemon flowers with carnation flower, evolving in its heart notes with clove and sandalwood, along with Star...
Lolita  Lempicka by Lampe  Berger is a fairytale in which we can appreciate the story of a woman in the making who is going through that moment in which all of us had to leave childhood but not leave her. It is the...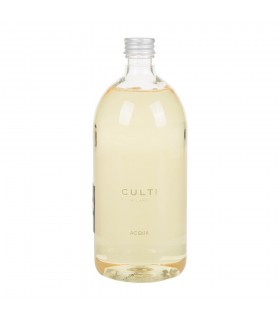 Recharge for Culti Milano bouquets with Acqua aroma. It contains 1000 mlSweet and reassuring, it flows with its calm rhythm, transporting fragments of leaves and forests, the aromas of a trip. It glides slightly with...
Refill Bouquet by the italian firm  Dr. Vranjes. Content 500ml The enchanting note of Leather and the strength of the accord of Radica are the predominant components of this warm and soft scent created to astonish...
Refill solution for Scented Bouquets Lampe Berger fragrance Savon d'Autrefois. 200 ml content. Soft sweet and floral fragrance,
This refill of Mathilde M you can recharge your decorative scenteds bouquet many times as you want. Rice Powder aroma, It´s a perfume with powdery notes that invites to remember. Content 200 ml
Refill for bouquets by Mahtilde M. Content 500 ml Astrée is Shining, romantic and feminine aroma by Mathilde M.. The fresh and sparkling notes of citruses reveal a lighting and solar bouquet of orange blossom and...
Sous le Figuier Perfume Lampe Berger is a fruity perfume, which runs from the freshness of fig leaf to the sweet heart of this fruit. This Lampe Berger composition has a content of 500 ml.
Customers who bought this product also bought:
Exquisite Sparkle of Lampe Berger is a fragrance that combines the aromas of grapefruit, champagne and patchouli with the floral and energetic notes that evoke that happy atmosphere that we enjoyed during the...
Oil Perfume Concentrate by Esteban Parfums. Content 15 ml 'Sous l'Olivier' (Under the Olive Tree), takes us to the heart of Provence, where the branches are rocked by the passage of time and the woody and aromatic...
Enchanted Velours by Lampe Berger is an aroma that complements in an exquisite way the soft notes of the brocade of a velvet fabric with red berry, raspberry and purple rose tints. Content 1 Liter. Floral Perfume...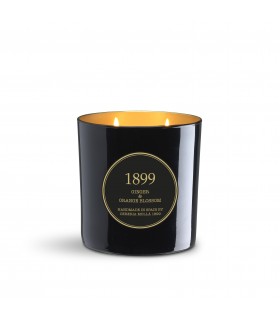 Scented Candle by Cerería Mollá with 600 gr and 2 wicks. Ginger & Orange Blossom Joyful and bright aroma where the citrus notes blend with the sensual perfume the white flowers and the elegance of the noble...
Transparent Glass Catalytic Lamp by Lampe Berger designed by Rozenn Mainguené.