Acqua Dr. Vranjes 100 ml Spray Room
Spray Room by the italian firm  Dr. Vranjes. Content 100 ml

Perfume
Aromatic notes of basil leaves, with intense and transparent marine debris, laced with musk blan sheath in white musk and fescura of its salinity, giving temperament and personality.

Relaxing, relieves the mood to reduce stress.
16 other products in the same category:
In Havana, under the sun of the Revolution, the shades of leather along with silence are intermingled with the smoke of cigar, rum and weapons. Content 375 ml Perfume Head: rum, grapefruit, bergamotHeart: clove,...
This new edition Marquise, will fill your home with purity. Head Notes: aldéhidos, fruits of the passionHeart Notes: rose, freesiaBase Notes: santal, white musc, vanilia
Spray Room, Mathilde M., with aroma 'Poudre de Riz',  a perfume with powdery notes invite remember. 100 ml
Creation of Esteban Parfums, which recreates a magical and elegant middle with its sparkling and spicy note, notes of citrus, spicy and floral, and background on sandalwood, amber and tonka notes.
Spray Room by Esteban Parfums, with fragrance 'Terre d'Agrumes', a citrus and woody fragrance that fills our stay with freshness with a touch of personality, and its freshness leads to an olfactory journey to...
Spray Room by the italian firm  Dr. Vranjes. Content 25 mlPerfume Grenade. Black Grape and Watermelon are the amazing ingredients used to recreate the characteristic scent of the pressed seeds of Granada.Properties:...
The French firm Esteban Ambre that promise happiness and co-existence in your home with this amber citrus perfume-scented.Contents 50 ml
This Mathilde M. intensive home fragance permeates the scent you choose with a simple spray, is also used to refresh the essence of your decorative ceramics. 5 ml bottle. The night is dressed in a thousand lights...
Spray Room by the italian firm  Dr. Vranjes. Content 100 ml.PerfumeAmber. Rich and intoxicating fragrance with elegant oriental overtones. The Amber and Iris Flower merge with Cistus, Patchouli, Labdanum, Sandalwood...
This room spray designed by Esteban Parfum is original and stylish, this perfume des ideal for winter. Thanks to the benevolent Cedar fragrance it gives warmth expected both to the most sophisticated homes and to the...
Spray Room by the italian firm  Dr. Vranjes. Content 100 mlPerfume'Tuberousa Mughetto' (Lily and Nard) is a floral soft fragrance, Where His high notes are composed of blooming lilies, and pass notes of heart through...
Vaporizer by Esteban Parfums This leads us to the dawn of the morning with dew, is a basis of tea aroma and floral transparent. Content 50 mlTop notes of coriander, nutmeg, saffronHeart notes: green tea, magnolia,...
Rêve Blanc is a tender and luminous aroma accompanied by the balance of generous whiteness and textured materials. Content 50 ml Floral Fragrance Head Notes: solar notes. Heart notes: freesia, heliotrope flower....
Spray Room from the firm Culti Milano. Content 100 ml. ERA PERFUME The sensation of the senses in a forest where loneliness and tranquility surround us favoring our own self through deep meditation. A place, where...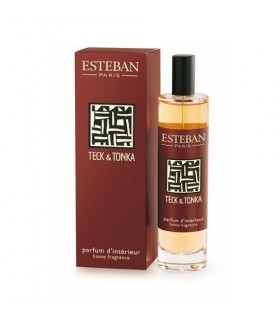 Air freshener spray very useful as it allows perfume the air with your favorite fragrance in an instant. The spray provides greater subtlety in the perception of a perfume composition. Teck and Tonka is captivating...
Spray Room by Mahtilde M. Content 100 ml Divine Marquise is an elegant and sensual perfume, where the delicious notes of the chocolates are surrounded by an oriental patchouli and amber chord.   Oriental Perfume...
Customers who bought this product also bought:
Aroma Fleur de Coton Dimensions: 19 x 9 x 2 cm.
Refill Bouquet by the italian firm  Dr. Vranjes. Content 500 mlPerfumeGinger and lime. Fresh and spicy is how you can define this fragrance thanks to juicy and bright notes of Lima attached to the essence of ginger...
Joséphine de la Page was born on June 23, 1763 in Martinique. The young Creole loves to watch the flowers and stroll through the flowering delicate perfumes. However, at the age of 16, France is going to marry. Weight...
With these scented Fleur de Coton mikado you will fill your home pure. Dresser with all the charm of a timeless design. Pure Perfume.Scented Solution 30 ml