Giardino di Boboli Dr. Vranjes 100 ml Spray Room
Spray Room by the italian firm  Dr. Vranjes. Content 100 ml


In the city of art, Florence, we 'Giardini di Boboli' where Vranjes inspires its fragrance, which recalls the time where princes and nobles walked in this magnificent garden.
Fragrance
The fresh and crunchy arrangement of the lemon and orange flowers gives us their interlaced head notes with notes of 'pittosfori' from the Italian gardens. In his heart notes, the rose together with the pink and green moss, jasmine exalts. The wild mint and the cypress form the background notes with an intense and charming character.
16 otros productos en la misma categoría:
Vaporizador de la firma Dr. Vranjes. Contenido 100 ml 'Tuberosa Mughetto' (Lirio y Nardo) es una fragancia floral suave, donde sus notas altas están compuestas  por lirios florecientes, y pasan a sus notas de corazón...
Este espray de habitación diseñado por Esteban Parfum es original y con estilo, este perfume des ideal para invierno. Gracias a la fragancia benevolente del cedro da la calidez esperada tanto a los hogares más...
El espray de habitación Lampe Berger con perfume Viento de Oceáno, un cóctel tropical y revitalizante que combina la frescura y el exotismo del pomelo con notas cálidas y amaderadas. Notas altas: rosa, grosella negro,...
Vaporizador de la firma Dr. Vranjes. Contenido 100 ml Perfume   La Ginesta, con su aroma distintivo de las flores frescas enmarca las notas preciosas del Iris Florentino.Los ingredientes particulares forman acuerdos...
El perfume concentrado de la firma Mathilde M. consigue impregnar el aroma que usted elija con un simple rocío, también sirve para refrescar la esencia de sus cerámicas decorativas. Botella de 5 ml.  Nounours es un...
La noche está vestida con mil luces y en la intimidad de su tocador, una mujer elegante se prepara para salir, sublimada con seda y joyas preciosas. A su imagen, su interior sofisticado exhala un aroma cautivador que...
Ambientador en forma de vaporizador de la firma francesa Esteban. Con fragancia 'Terre d´Agrumes', un  perfume cítrico y amaderado que llena de frescura con un toque de personalidad nuestras estancia, y su frescura...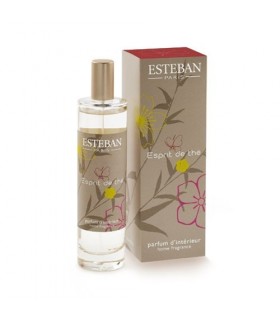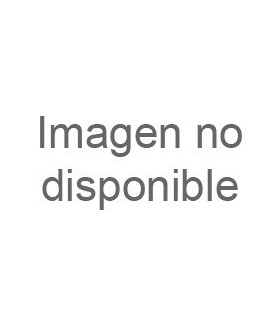 Este Vaporizador de Esteban Parfums, nos lleva al amanecer de la mañana con su rocío, es un aroma con base de té y floral transparente. Contenido 100 ml Notas altas: cilantro, nuez moscada, el azafrán Notas de...
Vaporizador de la firma Dr. Vranjes. Contenido 25 ml Magnolia y Orquidea. Intensas notas a Magnolia crean esta sofisticada y elegante fragancia junto con la delicada mezcla de la Mimosa y la calidez de la...
Vaporizador de la firma Dr. Vranjes. Contenido 100 ml Ambar. Fragancia rica y embriagadora con elegantes matices orientales. El Ambar y la Flor de Iris se funden con Cistus, Pachuli, Lábdanum, Sándalo y Vainilla para...
El espray de habitación Lampe Berger con perfume Paris Chic, perfume refinado y floral que con notas de bergamota, agua de jazmín y  almizcles blancos. Contenido 90 ml Perfume Floral
La firma francesa Esteban con aroma Ambre que prometen la felicidad y la convivencia en su hogar con este perfume cítrico ambarino.Contenido 100 ml
Rêve Blanc es un aroma tierno y luminoso acompañado del equilibrio de la generosa blancura y materiales texturizados. Contenido 50 ml.   Fragancia Floral   Notas de Cabeza: notas solares. Notas de Corazón: fresia,...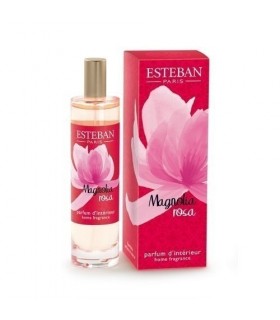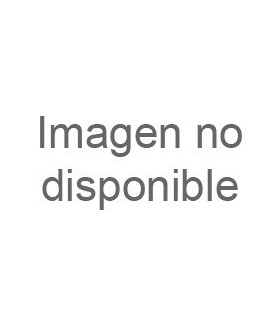 Esteban Parfums ha diseñado este perfume de habitación  y elegente rememora la majestuosidad de la maganolia rosa. Contenido 100 ml. Perfume floral afrutado. Notas altas: bayas rosa, magnolia néctar Notas de corazón:...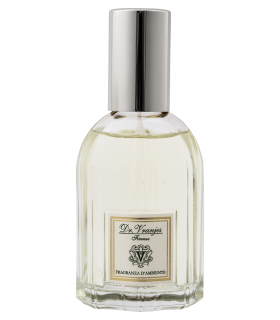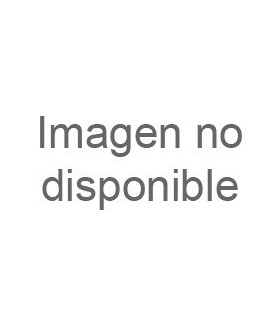 Vaporizador de la firma Dr. Vranjes. Contenido 100 ml Pomelo y Cassis. Fragancia vivaz y luminosa gracias a las frescas y amargas notas del Pomelo asociadas a las notas verdes y afrutadas del Cassis (Grosellas...
Vaporizador de Mathilde M. con perfume Coeur d´Ambre, perfume oriental ambarado con notas vainilla y pachuli. Contenido 100 ml.
Customers who bought this product also bought: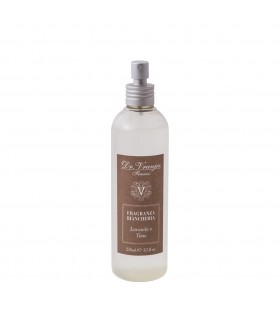 Fabric perfume  Dr. Vranjes with lavender perfume to be used on them without staining them, may be used for ironing clothes, sheets, curtains, tablecloths, cupboards, etc. 250 ml content.
Sticks air freshener firm Dr. Vranjes. Content 100 ml. It Includes 8 vegetable sticks. Perfume The Ginesta, with its distinctive aroma of fresh flowers frames the precious notes of Florentine Iris.The particular...
Spray Room by the italian firm  Dr. Vranjes. Content 100 mlPerfume Rosso Nobile. Initial orange notes enhance in the floral part formed by the absolute of violet and flowers of magnolia, accords of plum complete...