Muguet Eau de Parfum Molinard 75 ml
Muguet is an eau de parfum by Molinard for women, invites us to a walk through a garden in spring. Content 75 ml
Fresh and green floral perfume
Top notes: lily of the valley (lily)
Heart notes: jasmine, green notes, watery notes and lilac
Base Notes: sandalwood
16 other products in the same category:
7753 by Histoires de Parfums is a feminine perfume from the amber floral family. 7753 represents the dimensions of the Mona Lisa painting because this perfume is not the perfume of an image, nor the mere perfume of...
Vanilla Vibes is a perfume by Juliette has Gun that plays on the combination of two completely opposite components, fleur de sel and vanilla, which transports vanilla into a mineral dimension… Far from being...
Revolution is a perfume created by Maison Trudon for men and women that permeates the skin and concentrates on human emotions throughout the day. It melts, leaving an air of mystery and intrigue around the body....
New Study (postcard) is a citrus fragrance for men and women, which takes us to romanticism on the shores of the Mediterranean, where resident artists spend several months writing, drawing and imagining new aromas. It...
Patchouli de Molinard, is an eau de parfum for men and women, that moves us to Orient, and envelops us in a true hypnotic provocation, liberating an infinite sensuality thanks to the masterful combination of exotic...
Under My Skin by Francesca Bianchi, is an amber and woody perfume for men and women, soft and carnal perfume being Francesca's interpretation of the animalic theme, softened by the precious iris butter, this emotional...
Bo-Bo by Carner Barcelona is a fragrance from the Citrus olfactory family for men and women. This is a new FRAGANCE. Bo-Bo was launched in 2019. Bo-Bo, an ancient folk dance - a lively and joyous custom that still...
The fragrance 'Musk' by Lorenzo Villoresi, is a sensual and captivating, with its enveloping notes of musk and bottom notes of rose, sandalwood, cedar and exotic woods. Content 100 ml.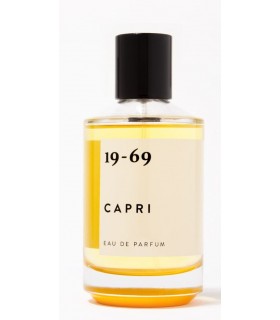 Capri from 19-69 is inspired by the settings of Villa Malaparte and by the emblematic film Le Mépris (1963), shot on the island of Capri. The fragrance is bold, fresh, light and comforting. Notes include sweet and...
Aqua Palma, by Montale, is a citrus and spicy perfume for men and women. In the middle of the sand sea of Ubari, in the height of summer, when the Eastern sun is at its zenith, Aqua Palma represents a mirage of the...
1899 Hemingway by Histoires de Parfums is an oriental and woody fragrance for women and men. 1899 Hemingway was released in 2013. The nose behind this fragrance is Gerald Ghislain. Content 120 ml Perfume Top notes...
Feminine perfume where citrus and velvety fruits intermingle with the elegance of the Rose and the Gourmand femininity of the Violet Incense makes way for Amber and White Moss in a fascinating and wild dance....
This is not a blue bottle 1 / .1 is an innovative unisex perfume from Histoires de Parfums, where its packaging draws our attention thanks to its uniformity and its electric blue color. A perfume created from the...
Blue Matcha by Montale is a rich and luminous perfume for men and women that takes us to the heart of Indonesia. Cedar wood, leather, tobacco leaves and a captivating touch of matte are mixed with patchouli leaves...
Ninfeo Mio is an eau de toilette for men and women, from the woody and aromatic family. Contains 100 ml In June, the nature around Rome is splendid. In the wonderful garden of Ninfa, the alleys planted with...
Arabians by Montale, is an Oriental masculine and feminine fragrance inspired by the «King of the Desert»: The Arabian Horse. Charisma and mystery for a perfume of an elegant king. Content 100 ml   Oriental Perfume...
Customers who bought this product also bought:
Scented Sachet by Mathilde M with a baby aroma Astrée.  Floral Perfume
Refill Bouquet by the italian firm  Dr. Vranjes. Content 500 ml Perfume Top notes the brings the harmony of lemon flowers with carnation flower, evolving in its heart notes with clove and sandalwood, along with Star...
Iris de Nuit by James Heeley is a perfume for men and women which manages to create a sensation of warmth while delicate through the absolute iris extracted directly from the roots of the plant. It is not a common...
Refill Bouquets by the italian firm  Dr. Vranjes. Content 500 ml
. Perfume Bellini, by Dr. Vranjes manages to impregnate the air with joy, with its intense and youthful fragrance. Its fresh and fruity notes evoke...
Refill for bouquets by Mahtilde M. Content 200 ml Rose Elixir pays tribute to the queen of flowers, a symbol of love and romanticism since ancient times. Discover this voluptuous and bewitching fragrance, like a...