Cuir Eau de Parfum Molinard 75 ml
Cuir by Molinard, is an eau de parfum for men and women, infinitely sensual, that envelops us with its heart with a "second skin" effect, against an addictive background of precious woods. Content 75 ml
Woody Perfume, Leather, Amber
Top notes: bergamot, nutmeg, cedron
Heart Notes: pepper, lily, saffron, lavender
Base Notes: sandalwood, oud wood, amber, leather, patchouli, musk
16 other products in the same category:
 Black Knight by Francesca Bianchi  is inspired by the renaissance captain Giovanni Dalle Bande Nere, along with his loyalty, Spartan lifestyle and moral commitment inspired this creation. He imagines the smell of a...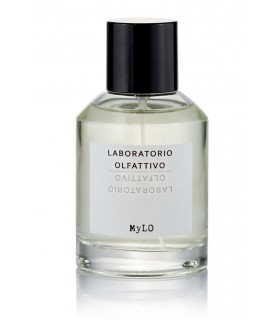 MyLO is a fruity and floral perfume for men and women of Laboratorio Olfattivo. It contains 100 ml Perfume A lovely and sunny fragrance inspired by the White Lily, one of the most beloved flowers in perfumery. A...
Muguet is an eau de parfum by Molinard for women, invites us to a walk through a garden in spring. Content 75 ml Fresh and green floral perfume Top notes: lily of the valley (lily) Heart notes: jasmine, green...
Médie by Maison Trudon is a citrus perfume for men and women, which takes us back to Antiquity and the kingdom of Alexander the Great, under which the province of Médie abounded in rare citrus. An oasis of freshness,...
1876 by Histoires de Parfums is a women's perfume from Histoires de Parfmus, which mentions the year of birth of Mata Hari, which means "the eye of the day" in Malay. A beautiful discovery for this famous spy, whose...
Lonestar Memories by Andy Tauer is an amber and aromatic perfume for men and women. It represents an ode about Birchtar: true and unique, rich and lasting the aroma of a lone rider, with old jeans and leather...
Aphélie is a feminine perfume that stands out in a unique way: like an aphelion, the orbital point at which a celestial object is farthest from the sun. Mysterious, Aphélie is connected with the cosmos: subject to the...
This is not a blue bottle 1 / .3 is a masculine and feminine perfume where leather and oriental notes predominate, represented by a ring of fire, which represents the dawn of a new energy. An orange and reddish sun...
Chinese Tobacco by 19-69 brings back memories of French colonial Indochina and legendary films like Indochine and Apocalypse Now. Reflections on the different contrasts of Asia. East meets West, old meets new. The...
This is not a blue bottle 1 / .1 is an innovative unisex perfume from Histoires de Parfums, where its packaging draws our attention thanks to its uniformity and its electric blue color. A perfume created from the...
Oranges & Lemons Say The Bells of St. Clement's by James Heeley, is traditional cologne that has been converted into a chic, contemporary, light and fresh English perfume water inspired by the poem "Oranges and...
Incense Extrême by Andy Tauer is a Woody Amber perfume for men and women. Contains 50ml Minimalist, intense, clear. A perfume built around a natural CO2 extract of Boswellia serrata, also known as frankincense;...
Perverso by Baruti is a Woody and Amber fragrance for men and women. The name comes from the German expression Pervers Gut, which loosely translated means perversely good, this expression is often used by the...
Tuberois by Laboratorio Olfattivo is a floral fragrance for men and women. Designed by Jean-Claude Ellena, who describes it like this: "On a pleasant autumn evening, with golden light, the cold suddenly overwhelmed...
Yes Please! is a fragrance that pays homage to Madchester: a cultural and musical movement that defined an entire era. Notes include Juniper, Thyme and Cedarwood. Johan Bergelin: "Post-industrial Manchester of...
L'Air des Alpes Suisses is a Woody Amber fragrance for women and men launched in 2010. L'Air des Alpes Suisseses is not only hand-filled and labeled in Switzerland, but is also inspired by the beauty of the Swiss...
Customers who bought this product also bought:
Habanita is a feminine perfume from Molinard, which revolutionized the perfumery industry in 1921, both in the design of the bottle, made by René Lalique, and its perfume, becoming the first oriental fragrance in...
Ambre is an eau de parfum by Molinard, for men and women that reveals the refinement of a noble and elegant material. A subtle oriental accent that exalts its amber notes, destined to maintain the mystery of...
Vanille by Molinard, is a eau de parfum for women that is a true journey of the senses, succumb to the pleasure of a gourmet and sensual vanilla, deliciously transgressive. An invitation to voluptuous exoticism....