Ambre Eau de Parfum Molinard 75 ml
Ambre is an eau de parfum by Molinard, for men and women that reveals the refinement of a noble and elegant material. A subtle oriental accent that exalts its amber notes, destined to maintain the mystery of seduction.
An unforgettable trip in the disturbing lands of the Orient ....
Oriental Amber Perfume
Top Notes: orange, lavender, bergamot and lemon.
Heart Notes: benzoin, incense and geranium.
Base Notes: patchouli, musk and vanilla.
16 other products in the same category:
Patchouli de Molinard, is an eau de parfum for men and women, that moves us to Orient, and envelops us in a true hypnotic provocation, liberating an infinite sensuality thanks to the masterful combination of exotic...
#3 green, green, green and… green #3 by Miller et Bertaux is a fresh green fragrance for men and women, a fragrance for body and soul in search of balance between being and looking. Contains 100 mlGreen PerfumeHead...
Dark Purple by Montale, it is a feminine fragrance, sophisticated and seductive, where the subtle mixture of plum and teak, is intermingled with the sensuality of the rose. Content 100 ml Fragrance FragranceHead...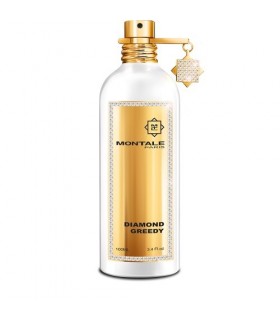 Diamond Greedy de Montale es un perfume femenino Gourmand y Afrutado que se abre con notas de ralladura de mandarina y con pera que eleva la magnitud sublime del chocolate. Su corazón, combina la delicada rosa con el...
This fragrance Lorenzo Villoresi, Yerbamate, is inspired by the freedom and nature that provides fresh grass, hay cut rencién, and countless plants and flowers of the fields, enhanced by air and sun. Content 100 ml
Dilmun is the paradise of the ancient Mesopotamians, the place where the sun rises and where the Sumerian creation myth takes place. The soil of Dilmun is pure and in the garden of the gods, the Sun Garden, there are...
1740 by Histoires de Parfums is a perfume designed for a modern hedonist. A perfume with a strong personality that inspires us to explore each and every one of the scandalous freedoms of the Enlightenment through...
Olim by Maison Trudon is a perfume for men and women that represents the vanity and emotion of a real era. Powdery notes touch beauty; Spices evoke decadence and resins point to opulence. Olim refers to a form of...
The fragrance 'Iperborea' by Lorenzo Villoresi, is a light fragrance where his green and floral notes predominate. Top notes are lily of the valley, cyclamen, tangerine, orange, peach, flowers and citrus; heart notes...
The Orchid Man recalls the legendary figure of French boxer early twentieth century Georges Carpentier talented person and elegance inside and outside the boxing ring. This fragrance is characterized by elegant notes...
New Study (postcard) is a citrus fragrance for men and women, which takes us to romanticism on the shores of the Mediterranean, where resident artists spend several months writing, drawing and imagining new aromas. It...
Aqua Gold by Montale is a fragrance for men and women that is inspired by the beautiful painting that leaves us the characteristic landscape of the island of Capri to elaborate a creation of contrasts between the...
Ambre Fétiche is an Eau de Parfum for men and women that belongs to the Oriental olfactory family. Contains 100 ml In his small shop, full of spices from around the world, a merchant presents his treasures. Among...
Elae by Maison Trudon is a feminine floral perfume that constitutes a true luminous offering of a bouquet of white petals with woody notes full of warmth and tenderness. Through her Latin name, with the protective...
Floral and Fresh Perfume  with notes of lemon and base ofaldehyde and musk; Gin Fizz was reissued and updated by Lubin in 2009 by famed perfumer Thomas Fontaine's. Fame perfume comes from 1955, when the firm created...
Pure Love, is a perfume by Montale for men and women, it is a light fragrance, subtly woody and spicy. The powerful scent of rose blends effortlessly with the sophisticated scent of sandalwood and vetiver, and...
Customers who bought this product also bought:
Oh, ooOoh …oh ( mist, wood, wind and guitar ) The Eau de Parfum 'Oh, ooOoh ... oh' by Miller et Bertaux, for men and women, speaks of a wooden house facing the sea that we barely distinguish after the mist, a cup,...
Minimalist bouquet with smoked glass, bouquet of the French firm Esteban is captivating and produces a mysterious halo sensuous filling your home with memories of trips to Africa. Teck and Tonka recreates one of the...
Mikado in decorative glass jar with ceramic lid and shaped rods triptych, Esteban french firm, produces a captivating and mysterious sexy halo filling your home with memories of trips to Africa. Teck and Tonka...
Figue by Molinard seduces and addicts us by wrapping us in an aroma that combines the green notes with the solar bath characteristic of the Mediterranean lifestyle. Optimal ingredients to allow us to enjoy the nuances...
This perfume for women and men, with its main notes of Leather and Oriental, where the mystical flower of rituals and magic! Tuberéuse (Nard) always provokes! More than a poison, its nectar of honey is a true...