Dark Purple Eau de Parfum 100 ml Montale
Dark Purple by Montale, it is a feminine fragrance, sophisticated and seductive, where the subtle mixture of plum and teak, is intermingled with the sensuality of the rose. Content 100 ml
Fragrance
Fragrance
Head Notes: plum, orange
Heart Notes: pink, geranium, patchouli, red berries
Base notes: amber gray, teak wood, white musk
16 other products in the same category:
Palo Santo by Carner Barcelona is a fragrance for men and women. Palo Santo was launched in 2015. The nose behind this fragrance is Shyamala Maisondieu Notes of caramel, tonca bean and vetiver blend with the...
Berlin im Winter by Baruti is a fragrance for men and women Aromatic. Inspired by the long, intimate and cozy winter evenings of Berlin, a city loved by some and hated by others, but full of extraordinary surprises,...
Obsessive Devotion by Hedonik is a floral perfume for men and women where its author Francesca Bianchi was seduced by Champaca, a powerful perfumery ingredient from Asia. And where the perfumer herself describes it as...
The fragrance 'Iperborea' by Lorenzo Villoresi, is a light fragrance where his green and floral notes predominate. Top notes are lily of the valley, cyclamen, tangerine, orange, peach, flowers and citrus; heart notes...
Oranges & Lemons Say The Bells of St. Clement's by James Heeley, is traditional cologne that has been converted into a chic, contemporary, light and fresh English perfume water inspired by the poem "Oranges and...
Aphélie is a feminine perfume that stands out in a unique way: like an aphelion, the orbital point at which a celestial object is farthest from the sun. Mysterious, Aphélie is connected with the cosmos: subject to the...
Tardes de Carner Barcelona is a floral woody musk fragrance for women. Tardes was launched in 2010. The nose behind this fragrance is Daniela (Roche) Andrier. A tribute to the peace and harmony of a summer...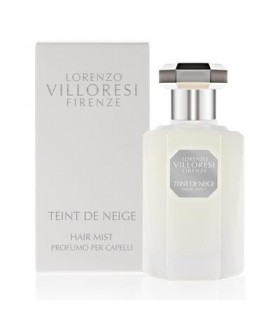 The wake of a fragrance that melts with the hair, for a night of sleep. Composition specially prepared to perfume your hair created by Lorenzo Villoresi. Content 50 ml With 'Teint de Neige' meaning 'Snow Colour',...
The unisex fragrance 'Alamut' Lorenzo Villoresi, takes us to the warm and sensual atmosphere of the Orient, with notes of amber, musk and precious woods. Content 100 ml
Luxe Calme Volupte by Francesca Bianchi is a floral and fruity fragrance for men and women. 'A sumptuous and exuberant concoction that takes you to a parallel universe of abundance, far from everyday worries, to a...
PHI Une Rose de Kandahar by Andy Tauer is a perfume extract for men and women Floral Woody Une Rose de Kandahar is part of the Andy Tauer collectible line and is a luxury fragrance, inspired by a natural rose...
Ambré Lumière de Molinard is a perfume for men and women that serves as a true source of inspiration for those authors of the most refined novels, remembering those beautiful fantasy myths in which the protagonists...
Costaterla de Carner Barcelona, is an aromatic citrus perfume for men and women that stands out for its freshness, having the true essence of the Mediterranean, a perfume where the bright notes of bergamot are...
Stercus by Orto Parisi is a Woody and Powdery perfume extract for men and women. Stercus is a fragrance that explores the duality inherent in the life cycle: the soft and seductive side that envelops and the...
#002 BARMAN Barman de Hunq is an ambery and woody masculine perfume for men. It's a seductive classic, endlessly irresistible and essentially just there to serve you what you want. Head Notes: Lime, Sweet...
La Habana perfume by 19-69 in an Amber perfume for men and women, which illuminates the golden age of Cuban music, between the 30s and 50s. An aromatic, smoky and seductive fragrance. The composition includes Saffron,...
Customers who bought this product also bought:
Mikado in decorative glass jar with ceramic lid and shaped rods triptych, Esteban french firm, produces a captivating and mysterious sexy halo filling your home with memories of trips to Africa. Teck and Tonka...
Vanille by Molinard, is a eau de parfum for women that is a true journey of the senses, succumb to the pleasure of a gourmet and sensual vanilla, deliciously transgressive. An invitation to voluptuous exoticism....
Textile Perfume by Mathilde M. with 'Rose Élégante', it is a floral and powdery perfume, which brings us elegance and softness of rose petals. Content 100 ml    
Musc by Molinard, is an eau de parfum for men and women, Musc sincerely emphasizes the characteristics of a refined and sensual echo, before flourishing in the softness of the skin. Content 75 ml Like a warm and...