1828 Eau de Parfum 120 ml Histoires de Parfums
1828 de Histoires de Parfums, is a masculine perfume, which commemorates the birth of the French writer Jules Verne in Nantes, a perfume for sophisticated, dreamy and adventurous men like the famous French writer. Contains 120 ml
Citrus and Aromatic Perfume
Head Notes: Grapefruit, Italian Lemon, Tangerine, Eucalyptus
Heart Notes: Nutmeg, Black Pepper
Base Notes: Atlas Cedar, Patchouli, Siberian Pine, Vetiver, Incense
1740 represents the year of birth of a Parisian knight, named Donatien-Alphonse-François, famous as the Marquis de Sade. Imprisoned many times by his licentious morals, he would no doubt have enjoyed this spicy, woody perfume, an invitation to pleasure.
16 other products in the same category: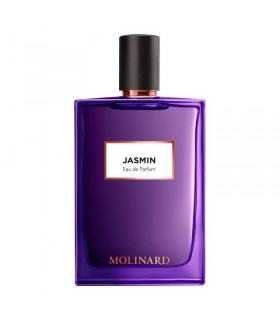 Jasmin de Molinard is a perfume of a poetic, delicate and exuberant nature, the starry flower transports us to the gardens of our childhood. Jasmin de Molinard exudes a sensuality through her assertive femininity....
Cuir by Molinard, is an eau de parfum for men and women, infinitely sensual, that envelops us with its heart with a "second skin" effect, against an addictive background of precious woods. Content 75 ml Woody...
Duel a male Eau de Parfum where a noble plot exists between strength and sweetness, between wisdom and audacity. A duel at dawn. Woody Aromatic Perfume Head Notes: Bitter Orange, Petitgrain Heart Notes: Mate,...
Rose Pompon is a Floral and Fruity feminine eau de toilette. Contains 100 ml The Rue des Rosiers awakens to the rhythm of the people who walk through its streets, and where a vibrant and bright atmosphere emanates...
Habanita is a feminine perfume from Molinard, which revolutionized the perfumery industry in 1921, both in the design of the bottle, made by René Lalique, and its perfume, becoming the first oriental fragrance in...
Black Jade, is a rich and seductive perfume, which is a tribute to the secret garden where flower essences are protagonists and intermingle with the warmth and charm of spicy notes of cardamom, cinnamon incense....
Esprit du Tigre by Heeley is a fragrance for men and women that transports us on innumerable trips to the Far East and fills us with a renewed reassuring energy through its notes that evoke the ancient Chinese balm of...
Tea Tonique by Miller Harris is a fragrance for men and women that inspires us from the start. It is a magnificent combination of different types of tea from the refreshing sensation that we experience when drinking...
Petite Chérie de Goutal, is a fruity feminine fragrance, where the notes of the pear tree together with the blooming rose bush take us to a wonderful garden. Content 50 ml Fruity perfume Head Note: Peach, Cut...
Alambar by Laboratorio Olfattivo is a perfume for men and women, it is Enrico Buccela's homage to an icon and his amber-scented world: amber, amber, wire, ambra, ambrum, ambarum, Alambar. A fragrance that works its...
Décou-Vert is a Green Floral perfume for men and women by Olfactory Laboratory. It contains 100 ml Perfume Look beyond the leaves, the dense vegetation: everything seems green. Décou-Vert is released in the air...
Iris de Nuit by James Heeley is a perfume for men and women which manages to create a sensation of warmth while delicate through the absolute iris extracted directly from the roots of the plant. It is not a common...
Tobacco & Amber Candle 3.5 kg 4 wicks of Cerería Mollá Oriental-inspired fragrance where exotic ginger and tobacco notes of India are mixed with velvety citrus and floral notes of lavender. Oriental Perfume
Eau D'Hadrien is an emblematic parfum of Goutal. Burning sun and the blinding light of Tuscany add to the charm of the cypress-lined terraces. The hottest hour of the day is the best time to sink into the soft shade...
Oranges & Lemons Say The Bells of St. Clement's by James Heeley, is traditional cologne that has been converted into a chic, contemporary, light and fresh English perfume water inspired by the poem "Oranges and...
The master perfumer Jean-Claude Ellena, inspired by his love for Italy, created for men and women the Parfum Cologne Mandarino, a portrait of Italian happiness. Mandarino is the first of the collection "Viaggio in...