1826 Eau de Parfum 60 ml Histoires de Parfums
1826 by Histoires de Parfums, is a feminine perfume that commemorates the birth of Eugenia de Montijo, she was born in Granada, the jewel of Andalusia. Brilliant beauty, seductive nature, and temperamental elegance delighted Napoleon the third. This beautiful lady who influenced worldly life and the artistic refinement of her time inspired this luminous fragrance. Contains 60 ml
Amber Sensual Perfume
Main Notes: Anise, White Flowers, Incense, Amber
Top Notes: Grapefruit, Italian Lemon, Tangerine, Eucalyptus
Heart Notes: Nutmeg, Black Pepper
Base Notes: Atlas Cedar, Patchouli, Siberian Pine, Vetiver, Incense
1740 represents the year of birth of a Parisian knight, named Donatien-Alphonse-François, famous as the Marquis de Sade. Imprisoned many times by his licentious morals, he would no doubt have enjoyed this spicy, woody perfume, an invitation to pleasure.
16 other products in the same category:
#3 green, green, green and… green #3 by Miller et Bertaux is a fresh green fragrance for men and women, a fragrance for body and soul in search of balance between being and looking. Contains 100 mlGreen PerfumeHead...
Rosa Elixir by Montale, is a feminine and refined fragrance that combines notes of rose with citrus, strawberries, jasmine, orange blossom and amber, musk and vanilla. Content 100 ml Its special design, with an...
Eau D'Hadrien is an emblematic parfum of Goutal. Burning sun and the blinding light of Tuscany add to the charm of the cypress-lined terraces. The hottest hour of the day is the best time to sink into the soft shade...
Ambré Lumière de Molinard is a perfume for men and women that serves as a true source of inspiration for those authors of the most refined novels, remembering those beautiful fantasy myths in which the protagonists...
Diamond Flowers is a Montale Special Edition feminine perfume, opening with sweet notes of fig, bergamot and geranium, mixed with an intense Turkish rose and deep Sumatran patchouli. Sandalwood, Haitian vetiver and...
Oranges & Lemons Say The Bells of St. Clement's by James Heeley, is traditional cologne that has been converted into a chic, contemporary, light and fresh English perfume water inspired by the poem "Oranges and...
Perfume for men and women by Heeley, inspired by the fine French porcelain, where this aroma recreates the sensation of purity of this material. With a light and bright breeze on a white background, bright and pure,...
Black Aoud by Montale, is a masculine woody and floral fragrance, designed by Pierre Montale. Its main notes are rose, french abdanum, musk, patchouli, mandarin and argan wood (oud). Content 100 ml Its special...
Ginger & Orange Blossom Candle 3.5 kg 4 wicks of Cerería Mollá Cheerful and bright aroma where citrus notes mix with the sensual perfume of white flowers and the elegance of noble woods. Citrus and Floral Perfume
Ambre 114 by Histoires de Parfums is a perfume for men and women Oriental and Spicy, which was created by Gerald Ghislan and Magli Senequier. This mythical raw material has been improved with the composition 114. A...
Pure Gold by Montale, is a feminine fragrance where its concentrate begins with the luminosity of white flowers of orange blossom, neroli and Egyptian jasmine to fruity notes of apricot and tangerine from Italy on a...
Floral and Fresh Perfume  with notes of lemon and base ofaldehyde and musk; Gin Fizz was reissued and updated by Lubin in 2009 by famed perfumer Thomas Fontaine's. Fame perfume comes from 1955, when the firm created...
The new version of Idole Lubin, is a remake of a classic seventies created and then redesigned in 2011 by perfumer Olivia Giacobetti. Perfume woody and balsamic. The inspiration for the Idole line are adventures and...
This fragrance Lorenzo Villoresi, Yerbamate, is inspired by the freedom and nature that provides fresh grass, hay cut rencién, and countless plants and flowers of the fields, enhanced by air and sun. Content 100 ml
The beautiful Ottoman spy drew a small smile before the glass jar that contained a perfume created for her. It was a decorated elephant, alluding to the verses of Valmiki, the poet of the Ramayana, since it was...
1899 Hemingway by Histoires de Parfums is an oriental and woody fragrance for women and men. 1899 Hemingway was released in 2013. The nose behind this fragrance is Gerald Ghislain. Content 60 ml Perfume Top notes...
Customers who bought this product also bought:
This essence, the French firm Esteban Ambre that promise happiness and co-existence in your home with this amber citrus perfume-scented.Content 15 ml
Mikado in decorative glass jar with ceramic lid and shaped rods triptych, Esteban french firm, with Ambre perfume that promise happiness and co-existence in your home with this amber citrus perfume-scented. Scented...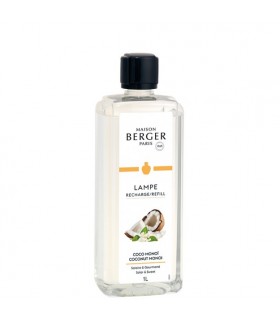 The Coconut Monoï perfume invites you to travel with its citrus notes of zest of green orange and tangerine. Its lightness, leave us sweet and fresh aromas and through the nose it envelops us in enveloping and warm...
This recharge for scented bouquets, signs French Esteban Ambre that promise happiness and co-existence in your home with this amber citrus perfume-scented.Contents 500 ml
Lampe Berger loaded of sensuality this scent on a hint of rose, Lily, and vanilla on a deep background of amber and patchouli. Composion 500 ml