Bergamotto 100 ml Perfume Laboratorio Olfattivo
The master perfumer Jean-Claude Ellena, inspired by his love for Italy, created the Parfum Bergamotto for men and women within the "Viaggio in Italia" collection which its own author describes as follows:
"Although citrus fruits originate from China, bergamot is Italian, it is the result of crossing the lemon tree with the Italian bitter orange. Italian traders managed to sell bergamot to the Chinese market to add fragrance to their tea. I am often asked if I have olfactory preferences. I have always said no, wanting to hide the manipulations that I carry out on fragrances, since the work of a perfumer is always that of an illusionist. Yes, I have preferences and they vary according to my needs, my desires. I have fleeting loves, as well as solid and perennial loves, among which is my love for bergamot. Jean-Claude Ellena
Citrus Perfume
Top Notes: Calabrian Bergamot
Heart Notes: Orange, Cardamom
Base Notes: White Musk
16 other products in the same category:
Mortel by  Maison Trudon, is a perfume for men and women where the skin is heated in contact with each other, placing sensuality at the heart of Mortel; Also, frankincense, myrrh, and benzoin reveal the erotic spell...
#1 (for you) / parfum trouvé Perfume for men and women, # 1 is one of the first creations of Miller et Bertaux, a poetic perfume full of intensity and woody with notes of cedar, sandalwood, ylang-ylang and spices....
Décou-Vert is a Green Floral perfume for men and women by Olfactory Laboratory. It contains 100 ml Perfume Look beyond the leaves, the dense vegetation: everything seems green. Décou-Vert is released in the air...
El Born by Carner Barcelona is a fragrance from the Amber and Floral olfactory family for men and women. El Born was launched in 2014. The cobbled and winding streets flow seamlessly over the old medieval stones,...
This is not a blue bottle 1 / .1 is an innovative unisex perfume from Histoires de Parfums, where its packaging draws our attention thanks to its uniformity and its electric blue color. A perfume created from the...
The fragrance 'Musk' by Lorenzo Villoresi, is a sensual and captivating, with its enveloping notes of musk and bottom notes of rose, sandalwood, cedar and exotic woods. Content 100 ml.
Tenue the Soiree (evening dress) is a feminine creation by Goutal Paris that evokes feminine elegance and opulence. The hour was near. She added the finishing touches, slipping on a bakelite necklace and stealing her...
MyLO is a fruity and floral perfume for men and women of Laboratorio Olfattivo. It contains 100 ml Perfume A lovely and sunny fragrance inspired by the White Lily, one of the most beloved flowers in perfumery. A...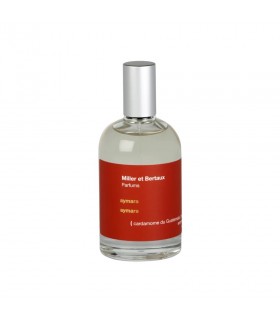 Pimiento +++ is a perfume for men and women that is defined as a Mexican cocktail where the contrast of the heat of the combination of chili and saffron meets the freshness of alcohol and ice cubes. The name of the...
Arabians by Montale, is an Oriental masculine and feminine fragrance inspired by the «King of the Desert»: The Arabian Horse. Charisma and mystery for a perfume of an elegant king. Content 100 ml   Oriental Perfume...
The fragrance 'Iperborea' by Lorenzo Villoresi, is a light fragrance where his green and floral notes predominate. Top notes are lily of the valley, cyclamen, tangerine, orange, peach, flowers and citrus; heart notes...
Cuirs de Carner Barcelona is a Leather fragrance for men and women. Cuirs was launched in 2011. The nose behind this fragrance is Sonia Constant. Steeped in nostalgia for that time of artisan workshops where the...
Soleil de Capri de Montale, is a floral and fruity fragrance for men and women, designed by Pierre Montale. Top notes are grapefruit, kumquat and citrus; The middle note is white flowers; Bottom notes are musk and...
Night in Paris, in the cabaret under the clink of champagne glasses, bright red lips, feathers and sequins, the show begins !!. The memory of this unforgettable night lasts until the next morning.Feminine, floral,...
Lille au Thé de Goutal Paris is a fragrance for men and women, citrus, green and fresh that represents an infusion of well-being. The sea and volcanoes, the wind sweeps across the Korean island of Jeju. You can almost...
Petite Chérie de Goutal, is a fruity feminine fragrance, where the notes of the pear tree together with the blooming rose bush take us to a wonderful garden. Content 100 ml Fruity perfume Head Note: Peach, Cut...
Customers who bought this product also bought:
Salina by Laboratorio Olfattivo is a fragrance for men and women of aromatic family. Through the use of Salina, the sense of smell acquires powers that generally belong to sight, touch and taste. This fragrance is a...
Spray Room by the italian firm  Dr. Vranjes. Content 100 ml Perfume Aromatic notes of basil leaves, with intense and transparent marine debris, laced with musk blan sheath in white musk and fescura of its salinity,...