Rosamunda Laboratorio Olfattivo 100 ml Eau de Parfum
Rosamunda by Laboratorio Olfattivo is a floral perfume for women.
Large quantities of Roses from Bulgaria and Turkey and long hours of distillation to obtain this creation: the seductive power of the Rose is brought to paroxysm and its classicism corrupted with Patchouli. Around this beating heart, illuminated by the green sap of the Rose, a scented setting of golden spices, ancient woods and animal notes with an aphrodisiac imprint. An impalpable landscape, unknown to the eyes and the smell, a Rose that deserves adoration, for which a celebratory altar covered in Oud has been created, from which an essence with an immortal charm is extracted.
Floral Perfume
Head Notes: Saffron, Rose Leaves
Heart Notes: Bulgarian Rose Essence, Turkish Rose Absolute, Patchouli
Base Notes: Oud, Cedar, Sandalwood, Amber, Musk
16 other products in the same category:
Sticky Fingers de Francesca Bianchi, es una fragancia Amaderada y Especiada para hombres y mujeres. Un pachulí suntuoso y elegante es el protagonista de esta creación 'rock-chic'. Una apertura especiada y chispeante...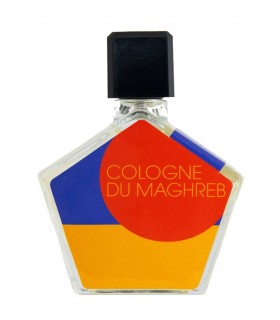 Eau de Cologne fragrance (citrus and aromatic) that pays tribute to the Maghreb region. La Cologne du Maghreb represents an exclusive cologne made only with top quality botanical and natural ingredients. Inspired by...
7753 by Histoires de Parfums is a feminine perfume from the amber floral family. 7753 represents the dimensions of the Mona Lisa painting because this perfume is not the perfume of an image, nor the mere perfume of...
Menthe Fraîche by James Heeley is an extremely fresh perfume, for women and men,  that expresses current and natural nuances. This freshness is obtained through the crushed mint together with green tea and combined...
Arabians by Montale, is an Oriental masculine and feminine fragrance inspired by the «King of the Desert»: The Arabian Horse. Charisma and mystery for a perfume of an elegant king. Content 100 ml   Oriental Perfume...
Blue Matcha by Montale is a rich and luminous perfume for men and women that takes us to the heart of Indonesia. Cedar wood, leather, tobacco leaves and a captivating touch of matte are mixed with patchouli leaves for...
The first 1000 pieces are part of a Limited and Numbered edition commemorating the 25th anniversary of Lorenzo Villoresi, the exclusive fragrance of Teint de Neige in Solid Perfume format in a luxurious metal case...
Purple Haze is a perfume for men and women that reflects the hippie movement and the counterculture, like John and Yoko's bed-and-breakfasts in Amsterdam and Montreal or the Woodstock Festival (1969). The fragrance...
1804 is a feminine perfume by Histoires de Parfmus, which mentions the year of birth of the first great modern woman, 'George Sand', great writer, lover and committed to the causes of time. A perfume that reflects his...
Ambre 114 by Histoires de Parfums is a perfume for men and women Oriental and Spicy, which was created by Gerald Ghislan and Magli Senequier. This mythical raw material has been improved with the composition 114. A...
Luxe Calme Volupte by Francesca Bianchi is a floral and fruity fragrance for men and women. 'A sumptuous and exuberant concoction that takes you to a parallel universe of abundance, far from everyday worries, to a...
'Aurea Maris' by Lorenzo Villoresi is a fragrance is a fresh, citrus and aromatic fragrance for men and women. Where the breeze gently caresses the grass, flowers and shrubs of the Mediterranean and the golden...
Alguien (Someone), is a perfume for men and women, by Asier Tapia, is based on an ancient formula that has accompanied its creator during his life, which has been updated by incorporating new notes and aromas which...
Au Coeur Du Désert by Andy Tauer is a Woody Amber perfume extract for men and women. Au Coeur Du Désert is the metamorphosis of L'air du désert marocain into a luxurious extrait de parfum. The richness of the...
#002 BARMAN Barman de Hunq is an ambery and woody masculine perfume for men. It's a seductive classic, endlessly irresistible and essentially just there to serve you what you want. Head Notes: Lime, Sweet...
The wake of a fragrance that melts with the hair, for a night of sleep. Composition specially prepared to perfume your hair created by Lorenzo Villoresi. Content 50 ml With 'Teint de Neige' meaning 'Snow Colour',...